It's known as 'the Lara effect' and Myer is banking on it to lure a new demographic of customers to their department store.
Lara Worthington is considered one of our most influential fashion icons with anything she promotes usually flying out the door.
Recent collaborations with clothing brand Atoir and eco sunglasses label Local Supply are proof fashion lovers want what Worthington is selling.
And this will undoubtably be the case when Myer's spring summer campaign, which features the mother of three front row and centre, goes live on Sunday.
The model mum will showcase designs by known and loved Aussie brands including Country Road, Witchery, Ralph Lauren and Basque, with many anticipating pieces will sell out nation wide.
"I have know Lara for over 15 years and have seen her evolve from a young woman to a fashion powerhouse, but what she's never lost is that unique approachability. Which is her power," fashion commentator Kellie Hush said.
"She is the girl-next-door living a global lifestyle wearing the most incredible fashion. But she's equally amazing in jeans and a T-shirt running after her little boys.
"She's real, we know her story, she's not perfect, we've read the tabloid headlines but she's picked herself up and got on with life.
"She's a power woman that quietly gets up brushes herself off and moves on with life. Albeit in some amazing outfits.
"Her realness, combined with incredible beauty, is what makes her so marketable."
While in recent years Worthington, who is married to Hollywood actor Sam Worthington, is known for wearing high-end luxury labels, the 36-year-old says she will always have wardrobe space for Aussie designers.
"Australian brands effortlessly capture the essence of our unique lifestyle and spirit," Worthington said.
"Working with brands that share a deep connection with our country's heritage and culture such as Myer is a privilege, and it's been wonderful to collaborate with them.
"In this campaign with Myer the pieces really epitomise the things I love about Australian style – infusing modern looks with a touch of laid-back elegance.
"Fashion that is both relevant and timeless at the same time. Myer have been really clever with their edit, fun fashion pieces paired back with wardrobe staples that are seasonless.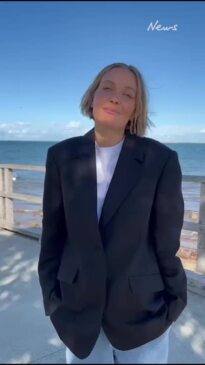 "They've prioritised value and quality, which is important as a consumer."
Worthington is the first to admit she has undergone quite the style evolution from her early days as a model to becoming the bona fide style icon.
"I've certainly gone through a few style transformations and evolutions over the years, but I'm much more empowered and sure of my choices now," she said.
"At the moment, I'd describe my style as minimalistic with a masculine touch … oversized blazers, loose fitting jeans and crop tops.
"I love putting together looks and I'm starting to play more with colour and accessories."
Geoff Ikin, Myer chief customer officer, said Worthington is the perfect person to showcase Myer's quality, stylish and refined spring summer pieces.
"We're delighted to welcome Lara into the Myer family," he said.
"Lara's sense of style, authenticity, and strong connection with the Australian audience align perfectly with our brand and reflect the effortless sophistication that our summer epitomises.
"With the return of Country Road this season, along with Witchery, Mimco, Politix and for the first time, Trenery … we've got more of the quality, value and style which we know our customers love."
Originally published as Myer banking on Lara Worthington as face of their spring summer campaign