Highlights
The article highlights the importance of strong centre backs in EA Sports FC 24 Career Mode, as they can lead to victory and successful titles.
It suggests signing young centre backs with substantial growth potential, as their value will skyrocket and provide excellent returns.
The article lists the top ten best young centre backs to sign in Career Mode, including players like Leon King, Jorne Spileers, and Ousmane Diomande, each with their own unique strengths and potential.
The importance of a good defense cannot be undermined in the Career Mode of EA Sports FC 24. Strong centre backs can lead you to victory and eventually successful titles as you progress. This is why it is usually preferred to strengthen the particular position whenever possible.
Related: EA Sports FC 24: Best Dribblers In Ultimate Team
Signing young centre backs could be a great move, considering they will show substantial growth as you move past the seasons. Furthermore, their value will also skyrocket, providing excellent returns. Here we list the ten best young centre backs to sign in the Career Mode of EA Sports FC 24.
Only centre backs aged 21 and under at the start of Career Mode were considered for this list.
10
Leon King, Rangers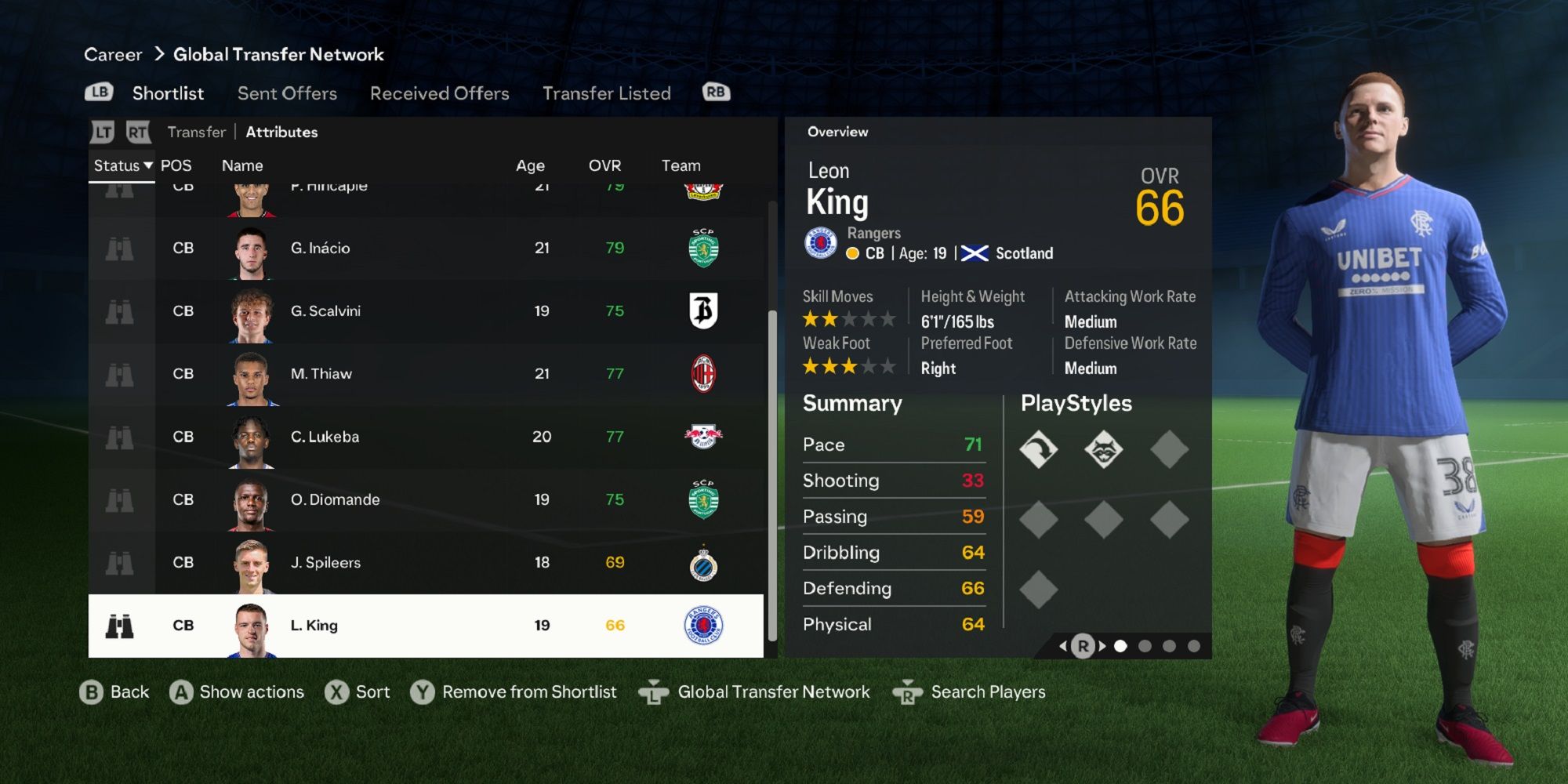 Leon King would prove to be the best budget centre back that you can sign inside the Career Mode of EA Sports FC 24. The Scottish youngster is among the finest youth prospects available at Rangers and possesses considerable potential inside the game.
He would be starting the initial season at a rating of 66, and you would be able to acquire him for a couple of millions. With a potential of 85, he will show fast growth, and you may apply development plans to accelerate the procedure further.
9
Jorne Spileers, Club Brugge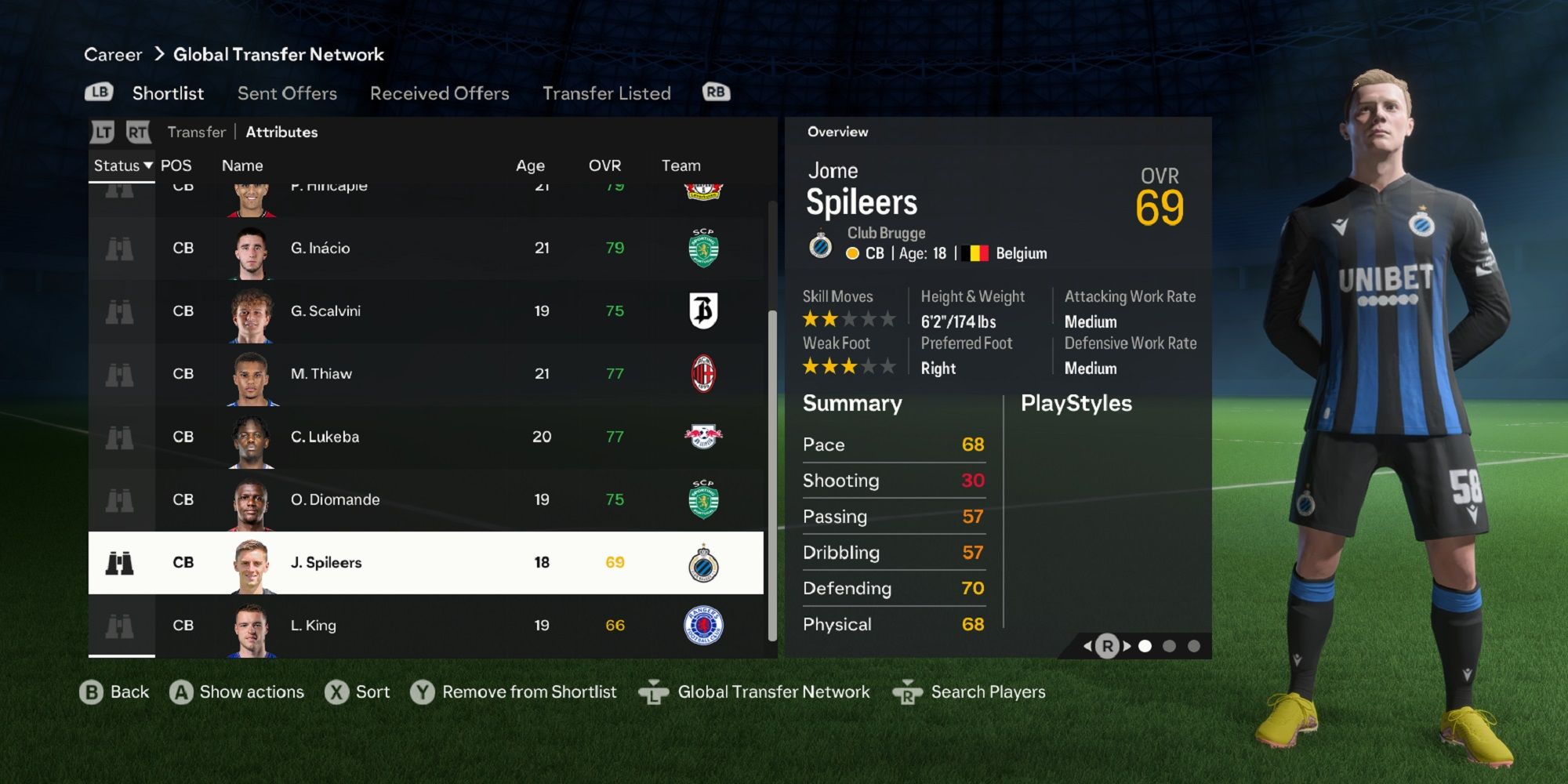 Jorne Spileers is another defender with tremendous potential who can be acquired for a low price, with his market value being approximately €3.3 million. The talented footballer is currently a part of Club Brugge, where he has already been given an opportunity to play for the first team frequently.
Inside EA Sports FC 24, the Belgian CB features a rating of 69 and an incredible potential rating of 85. His stats are exceptionally well-balanced, and he will be extremely solid as you nurture him into a proper defender.
8
Ousmane Diomande, Sporting CP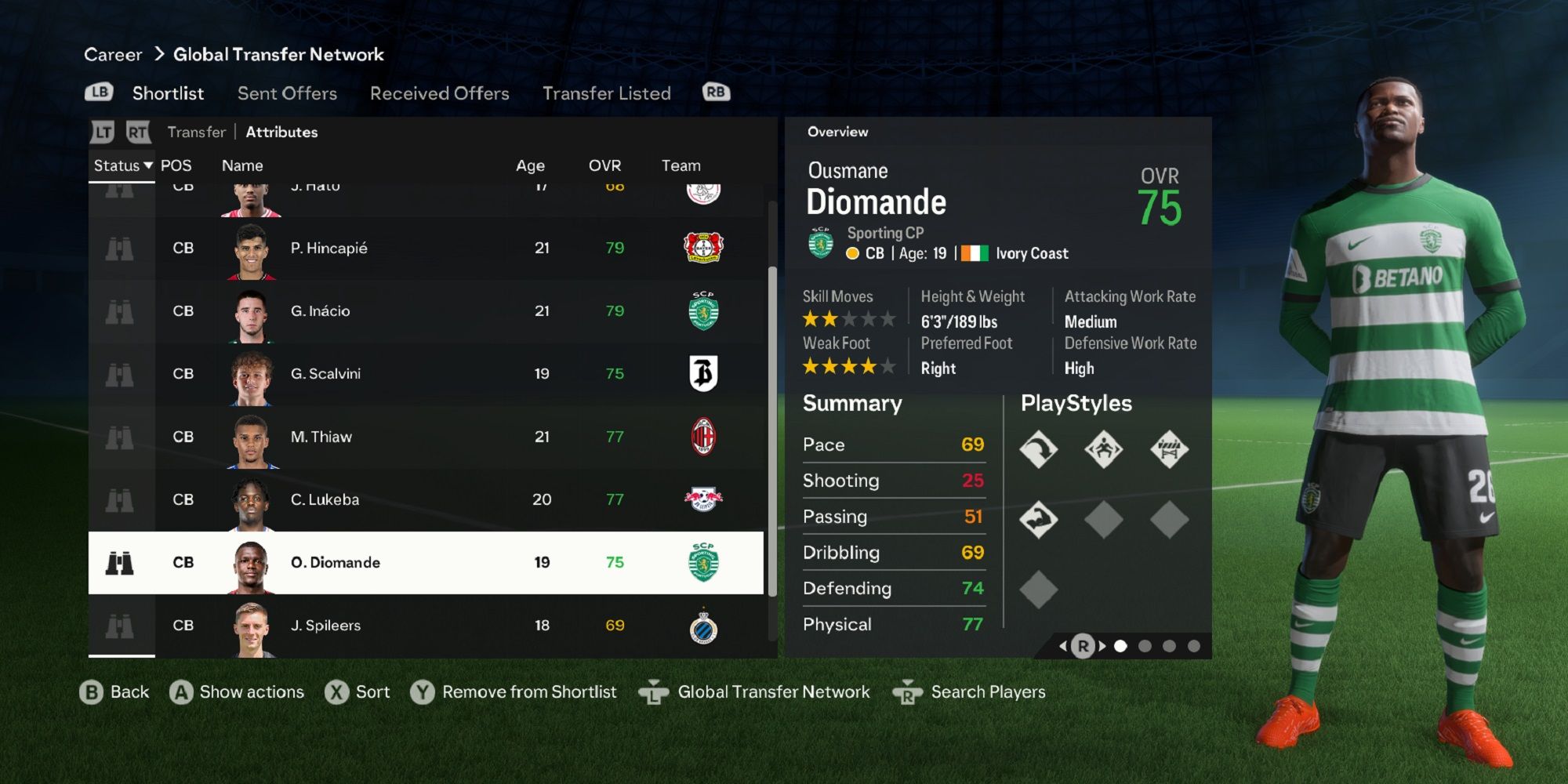 Ousmane Diomande will be a diamond in your defense and could be a perfect option for mid-table teams in the top leagues. He has a rating of 75, whereas his potential in the game sits at 85, which is pretty good.
The high defensive work rate of Ousmane Diomande will be quite beneficial, and his physical stature will undoubtedly make him a threat on corners. He is valued at €11.5 million, and you should try striking a deal for him in the initial few seasons before his price increases a lot.
7
Castello Lukeba, RB Leipzig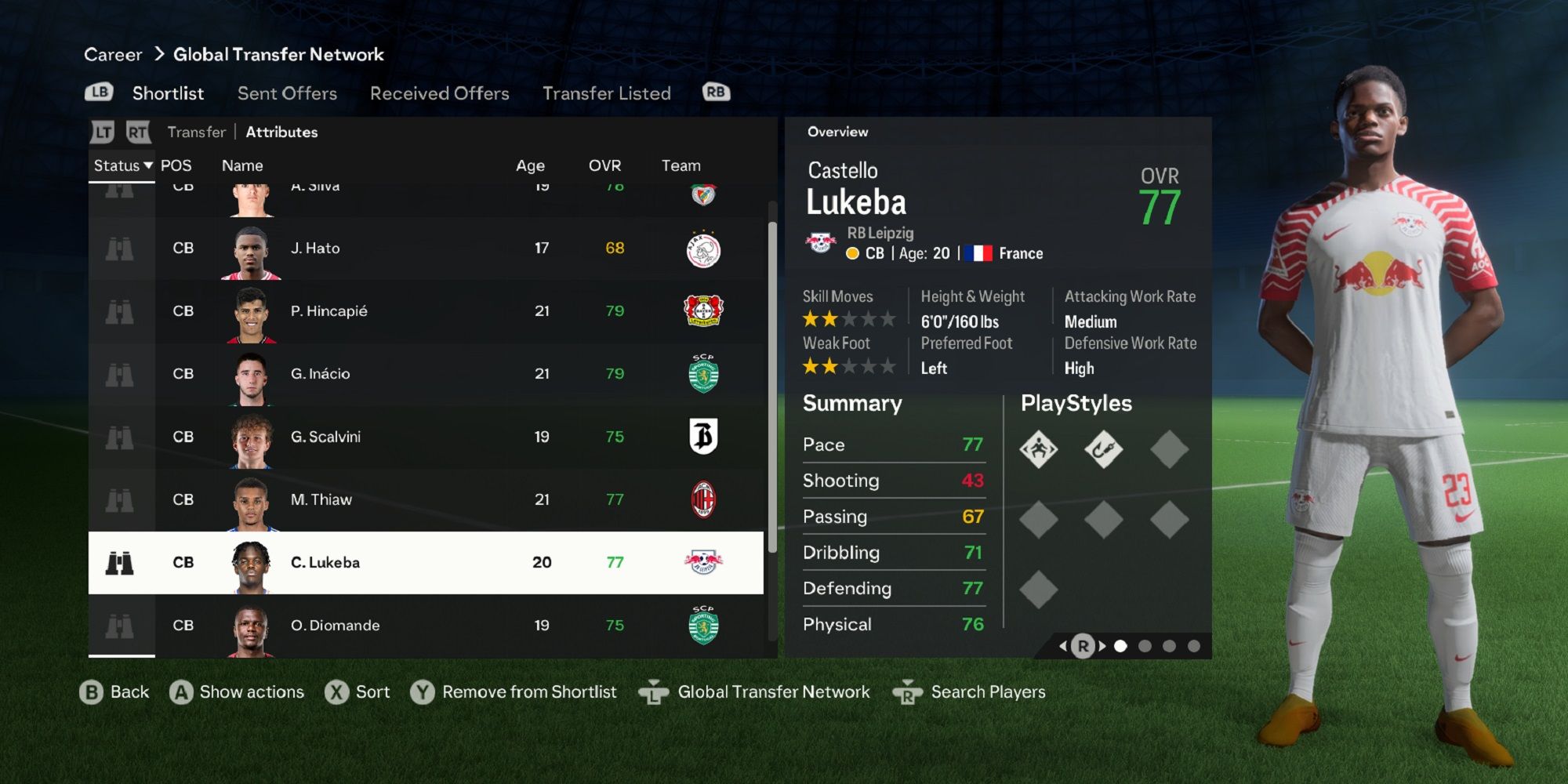 Castello Lukeba was one of the best wonderkids in FIFA 23 and has remained a tremendous option in EA Sports FC 24. The French talent has recently moved to RB Leipzig from Olympique Lyon and is rated highly by everyone.
Related: EA Sports FC 24: Players To Look Out For In Career Mode
Since finding left-footed centre backs is hard, Castello Lukeba will be a perfect addition to your backline, and you may place him alongside a good partner to solidly your defense. He begins the Career Mode at a rating of 77, whereas his potential is 85, and he will be able to reach the same in 3–4 seasons.
6
Malick Thiaw, AC Milan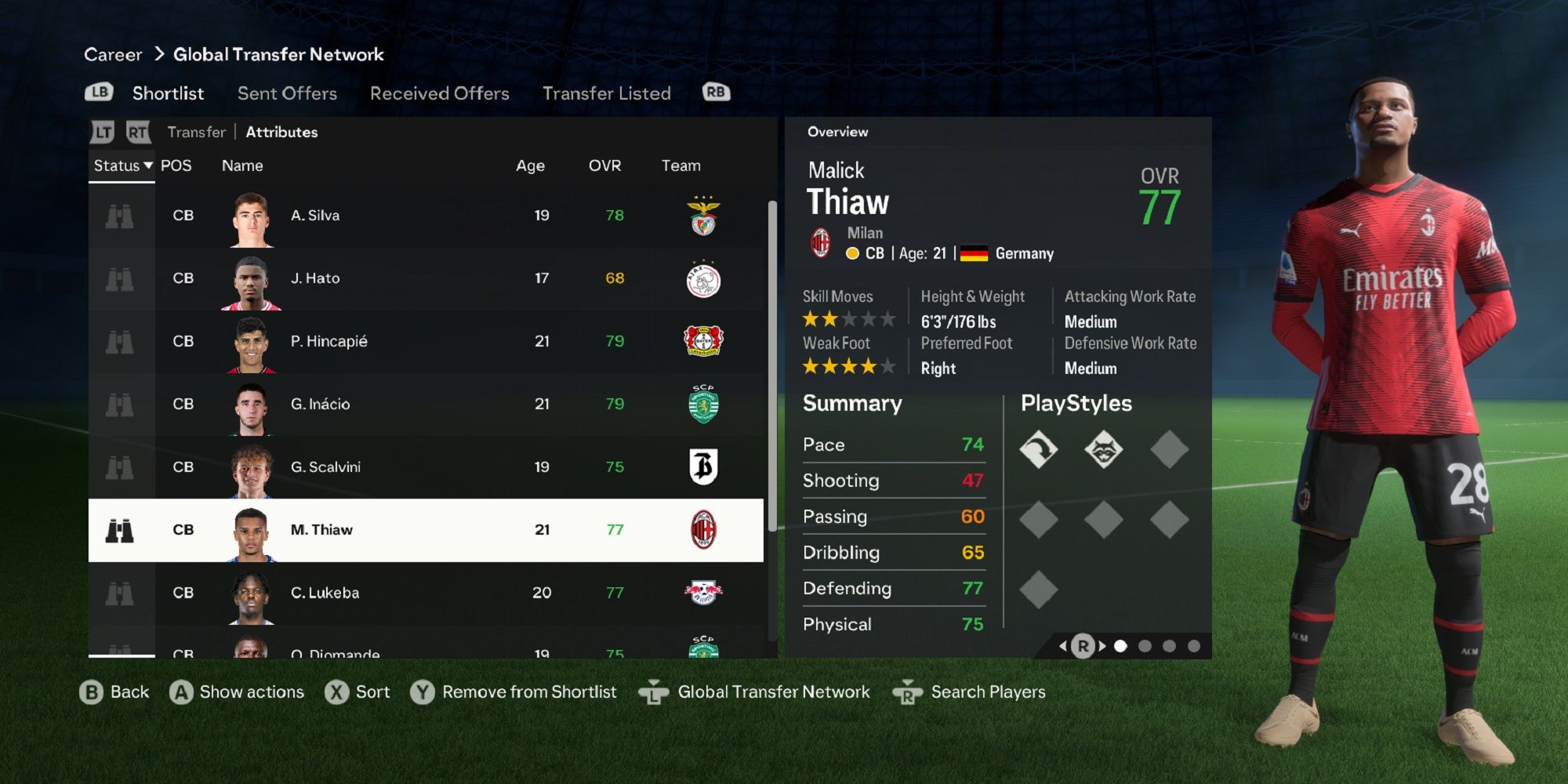 Malick Thiaw has been a rock for AC Milan since joining from Schalke, and he is considered among the best young defenders in Serie A. He will be fantastic in EA Sports FC 24 for the centre back spot, and you should try to buy him for less than €25 million with negotiations.
EA has rated Malick Thiaw a rating of 77, and he could start for most clubs. In the meantime, the player's potential is present at 85, and after a couple of seasons, he will be outstanding.
5
Giorgio Scalvini, Bergamo Calcio (Atlanta)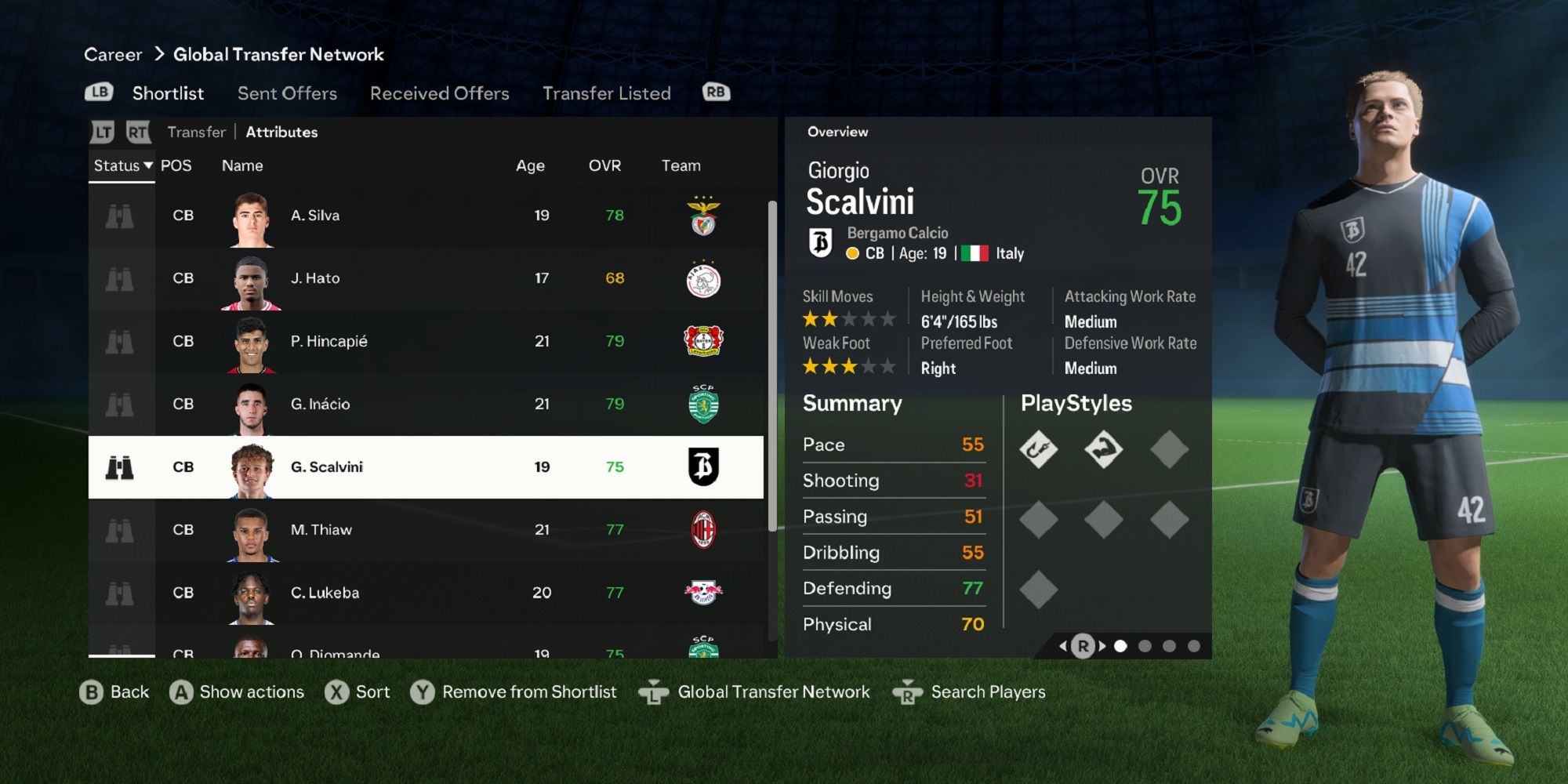 Giorgio Scalvini has been a revelation for Atlanta and has already begun starting for the Italian club at the young age of 19. He possesses great defending stats inside the game, and he isn't extremely costly in the initial season, making him an ideal purchase for your team in the Career Mode.
With a rating of 75 and a potential of 86, you wouldn't have to worry about getting a better centre back than him. However, you must note that Giorgio Scalvini isn't that fast and could get outpaced by pacey attackers.
4
Gonçalo Inácio, Sporting CP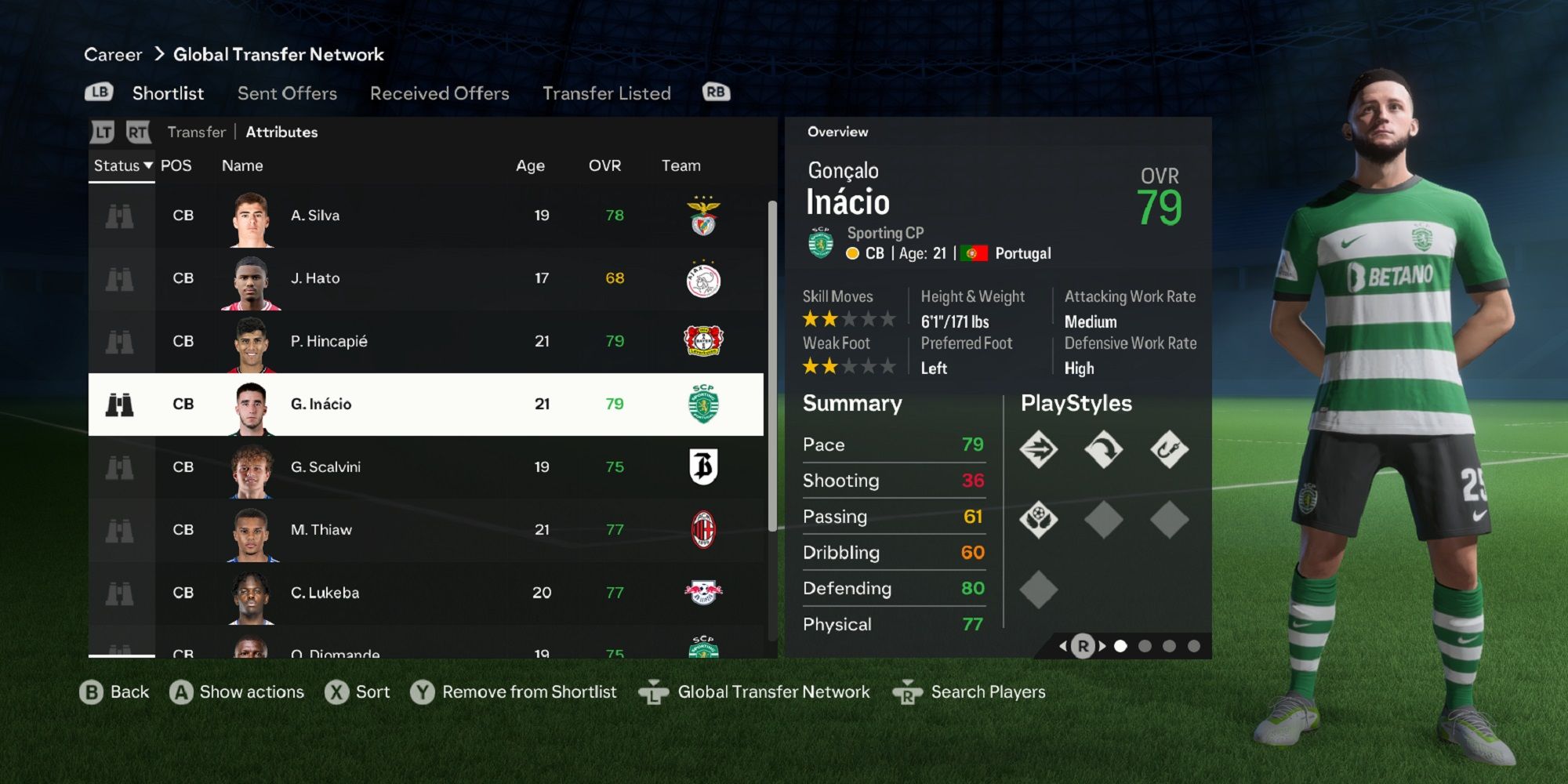 Besides Ousmane Diomande, Gonçalo Inácio emerges as a fantastic young centre back in Sporting CP. He has arisen from the youth setup of the Portuguese side and has been regularly playing for them since the 2020-2021 season.
Gonçalo Inácio's numbers inside the game are pretty good, and he has a rating of 79, alongside a potential of 86. The footballer also has magnificent long passing, allowing you to build up play from the back itself. He is valued at €33 million, and you will likely be able to afford him only for the top teams.
3
Piero Hincapié, Bayer Leverkusen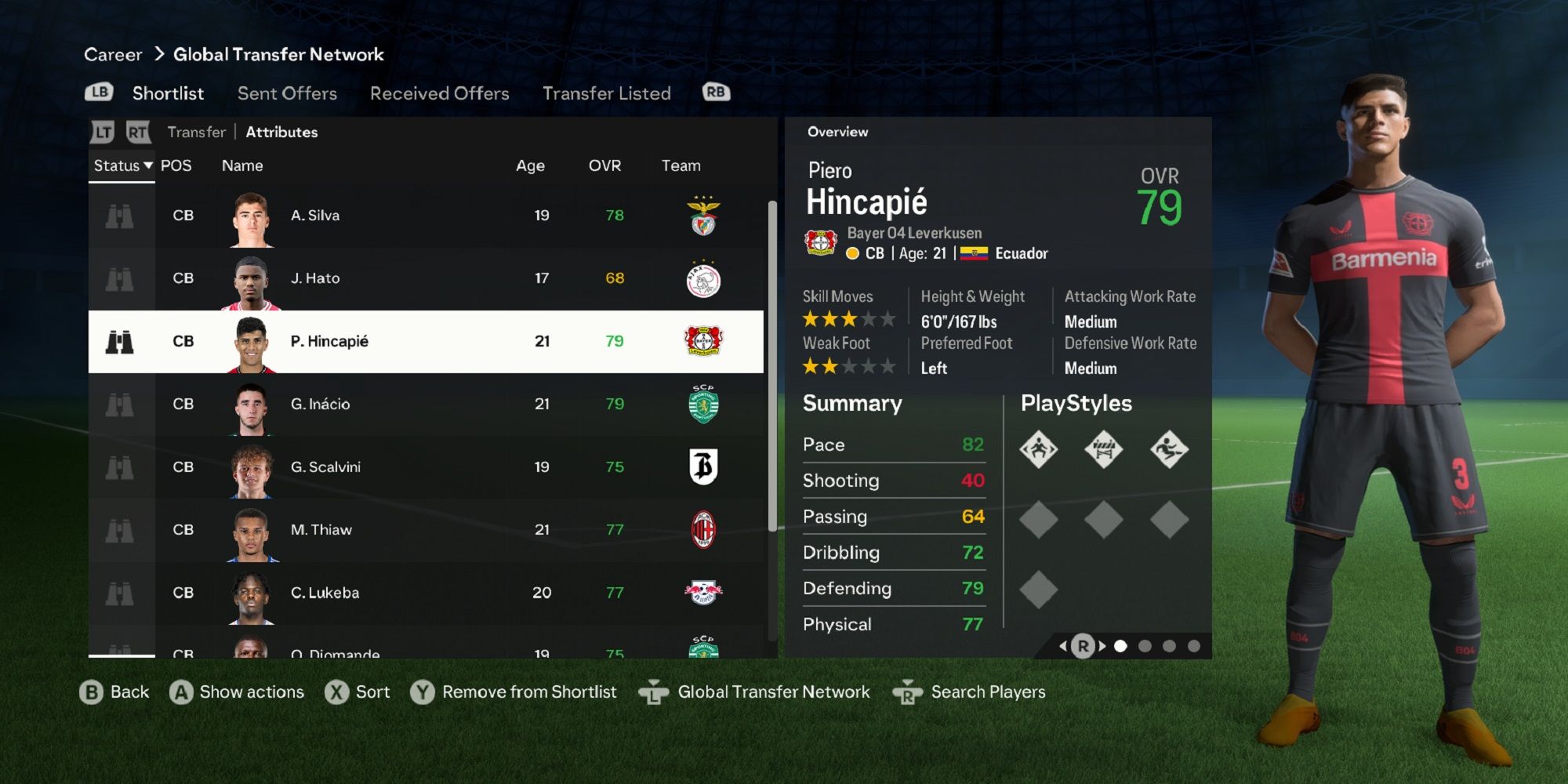 The Ecuadorian centre back Piero Hincapié is a top talent for Bayer Leverkusen, and he has established himself as a key player for Bayer Leverkusen. Unlike most other players in his position, he is quick and can keep up with the wingers and the fast strikers.
Related: EA Sports FC 24: Best Young Goalkeepers To Sign In Career Mode
Piero Hincapié begins the first season of Career Mode with a rating of 79 and can reach the mark of 86 thanks to his incredible potential. You may additionally employ him as a left back, and he can cover the specific position if required.
2
Jorrel Hato, Ajax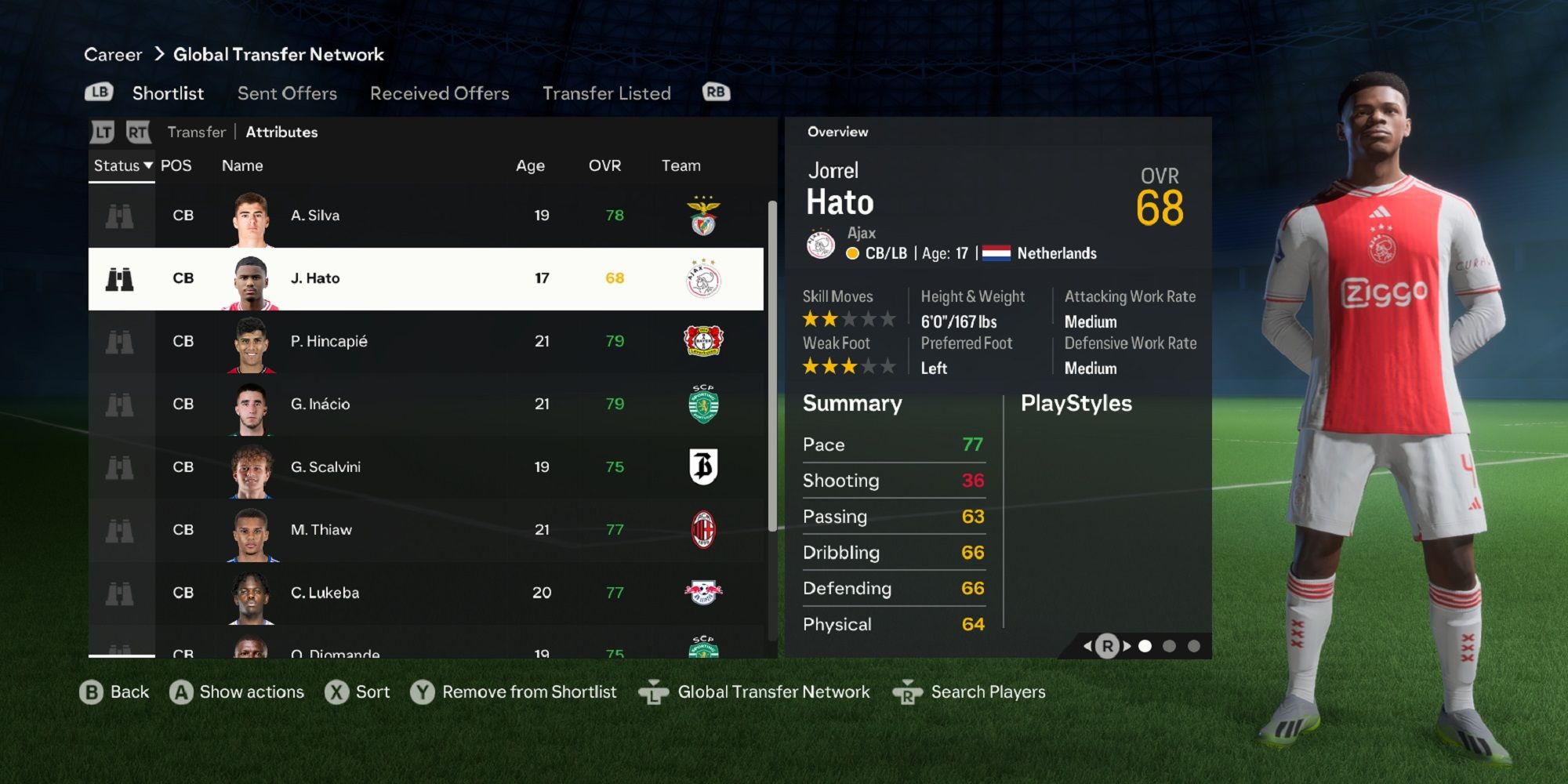 Jorrel Hato is the perfect choice when you manage teams that don't have a lot of room in their budget for a centre back but still want someone with good potential. He features a rating of 68 and a potential of 87, which he might even surpass with sufficient playtime.
The Dutch defender's stats are incredible for someone with such a low rating, and just like Piero Hincapié, you can deploy him as a left back. Additionally, he can play as a defensive midfielder due to his decent passing, dribbling, and more.
1
António Silva, Benfica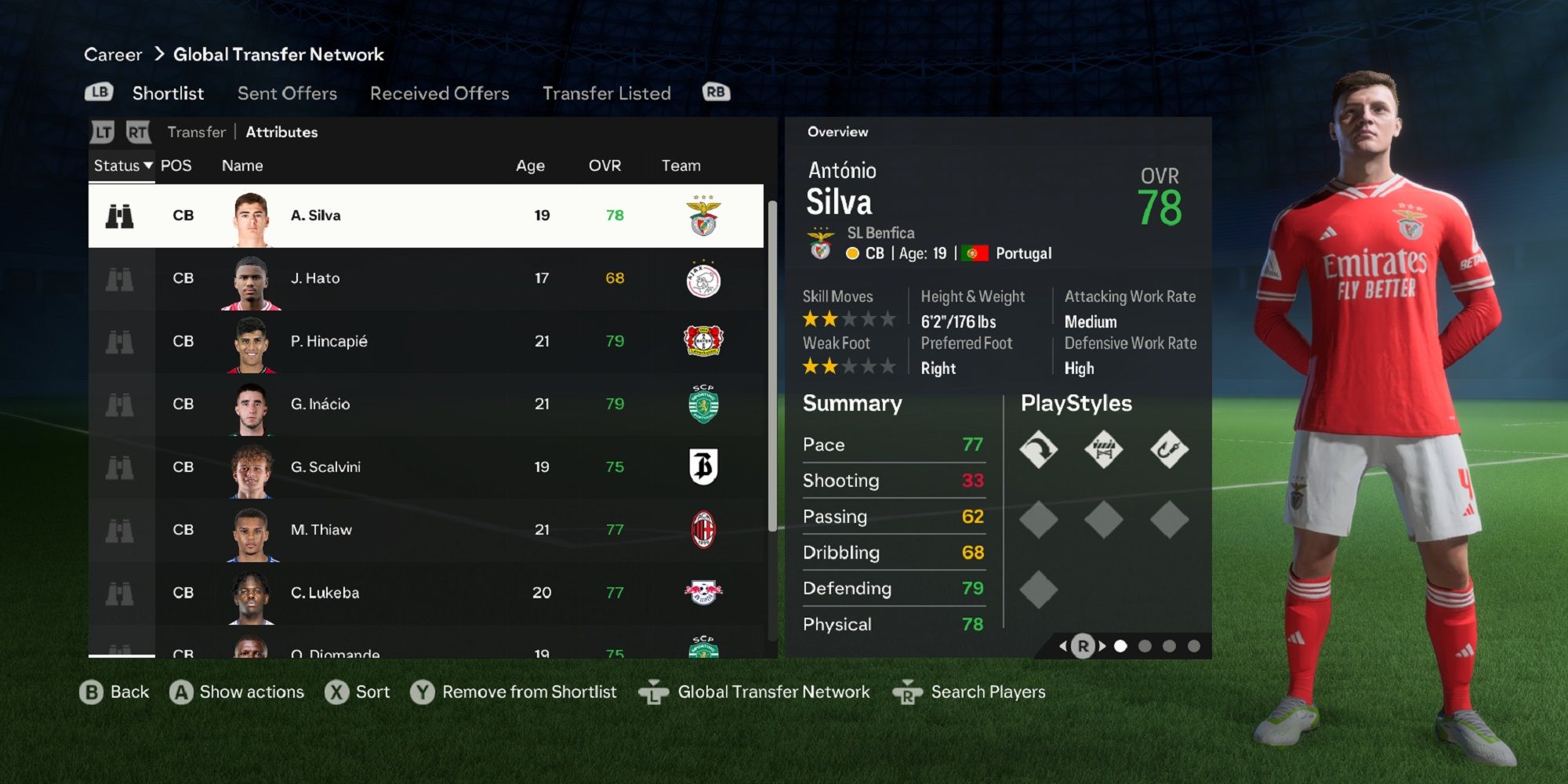 António Silva ranks as the best young centre back in EA Sports FC 24 and has retained his numbers from FIFA 23. His rating stands at 78, and he has the ability to climb to the rating of 88, eventually becoming one of the best defenders after 4–5 seasons.
The Portuguese talent will become a core part of your defense and will ensure that you do not end up conceding a lot of goals. With a value of €28.5 million, you will have to spend at least over €30 million to get his services in the first season.
Next: EA Sports FC 24: Best Strikers To Sign In Career Mode