After more than four decades commuting 40 minutes to work for a minimum wage salary at an unknown company, elderly man John was "rewarded" for his service with a measly barbecue.
The sub-par recognition of John and his dedication to the company for 42 years was upsetting to his colleagues, many of whom had also worked there for more than 30 years.
One co-worker, Sonia, was devastated over the injustice, sharing a short clip to social media of John – now in his 70s – and what she felt was his hard work going unappreciated.
The video showed him at work in a warehouse during his final day as a member of the workforce.
"Today is my co-worker's last day. He worked for this company for 42 years making minimum wage," Sonia wrote with the video.
"The company only threw him a barbecue and gave him a certificate. He takes the bus and Bart (train) to get here every day on time. He's 70+.
"He loves working here so much he didn't want to retire. [He got] No bonus, just a barbecue and a certificate. Don't be a slave to your job. Thank you John for your loyalty."
The video, which has since been deleted, was viewed hundreds of thousands of times, and received thousands of comments from internet users desperate to help make John feel appreciated.
Many were fast to spring to action after Sonia suggested giving John "a little something for a better retirement" and established a GoFundMe.
In the fundraiser, she revealed John could not drive because of a disability, but "rain or shine" would always make it to work.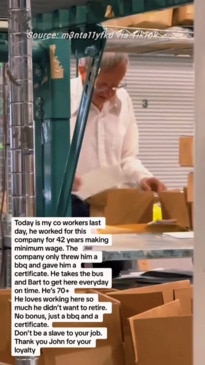 He was "extremely dependable", she added, revealing it had been difficult to convince him to take a break because he always wanted to work.
He was "one of the most talented and hard working" employees at the company and his energy was "unmatched", she said.
"He has no wife or kids, however he does have a nephew whom he loves dearly," she wrote in the fundraiser.
"It would be nice to give him some kind of company or something to do so he knows that he's special and loved."
In the few days since the GoFundMe was created, it has raised almost $45,000.
Sonia said she was in the process of telling John about the enormous response to his story and that she planned to print out names and messages from his supporters.
The money raised had far surpassed the retirement funds John had, she said.
Supporters from across the globe shared kind messages for John in their donation messages, saying his work ethic had inspired them.
"Happy retirement John! Your hard work and dedication is a motivation to all of us," one person said in their donation.
"Happy retirement, John. You deserve more than what this company has offered you. Wish you all the best in your life and your future," another said.
"Dear John, Your story has really resonated with me. I hope you read all of the comments from well wishes and know that your contribution to the world has been seen. I hope you take pride in that knowledge because you absolutely deserve to. I am honoured to contribute to your retirement."
brooke.rolfe@news.com.au