A young female carpenter has opened up about the surprising realities of working in the male-dominated industry.
At just 19, Bardie Somerville stood in the shoe department at Kmart, trying on men's work boots in preparation for her first day on the job.
At the time, she says female tradie gear was not as readily available as it is now, meaning she had to wear men's steelcap boots that were two sizes too big.
She recalls feeling "shaken" when she stepped onto the testosterone-fuelled work site for the very first time, not quite sure if she would last the day.
"I was definitely out of my comfort zone," the 25-year-old from Melbourne told news.com.au.
"The industry was not something I'd ever been introduced to or really interested in. I just kind of fell into it after my dad asked me if I would be keen for a job.
"I was doing bar work at the time, which wasn't really for me, so I thought I might as well give it a go.
"I started off as a labourer. I had no real intentions of wanting to make being a tradie my career.
"I always imagined I'd go to university, which I did, and that I'd find a job after that. My school never really showed that trades could be an option."
Despite her initial nerves, Bardie came to love everything about the industry.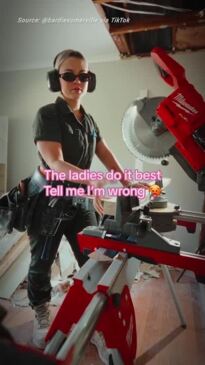 She decided to drop out of her university course before her final year in favour of starting an apprenticeship.
While some in her life questioned her choice, she has no regrets and says it was the best decision she has ever made.
"I couldn't count the amount of times I've had people question my decision to do this job or whether I should be in this industry," she explained.
"But I've always been very driven, and I knew this is what I wanted to do.
"After being a labourer, I tried electrical, plumbing, concreting, bricklaying and then carpentry.
"I decided that carpentry was my favourite, it is a job that allows me to use every part of my brain. Every day is different and it feels very rewarding."
With females making up just 1 per cent of those working in carpentry, it goes without saying that Bardie's presence on a job site can incite curious reactions from people.
While she says that the majority of the men she encounters at work are respectful, there have been many occasions where she has been sexually harassed on the job.
"I've had men say weird and creepy things to me in the past, and still do today," she said.
"It is always difficult when you work with someone who makes comments or does something that is uncomfortable.
"I have been harassed multiple times onsite. When I was in NSW, there was one particular man who did our timber orders.
"I would dread going there because every time I did, he would talk about wanting to see me in a 'skirt and heels', and make comments about my 'legs and ass', and my appearance overall.
"Every time I left, I felt sick, but I didn't feel like I had anywhere to go to with it, my company at the time spoke to him, but it never stopped, because he didn't see an issue with it.
"This is just one example of many, I was lucky that this situation I could leave. Being stuck onsite with someone with this attitude is a lot harder."
Bardie states that the majority of men she has worked with, both now and in the past, have been very respectful as colleagues.
"Being sexually harassed shocks me a lot more these days," she said.
"Thankfully, the men and team I work at the moment are great, and respect me just as they would anyone.
"Which really is as it should be. We just want a safe space to have the opportunity to give it a go.
"For the most part, the men I've worked with in the past I couldn't speak higher of. They have taught me everything I know about building.
"They have also supported me and been my hype team through many difficult point in my life where I didn't have family around.
"In those situations when you are uncomfortable or being harassed, having a supportive team who have no tolerance for that behaviour is imperative.
"It is always harder when you feel you are in a space where you just have to cop it and have no where to turn to."
Bardie hopes to inspire other young women to consider a career in trades, particularly carpentry, and says that females bring some unique skills to the table.
"This is an incredible career path for women, and the opportunities are out there," she said.
"I love going to work everyday, and this role allows me to be creative, analytical and engaged.
"It is so rewarding seeing something created from nothing, and getting problems solved.
"I've had many businesses hire a woman after working with me and it is one of the biggest compliments I have received.
"They often say the way I carry myself, my detail of work and passion inspired them to try having a woman onsite.
"If a woman wants to do a trade, you know she hasn't made that decision on a random whim. She is driven and wants to be there.
"My best advice would be just to give it a go, get some hands on experience and don't listen to the 'no's in your life.
"I want all women to know that is nothing they can't do. I'm so excited for the future of our industry and everyone that is apart of that journey with us."
Read related topics:
Melbourne