Easily one of the longest-running and most popular games in its genre, The Sims series is famous for the sheer amount of player-made content it offers. The Sims 4 expansion Horse Ranch finally brought that classic western-themed ranching lifestyle into Simmers' virtual realities.
RELATED: The Sims 4 Mods You Didn't Know You Needed Until Now
But, while the basic expansion pack offers vast possibilities for bringing your equestrian dream to life, there are also numerous fan-made Sims 4 mods out to bring your Sims experience to a new level. Whether it's improving gameplay or adding new barn-inspired decor, the following mods go above and beyond in enriching the game experience for all Sims 4 players with a love for horses.
10
Farm Animal Set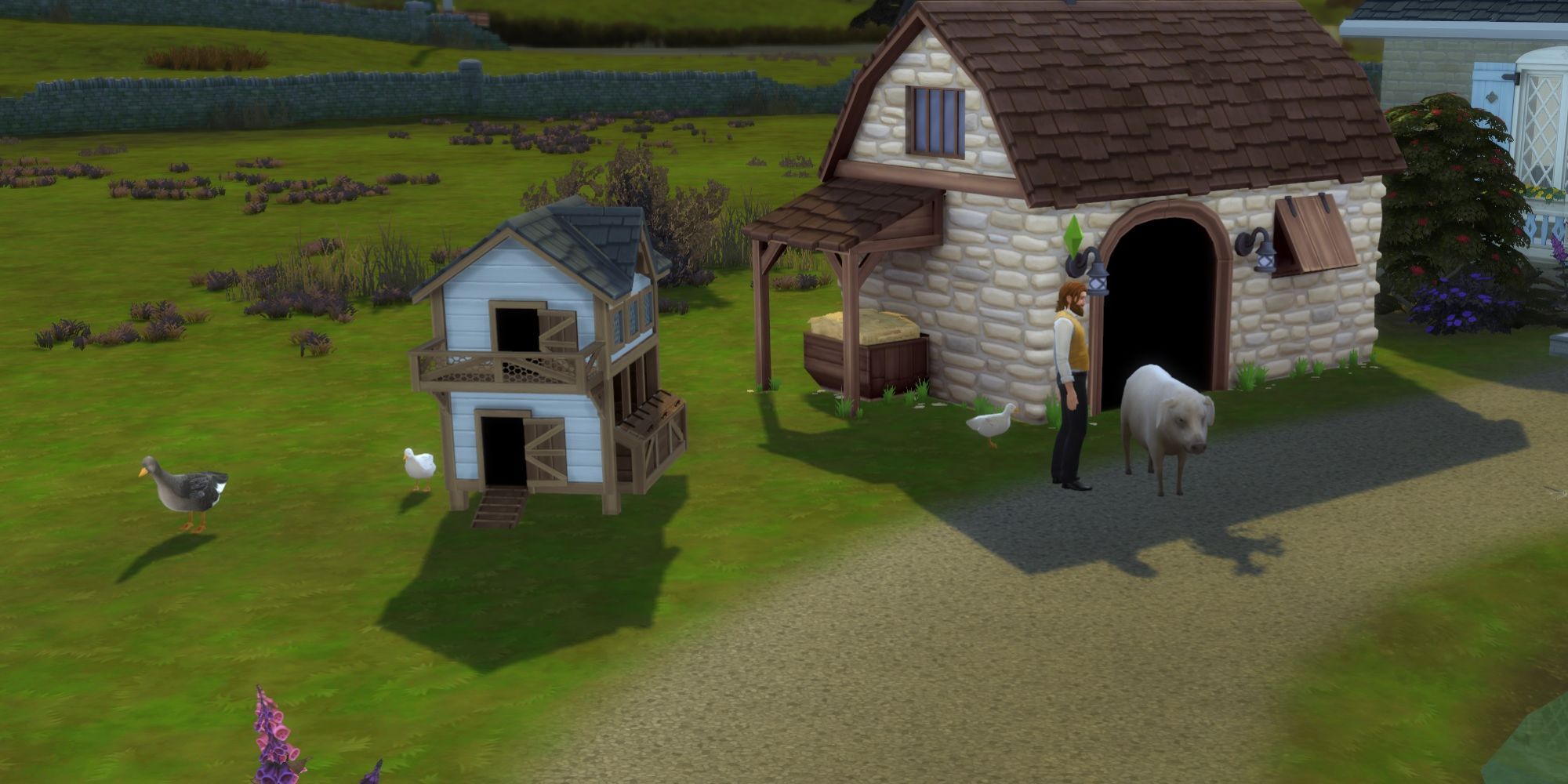 Both Horse Ranch and Cottage Living expansion packs bring a wide variety of farm animals to The Sims 4. Sure, your Sims can now go horseback riding or interact with adorable color-changing livestock – but what about pigs, ducks, alpacas, or even donkeys? If you're one of those cottage-core players who want to fill their ranches with even more cute creatures, the Farm Animal Set by TheKalino might be the perfect mod to add to your game.
Using the Living Shed or the Chicken Coop, your animal-loving Sim can purchase over 15 different animals that can provide them with yield products. Just make sure to download the base-game-friendly version – in case you don't already have Cottage Living.
9
Selectable Pets Always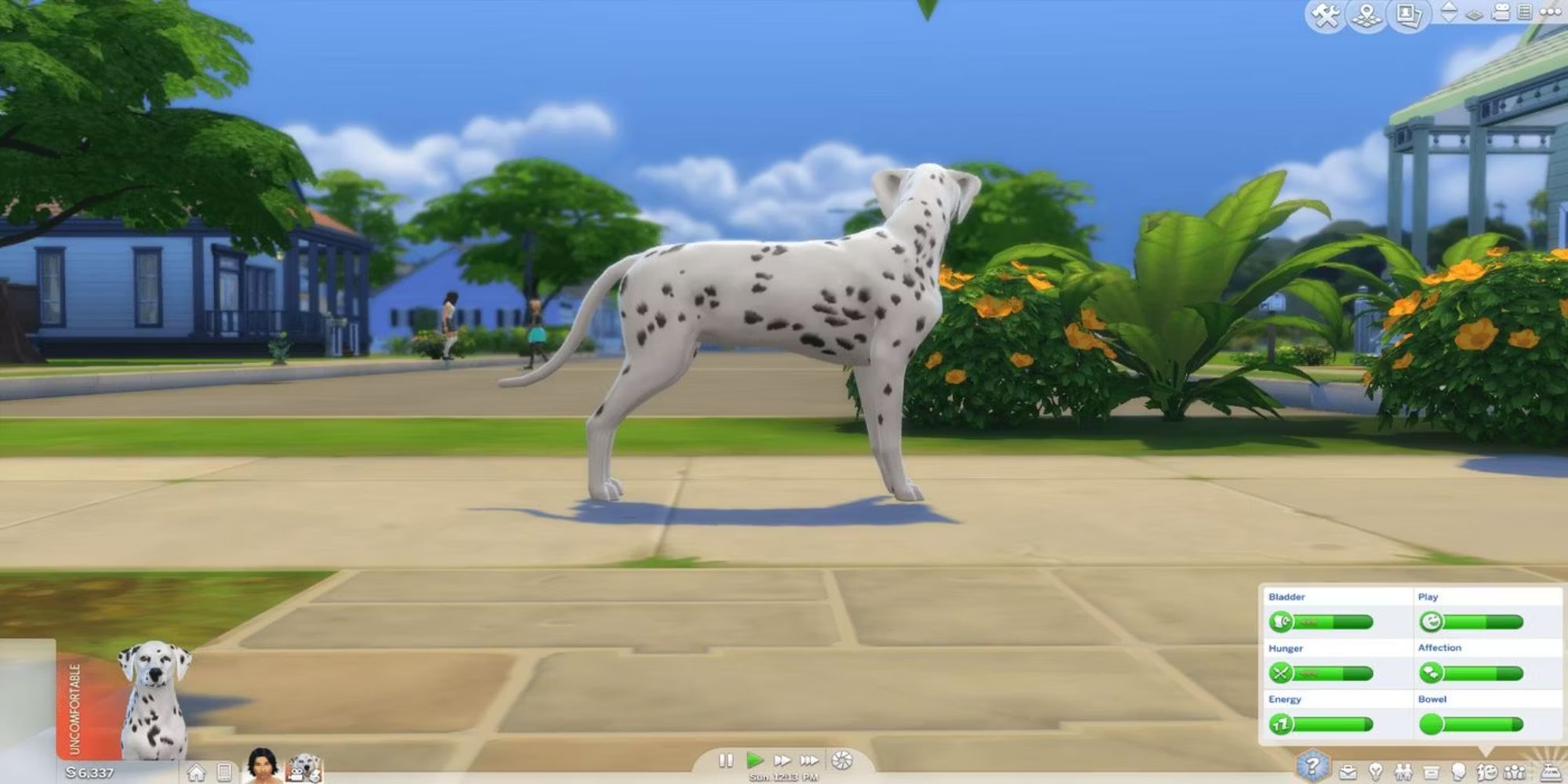 One of the unfortunate aspects of The Sims 4 is the lack of control over your Sims' pets. For that reason, CharityCodes offers a game-changing Selectable Pets Always mod that lets you be directly in charge of cats, dogs, and horses – just like you could in some previous games.
In other words, you can select your pets in a way that's possible with a normal Sim (they even get a little Plumbob over their heads!). This allows you to give them commands based on their needs, which are visible in the needs panel. However, while this mod is compatible with the base game, it will not work on Cottage Living animals as they're not officially part of the Sims' households.
8
Bareback Horse Riding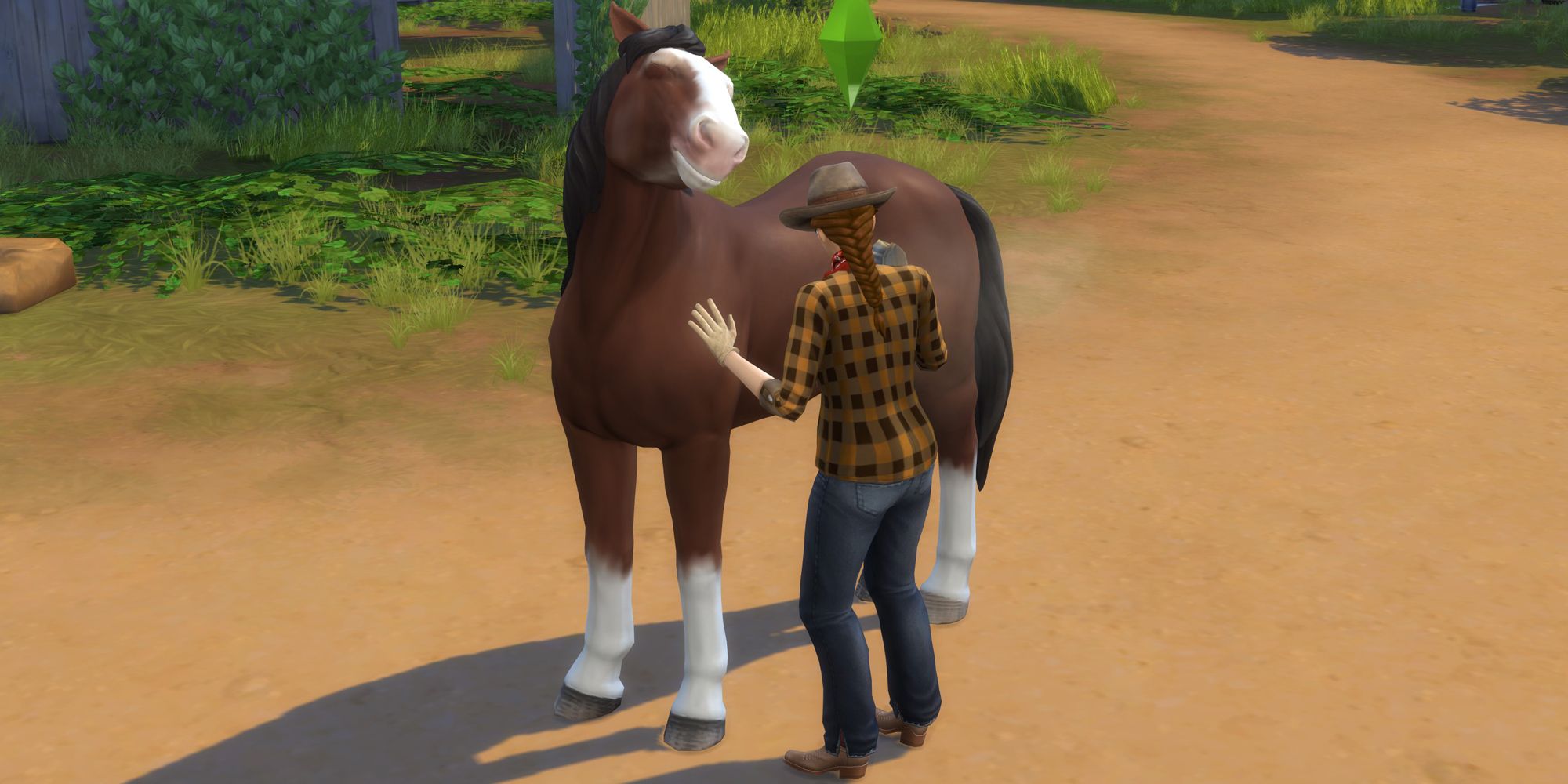 Horse Ranch offers a variety of CAS options when it comes to your Sims' riding equipment. This includes buckles, blankets, bridles, and naturally, both Western and English-styled saddles, as well. On the other hand, these saddles are pure accessories, which don't affect the horses' performance in the game.
So, why isn't bareback horse-riding also a thing, like among some real-life equestrians? Simmers might never find out. Luckily, the Bareback Horse Riding mod by Evilprincess allows your Sims to ride their horses without a saddle. It's actually a CAS asset that is perfectly compatible with Horse Ranch expansion, but only Sims in life stages teen and above can use it.
7
Equine Careers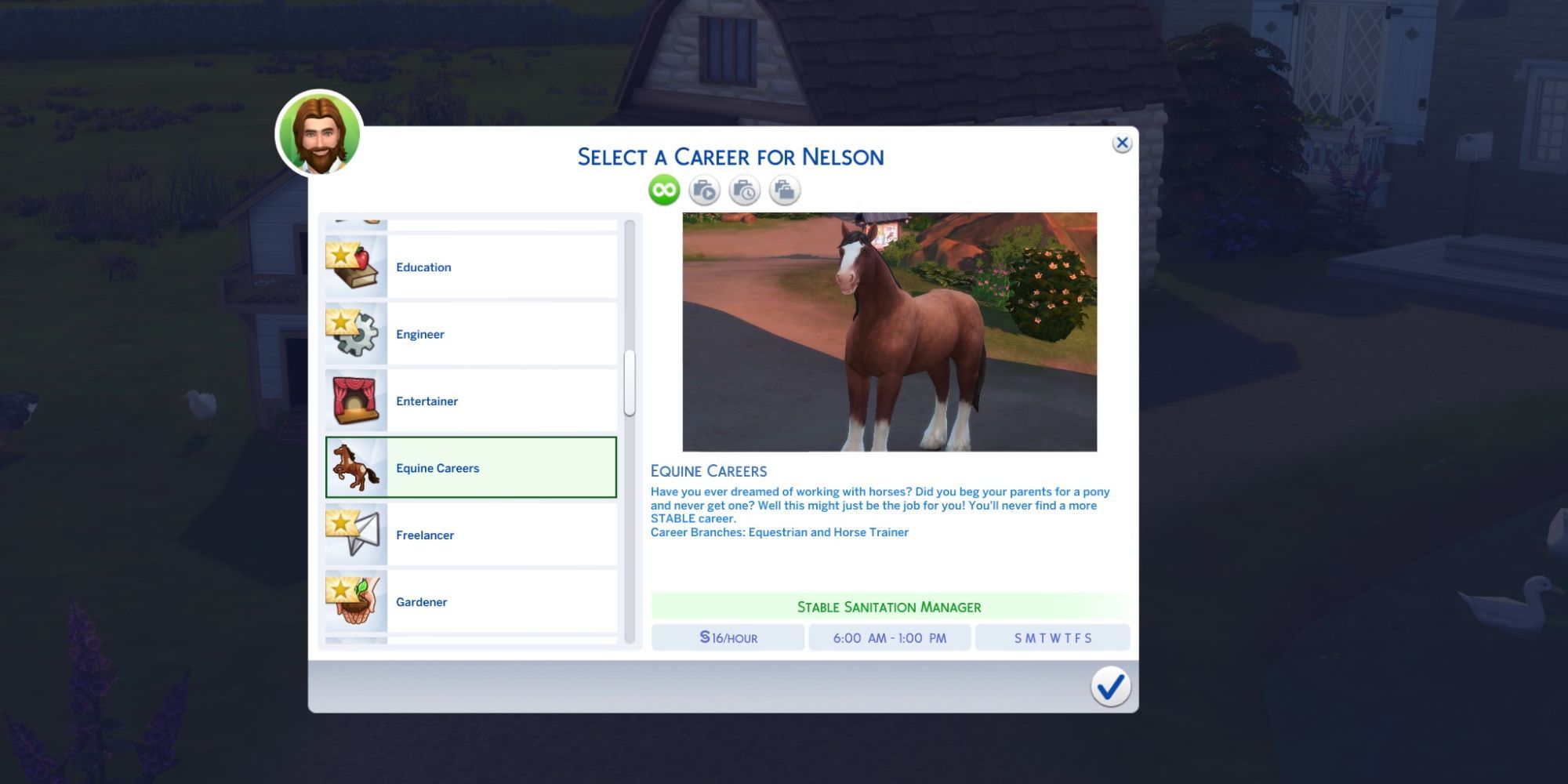 Everything in Chestnut Ridge revolves around ranch life and horse-related things – excluding the official equine career path. Sure, there are already many careers available for you Sims to choose from. However, a job in the equine industry might sound like a dream come true to many horsey Simmers.
RELATED: The Best Sims 4 Careers, Ranked
If that's you, then you'll love the base-game compatible Equine Careers Mod by NerdyTrait that brings new career aspirations related to horses. Starting as a Stable Sanitation Manager, your Sims can finally work their way up to become professional horse trainers or equestrians. Is there a better way of making Simoleons than by following your passions?
6
Horse Competitions Give Fame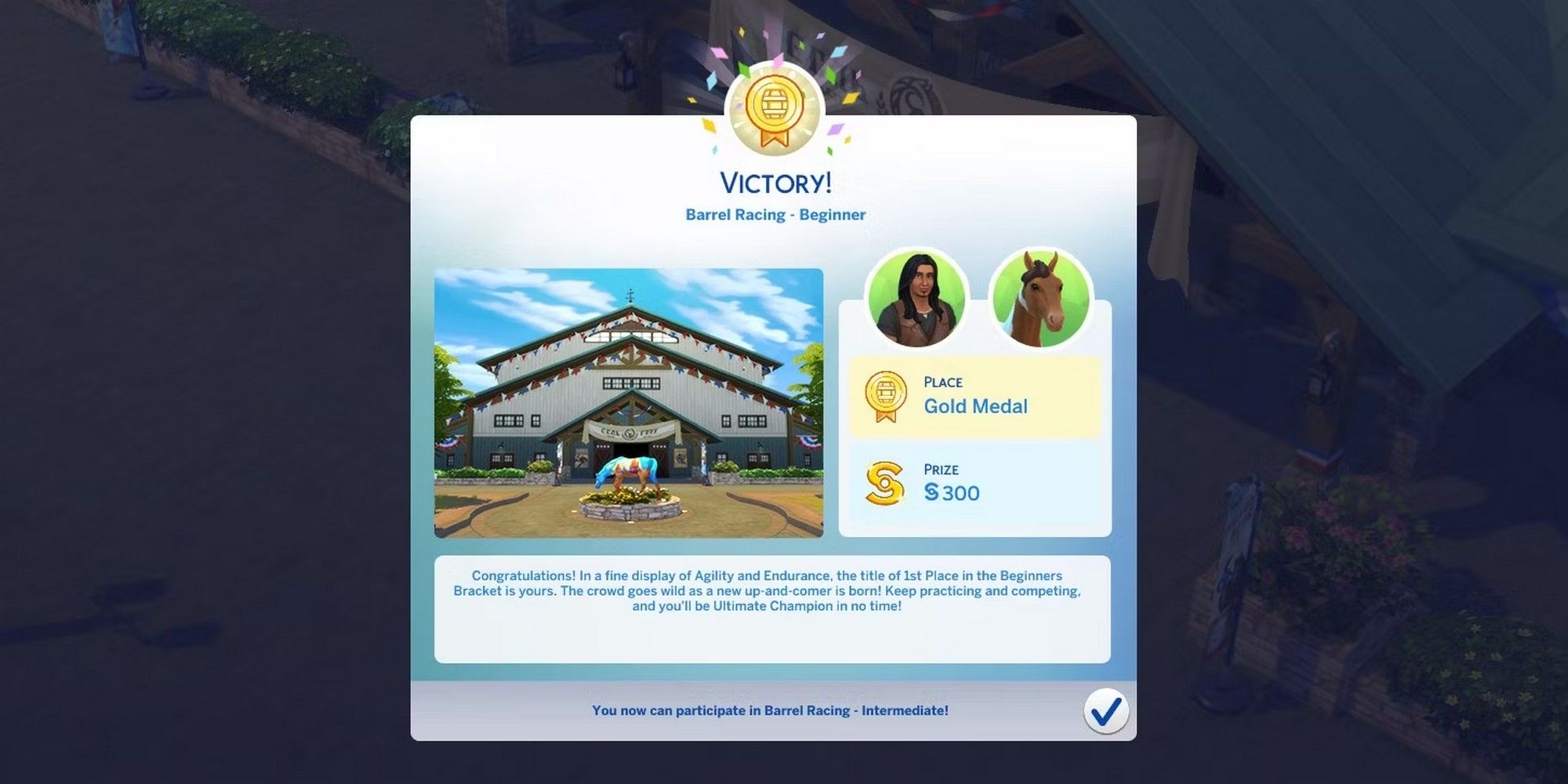 Winning horse competitions can bring your Sims a nice sum of Simoleons and trophies that can be displayed in their homes. However, it would be more interesting if they could gain more public attention or even become celebrity equestrians, based on their achievements at the Equestrian Center.
Thanks to Horse Competitions Give Fame mod by Waffle's Mix-Ins, getting your horsey Sims into the spotlight is quite possible. With every competition they win, they'll earn more or less fame, but most importantly, they'll build a stronger relationship with their horse.
5
Live In Services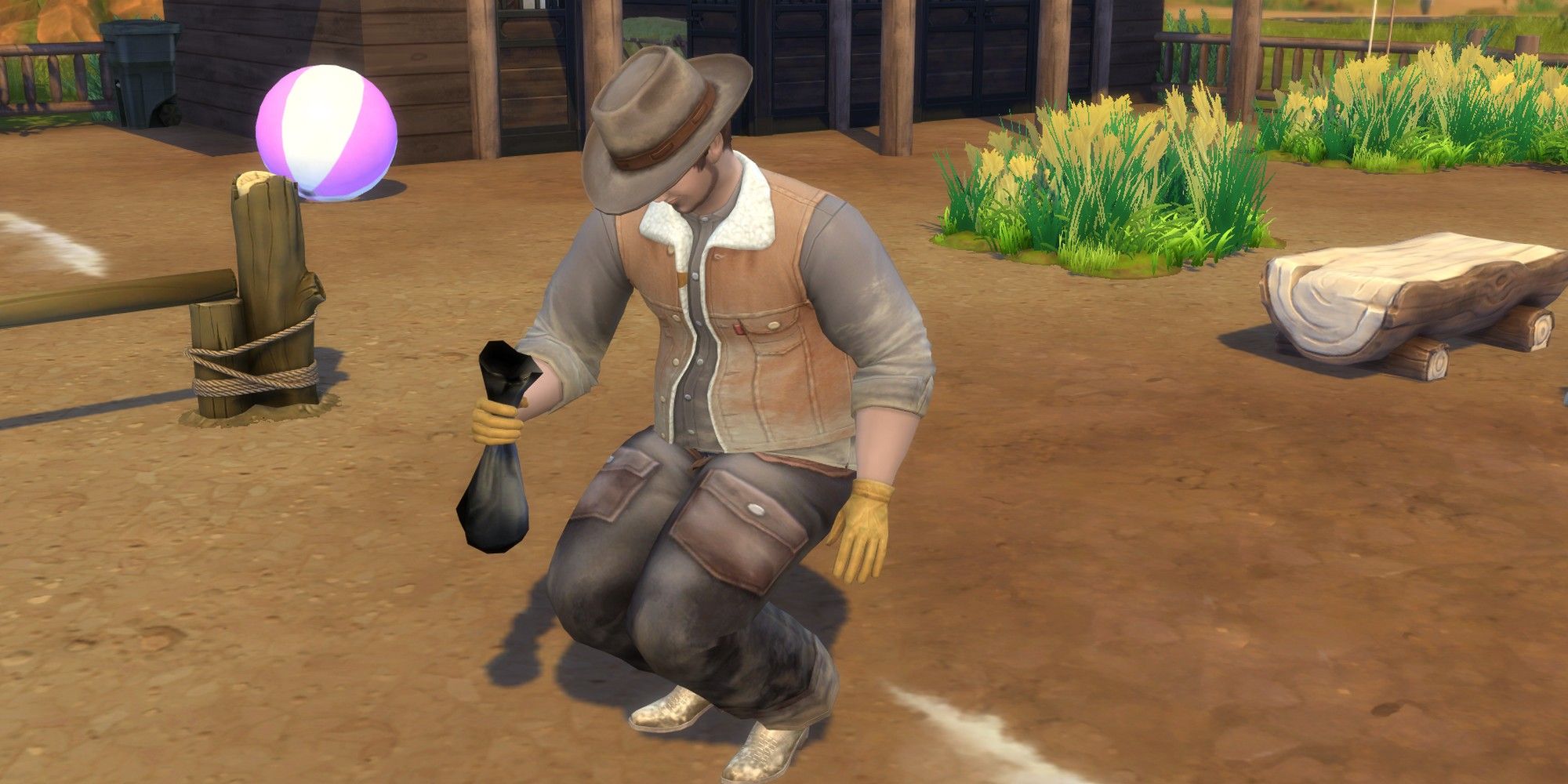 Managing a ranch can become overwhelming, even in The Sims. There's always something to do: animals and crops to take care of or broken stuff to repair. Fortunately, you can hire Ranch Hands to help your Sims around daily, from 7 am to 7 pm.
In case that isn't enough, LittleMsSam's Live In Services mod allows you to have Ranch Hands available day-and-night. Just like Butlers, they're basically residents of your Sim's household and can be hired over the phone – assuming they are homeless and unemployed.
4
Faster Nectar Making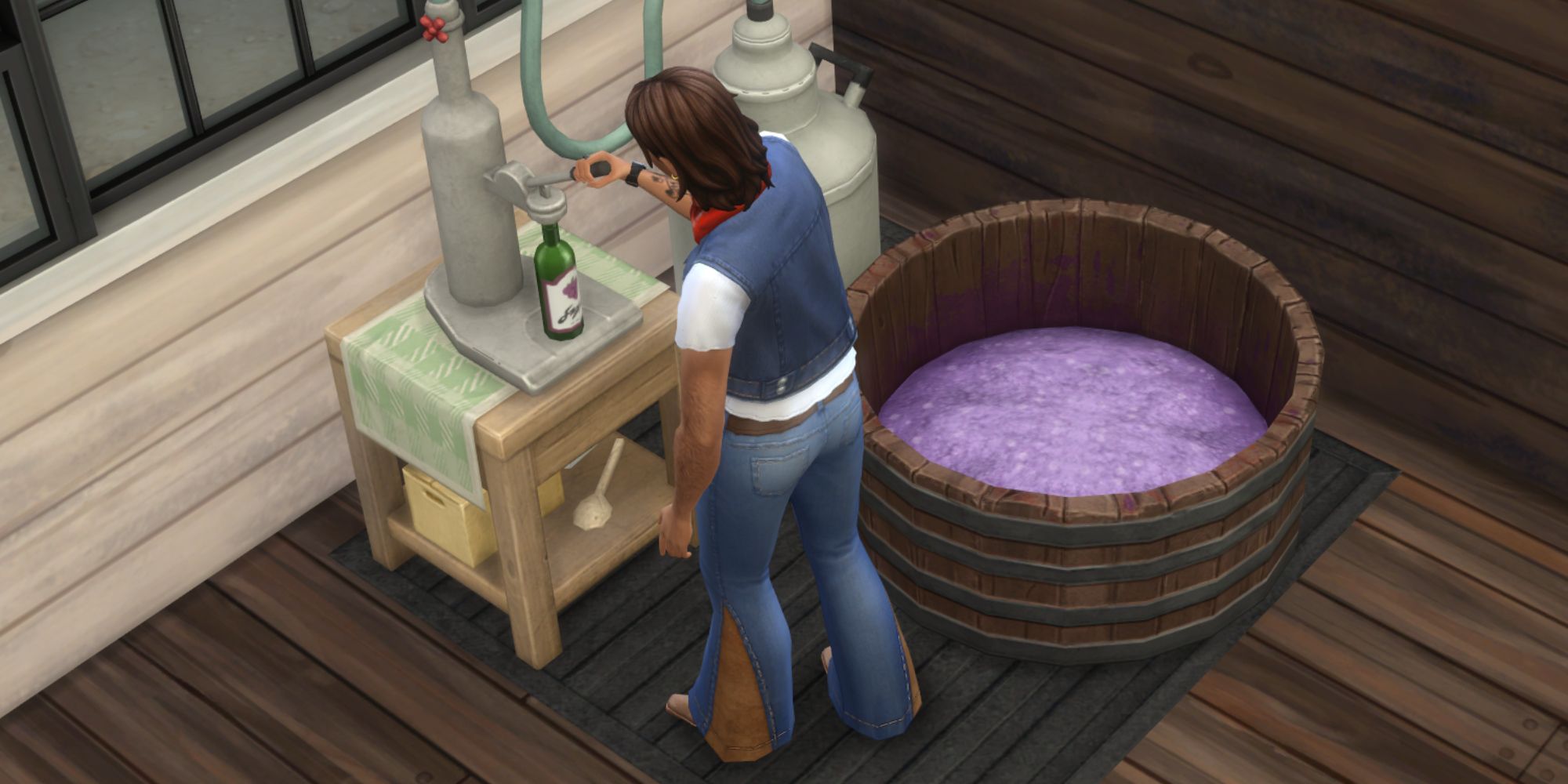 Horse Ranch came out with a new nectar making feature that could earn your Sims some nice Simoleons if they make a business out of it. The only problem is that producing a single bottle of nectar can take a lot of time, which doesn't sound particularly profitable.
RELATED: The Sims 4: Best Hobbies In The Game
However, with the Faster Nectar Making mod by ClaudiaSharon the time necessary to make nectar is decreased up to approximately 18 Sim minutes. On top of that, speed up the game on ultra-fast mode and stomping fruits will never seem tedious again.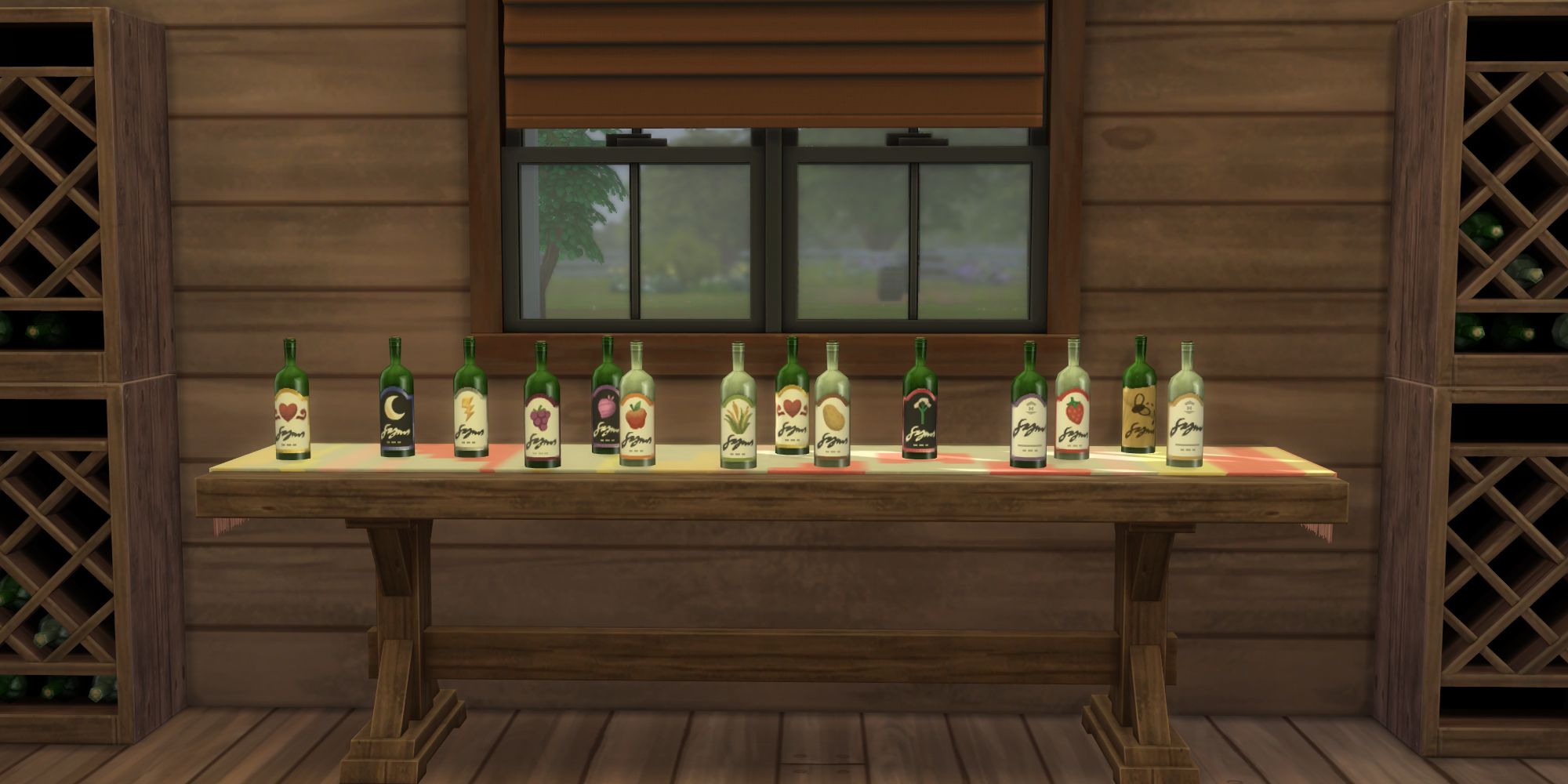 Whether your Sim is dining at a restaurant or running one themselves, they'll have a wide range of food and drink options to choose from. The only thing that's missing are glasses of excellent quality fruit nectar, which many Chestnut Ridge townies would surely enjoy.
If you already own the Dine Out game pack and want to put those delicious nectar drinks to good use, you don't want to miss out on Ranch Nectar in Restaurant Menu Fix by icemunmun. This mod lets you add a variety of nectar flavors to restaurants' menus, ensuring that there are some refreshing drinks for every Sim's taste.
2
Functional MechBull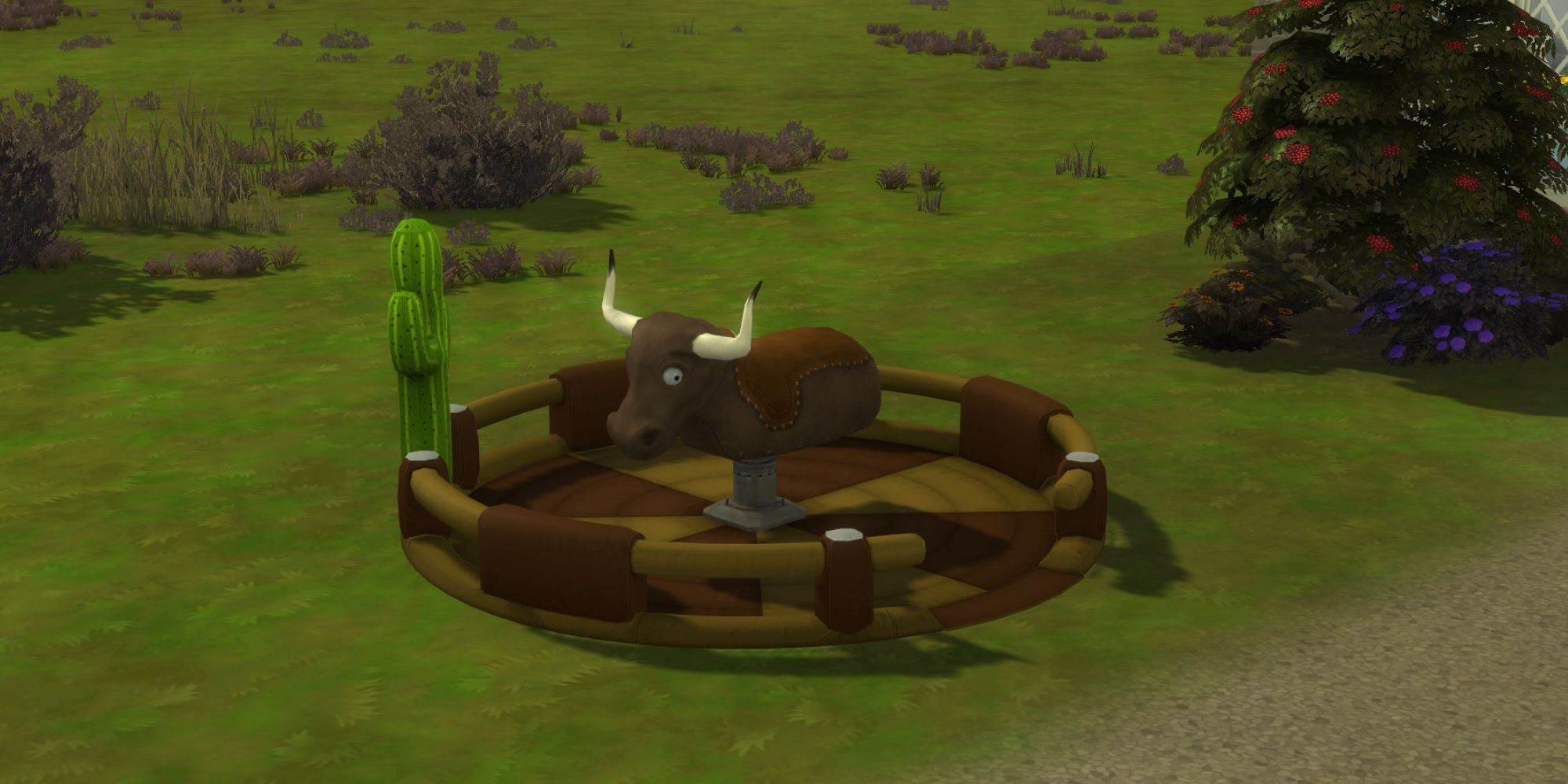 What kind of cowboy-inspired community doesn't own at least one bucking machine, you may ask? Well, it certainly is a shame that Chestnut Ridge doesn't offer The Sims 4 players this fun object like it did in some previous games.
However, thanks to Cepzid Creation, you can finally shake things up in your Sims' country lives by downloading Functional MechBull Mod. Its custom animations are hilarious; you'll get to watch your Sims recklessly tossed around on this wild machine, and it will also look great in either of the town's saloons.
1
Country Music Channel And Western Music Channel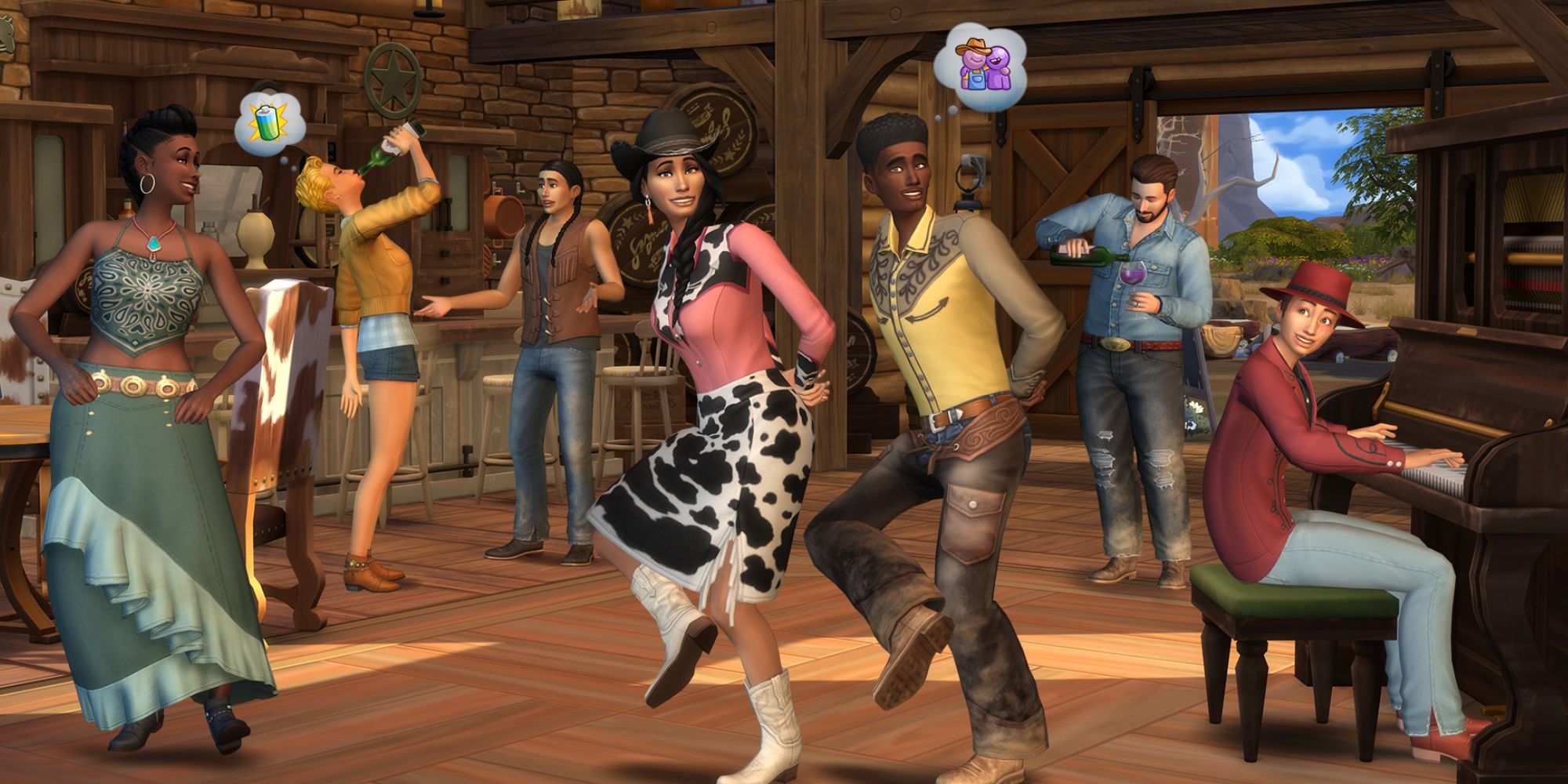 Horse Ranch came out packed with a new radio station aptly named "Ranch" that resembles country music. It's perfect for a wild night of line dancing at The Rusty Horseshoe after a tough day of working on the ranch.
Still, if you desire a more extensive selection of similar melodies, then you should download Scipio Garling's Country Music Channel and Western Music Channel. This mod offers two new radio stations with royalty-free country and western music, which is 47 extra tracks in total. Now your Sims can practice their Cow Poke dance while some bluegrass and orchestral pieces inspired by Western movies play in the background.
NEXT: The Best Sims 4 Mods For Realistic Gameplay