Everyone has swapped their companions' underwear around in Baldur's Gate 3, and if you say you haven't you're either a liar or very dull and we can no longer be friends. There are some players who go au natural back at camp, letting everything (and every companion's thing) hang out. Personally, I enjoy the clothing too much to have everyone wander around starkers, but even though I rarely see it, I'm still fascinated by the shapeshifting underwear everyone has.
I've been slowly changing up my armour as I progress through the game, upgrading for new sets I buy or, more often, loot from around the game world. Lae'zel has her pick of heavy armour, Astarion gets the light stuff, and the rest of us squabble over medium gear. By squabble I mean me and my girlfriend Karlach get the good stuff and everyone else can whistle for it, but still, there's plenty of armour to go around. Clothing for camp is in shorter supply as most of your victims are wearing armour when you pick their bones clean, which is why it's helpful that everyone comes with their own underwear.
Related: My Quest To Get Drunk In Baldur's Gate 3
A lot of characters wear quite boring clothes when you consider the range of options available to them, but there's a lot more expression in the underwear. Shadowheart's is purple and silver with gothic swirls, befitting her position as a Shar worshipper. Lae'zel has perfunctory and battle ready leather strapping. Gale's is made of thick and baggy fabric, warm and roomy under his robe. Like everything else in Baldur's Gate 3, the underwear feels like an extension of the character themselves, and their self expression.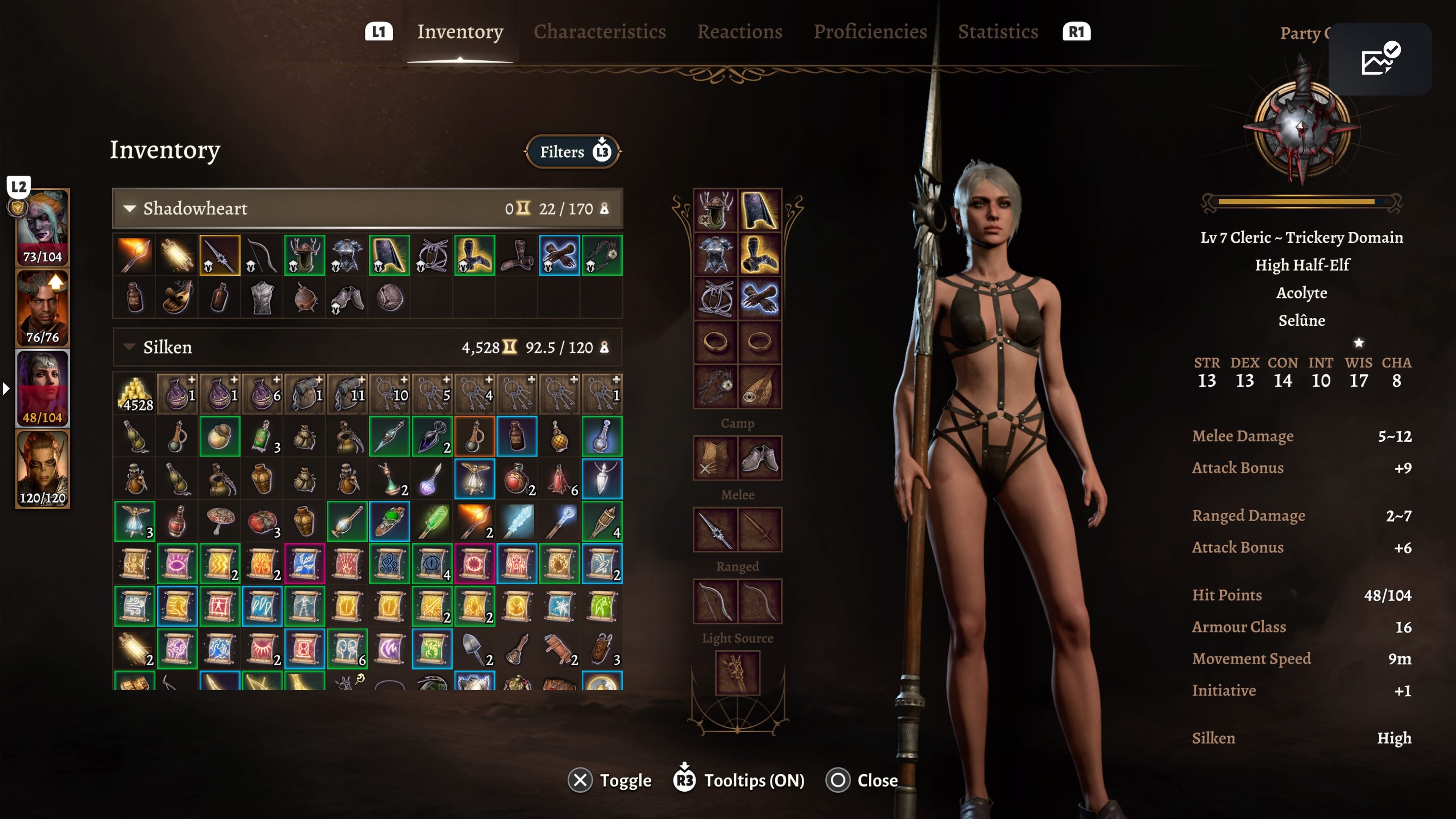 Also like everything else in Baldur's Gate 3, you can involve yourself in their business and overrule this self expression. Personally I have my drow in Lae'zel's leather strappings, a souvenir from our early fling. But then where Astarion has turquoise tighty whiteys (tighty turquies?), if you give these to Jaheira they become a two piece, with a far smaller bottom set and a bra that extends down the torso with webbing.
It suits her, but where did Asatarion get it? More surprising, it's an exact match for Jaheira's set, just in a different hue. Likewise, if Jaheira donates her own green lingerie set to Astarion, they transform to the same style and shape of Astarion's, except they become green.
Gale, meanwhile, will also don tight y-fronts if given Astarion or Jaheira's undies, but typically wears boxers with an old fashioned drawstring. When these are given to a female companion, they become '50s style beachwear that Marilyn Monroe might have caused heart attacks across the country in. It's worth switching Gale's to someone like Shadowheart if you want some diversity in your negligee.
Wyll has far and away the worst underwear, sporting some loose and slightly dirty white monstrosity that looks like a diaper. For a whiny little daddy's boy, maybe that's the most fitting of all. If you give these to Karlach though, you won't see her pampered – I'll leave it up to you whether the lack of options to diaper Karlach is fortunate or unfortunate. There's always DeviantArt, I guess. Instead, wearing Wyll's dirty knickers gives Karlach a thick stitched two piece similar to the Gale version, but zipped at the crotch and with the two halves of her bra tied together. It's a way more stylish fit than Wyll can pull off.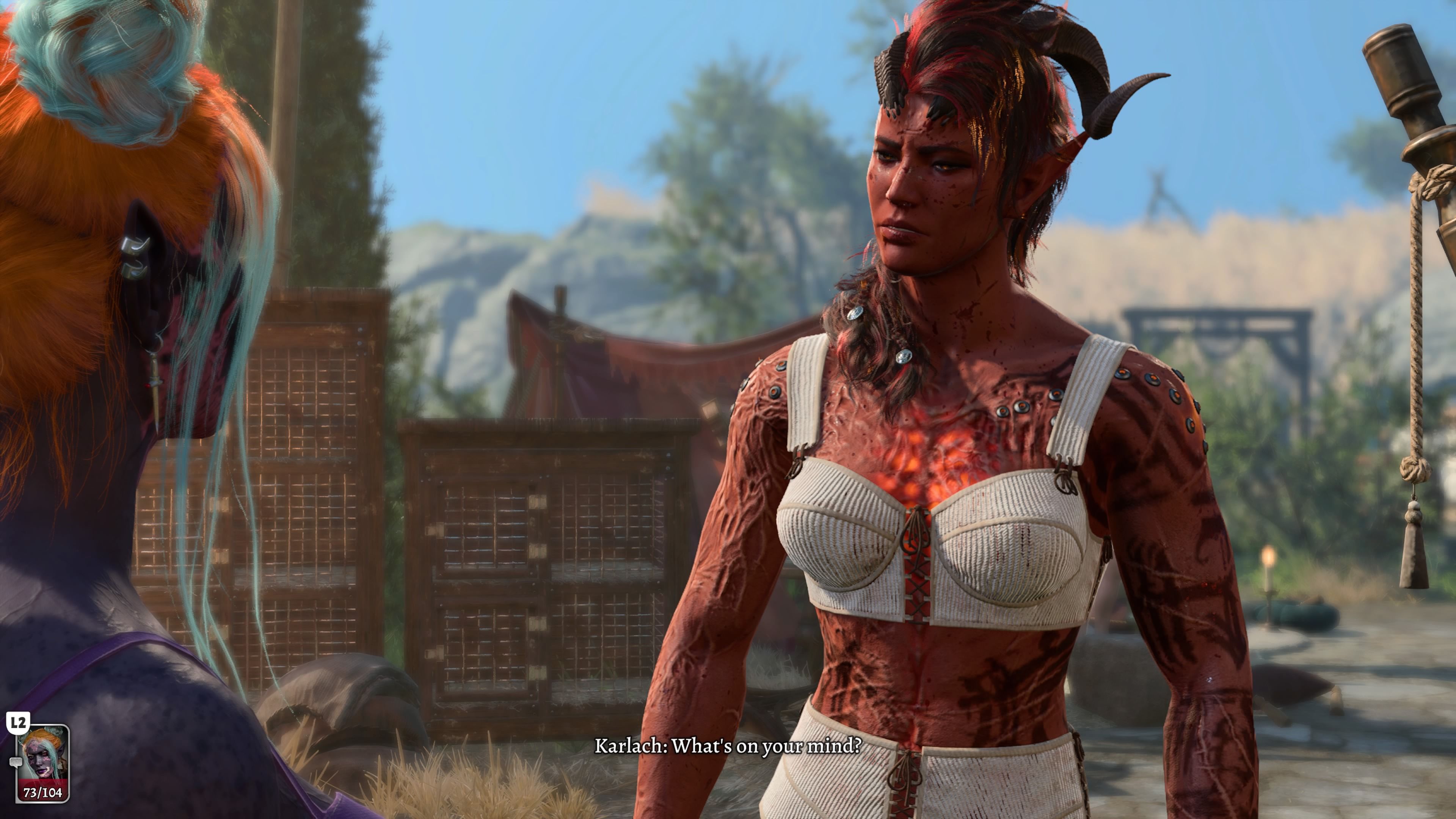 My only complaint is that there could be more variety with the colours. Shadowheart, Gale, and my own drow all come with purple options, while Lae'zel and Karlach bring classy all black numbers to the affair. I think I killed Halsin accidentally, and slayed Minratha on purpose, but I'd guess she wore black too. At least her outfit looks great on Karlach… although I'm spending so much time writing this I may have seen the light and have Karlach wander around in her white bathing suit, along with the rest of my nearly-naked party.Baldur's Gate 3 lets you play your way, right down to the undergarments. Mixing and matching is a great way to find out what you think of each character, and can make the eventual love scenes pop. Just get Wyll out of that dirty diaper before he hurts someone.
Next: How Ubisoft Milan Brought Rayman Back For His First Game In A Decade