Quick Links
Best Strategies For The Mad Clown
You may think that you've finally reached the King of Puppets in Lies of P, but there's just one last obstacle standing between you and a fantastic time at the opera: a damn clown. And of course, the clown needs an entire street of flamethrower puppets and burning buildings to fit the aesthetic.
RELATED: Lies Of P: Fallen Archbishop Andreus Boss Guide
If you're like us, you, too have been struggling to fire the clown from this parade of madness on Rosa Isabelle Street. After an extremely painful period of intensive field research, we have painstakingly crafted your cheat sheet to putting on a little clown makeup of your own.
The Mad Clown's Attacks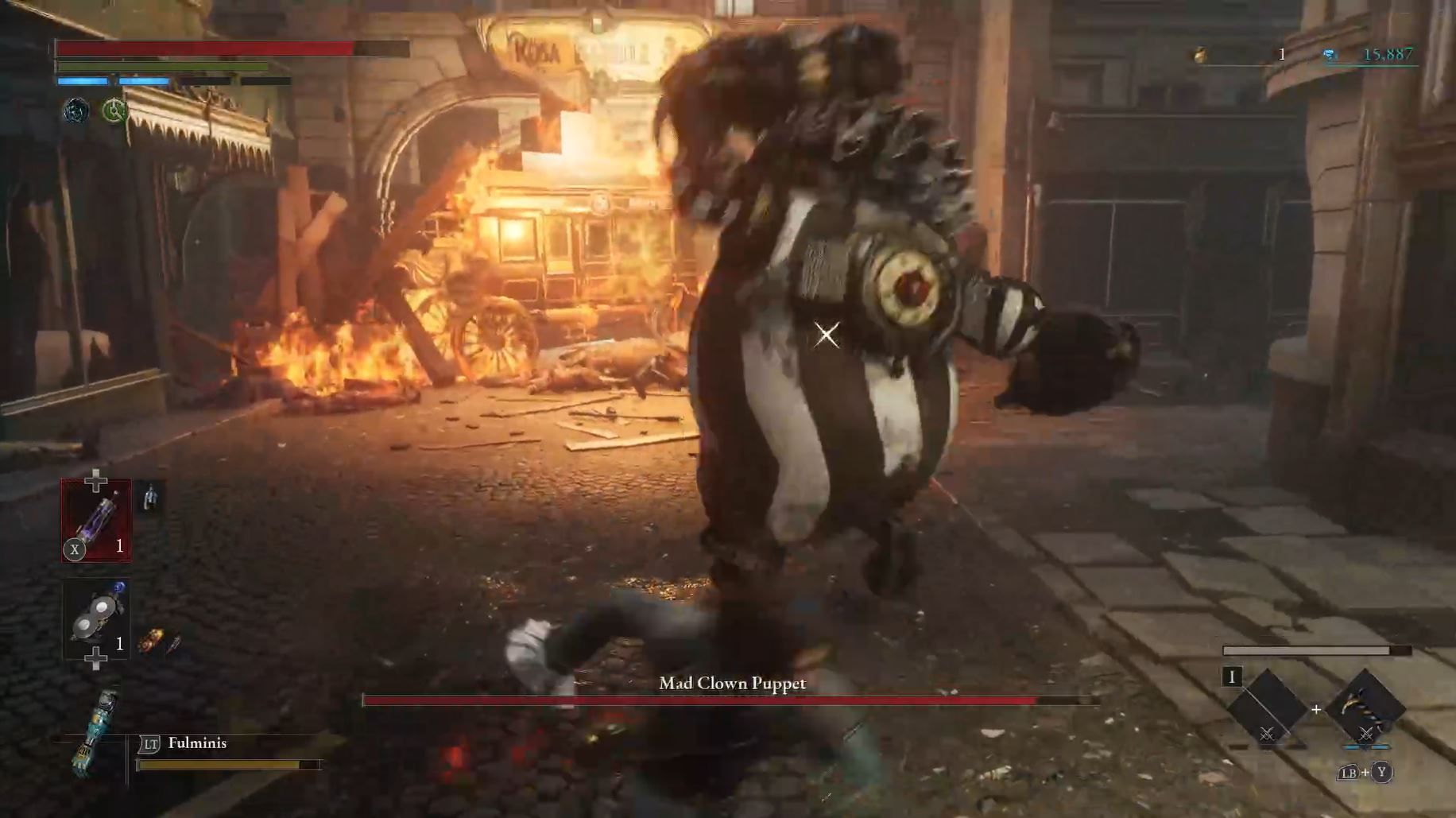 Possible Combo Chain

Attack

Wind-Up Tells And Attack Description

Suggested Counters

Spin-to-Uppercut

Circus Spin

The clown will raise its right arm and spin it over its head a few times before spinning several times. The spin attack moves, tracking the player.

The best way to avoid this is to sprint away and keep your distance as the move is rather slow. If you have a good block weapon, you can attempt blocking with this, but the Uppercut at the end will make this tricky.

Uppercut Lunge (Spin)

After spinning, the clown will quickly raise its arms to its left and then wildly swing upward to the right. It launches itself forward with this action in a diagonal line of movement.

This part of the chain is only triggered when P gets close or attempts to attack right after the spin is complete. The best way to avoid it is to give the clown enough time to drop its fists after the spin attack before making your own attack.

Standard Combo

Triple Punch

The clown will knock its fists together briefly before its right hand, then left, and then right again.

This can either be dodged or blocked, depending on your build. Keep on guard for a potential follow-up.

Smash

The clown will throw its hands in the air and then leap forward a short distance before slamming both fists on the ground. Appears by itself or in a combo with either the triple-punch or the One-Two Punch.

To avoid this attack, dash once left or right. It often leaves the clown open to attacks from behind.

Punch-to-Uppercut

One-Two Punch

Looks like the Triple Punch but ends with a long pause after, leading into an uppercut or a Smash.

This can either be dodged or blocked, depending on your build. Keep on guard for a potential follow-up.

Uppercut Lunge (Punch)

Looks like the uppercut, but it is preceded by a long pause after the one-two punch. The clown will drop its arms for a second to look as if the combo has ended and strike with a wild uppercut in a diagonal line of movement. This uppercut seems to have a larger rotation.

This punch is dodged easily by dodging to the opposite side of his punch.

One-Two or Triple Punch (Rare)

Belly Bomb

The clown will crouch with the left fist on the ground before launching itself forward belly-first. It is usually alone but can rarely appear in a combo after a One-Two or Triple Punch.

This attack is easily avoided by dashing once to the left or right. When using this attack, the clown is open to attacks from the back.

N/A

Fury Attack: Clown Punch

After glowing red, the clown will launch its right fist as a projectile. The fist will linger for one second and then be recalled back. After, the clown suffers a cooldown.

This attack can be baited when significant distance is put between you and the clown. Dodge this attack by sprinting left or right and then sprint to the clown to take advantage of the long cooldown.

N/A

Fury Attack: One-Two Punch

This is similar to his normal One-Two Punch, but it is not dodgeable and far faster in delivery. Often triggered by being too aggressive in close melee combat.

Use your Perfect Guard against this attack or maintain a healthy distance during non-openings against this boss.
The Mad Clown's attacks are mostly focused on punishing the overzealous melee fighter. With heavy attacks and resistance against staggering, playing aggressively will often result in harsh punishments from the Clown.
Of these punishments, the most unforgiving is his Fury Attack: One-Two Punch. This attack is often very sudden and can only be avoided by never placing yourself in the situation where it can trigger or by timing a Perfect Guard. Unfortunately, with two attacks and at such speed, blocking this attack (especially for the unaware) is very difficult.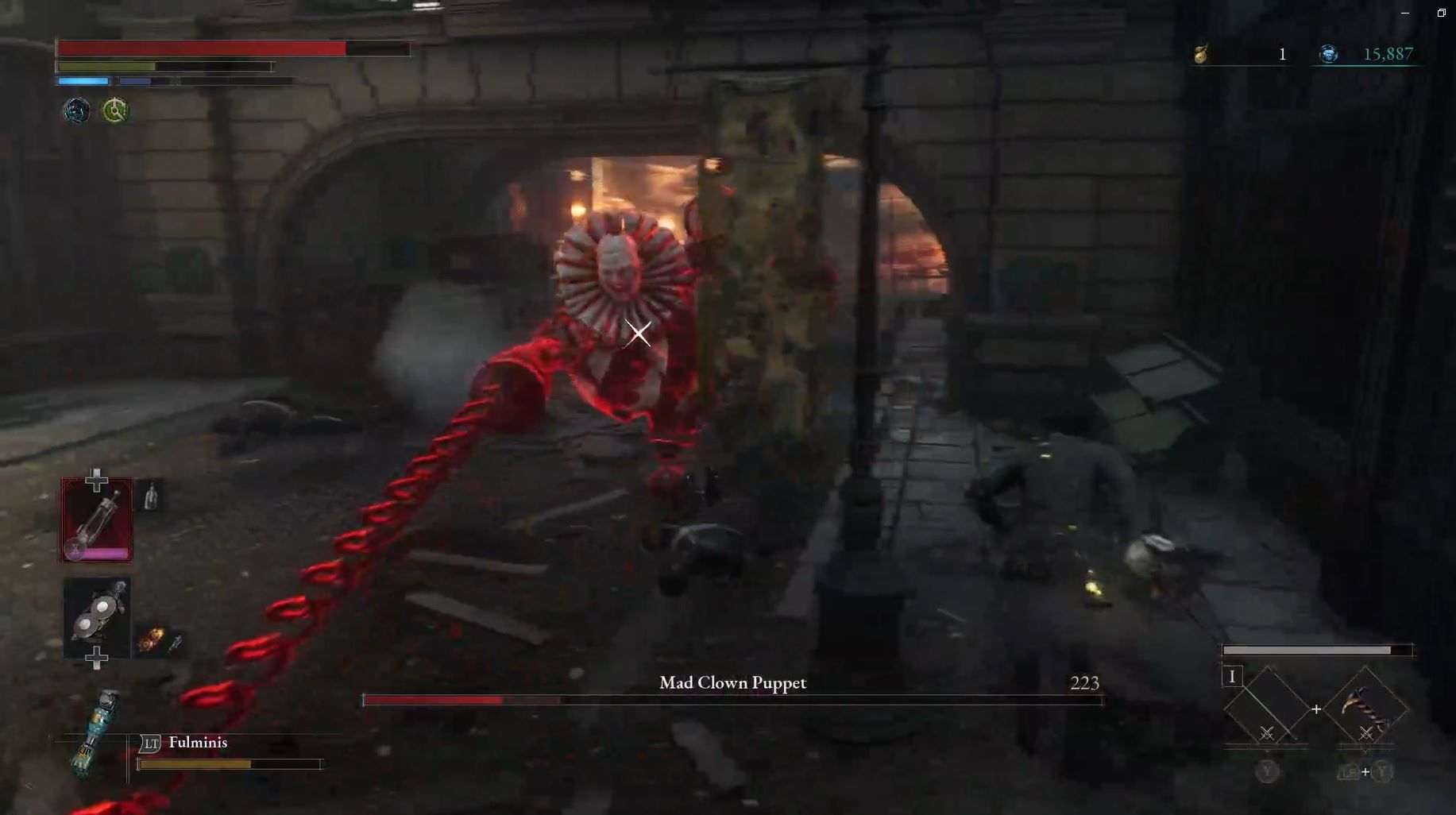 Staying at a distance doesn't always work with this boss either. He has several moves that can quickly close distance, and one ranged Fury Attack (his Clown Punch).
Thankfully, his wind-ups are generally very well-telegraphed. The placement of his arms is a huge tell of which moves he's about to do. And his ranged attack is always indicated by a red flash.
Many of his attacks are best avoided by keeping your distance, continuing to move, and making good use of Sprinting.
Best Strategies For The Mad Clown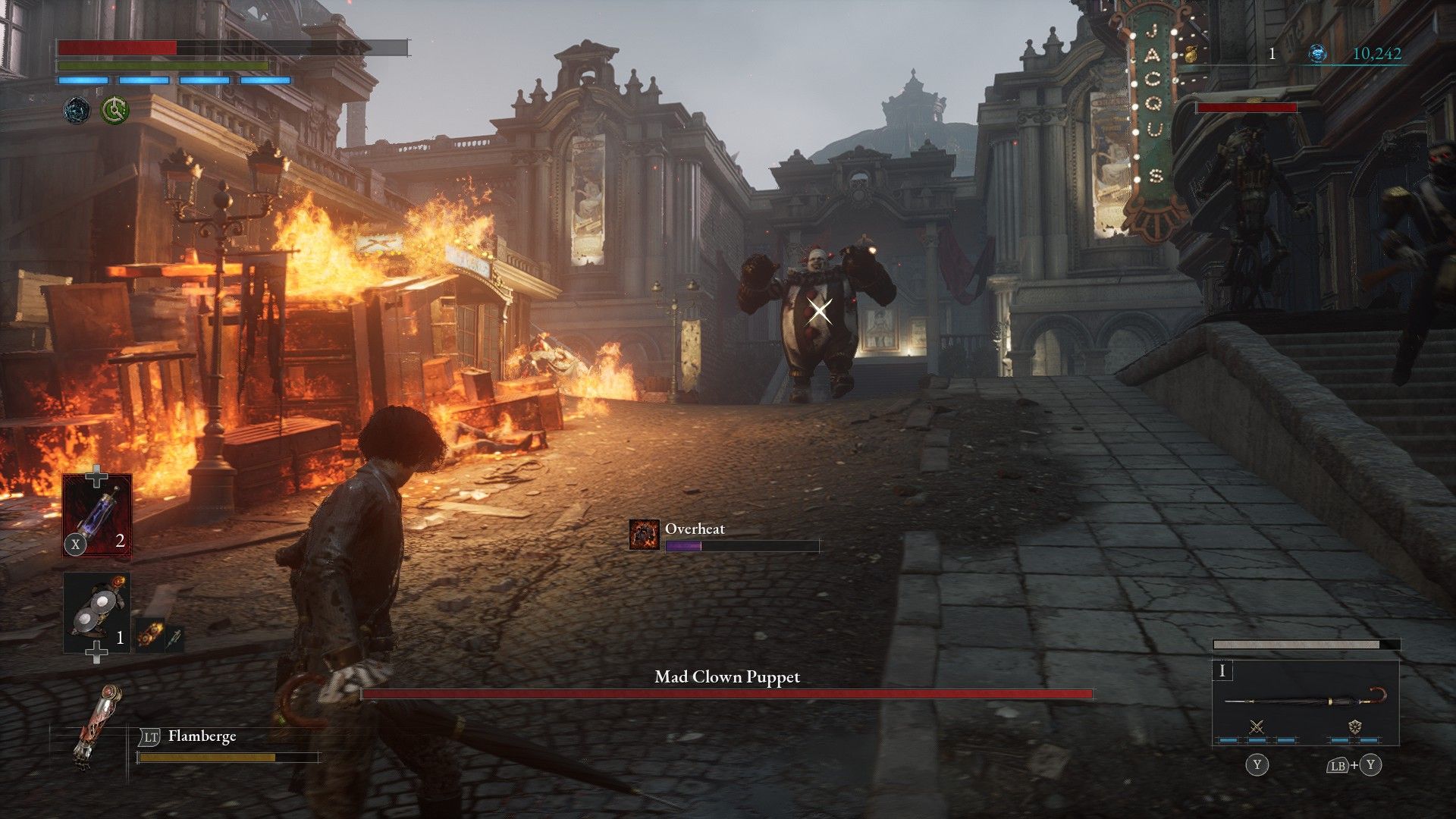 | | |
| --- | --- |
| Health | 10,000 |
| Weak Against | Overheated (Fire), Shocked (Electric) |
| Recommended P-Organ Upgrades | Link Dodge, Increase Staggerable Window |
| Recommended Weapons | Aegis (Legion Arm), Heavy/Staggering Weapons (Bone-Cutting Saw, Holy Sword of the Ark, etc.) |
The Mad Clown is generally a test of patience. When fighting him, the best strategy is always to wait for your opening – usually only one attack at the end of his combos.
Technique builds will struggle the most against him with his large healthpool, the lack of well-equipped guard weapons for such builds, and the need to keep your distance while waiting.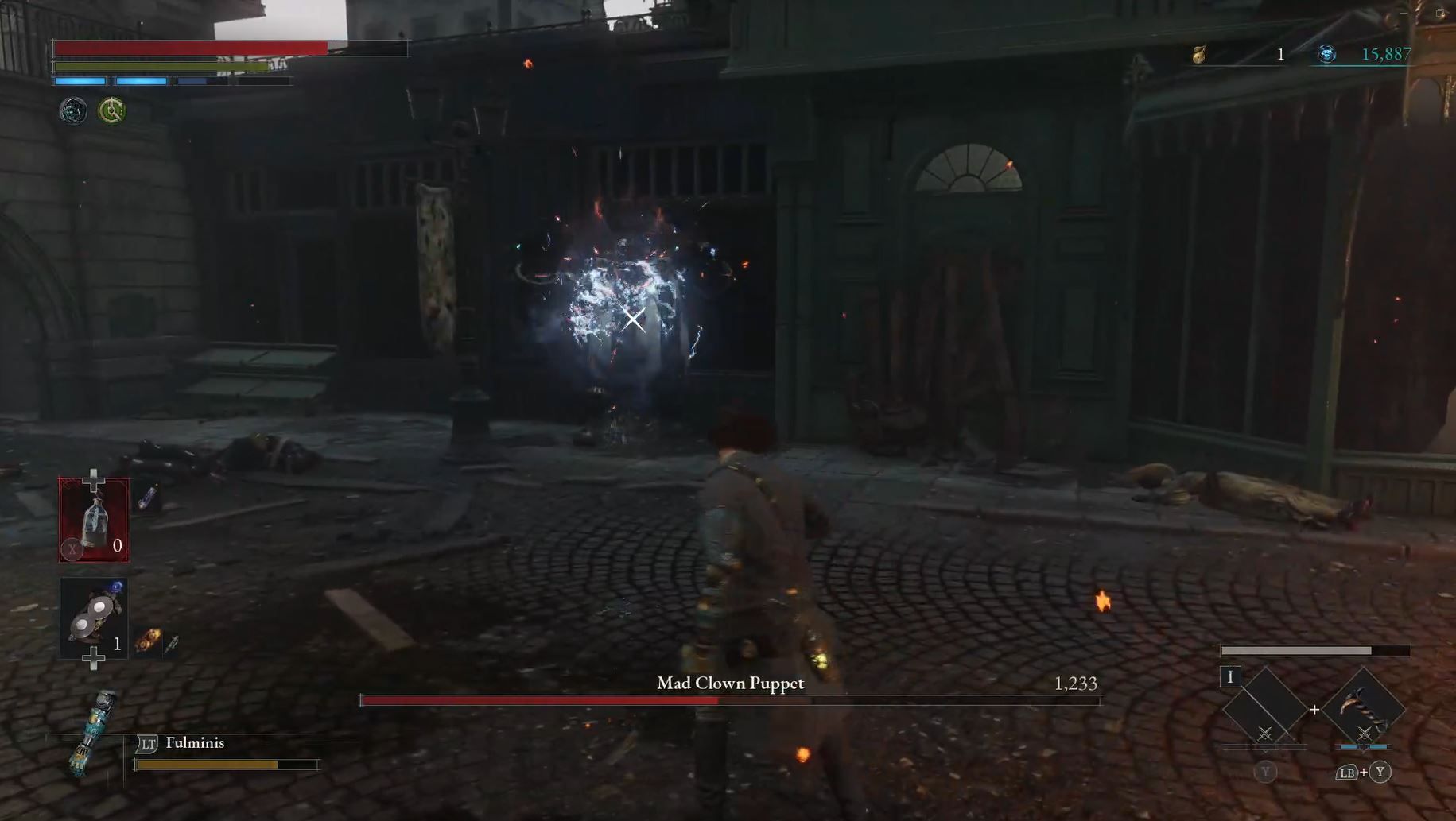 For this fight, you'll want to bring your thrown items and appropriate grindstones. Both electricity and fire work well here, so use one or the other. You can use both, but their effects do not stack.
These items are best thrown after his wild uppercut attack, usually leaving him far away and cooling down afterward.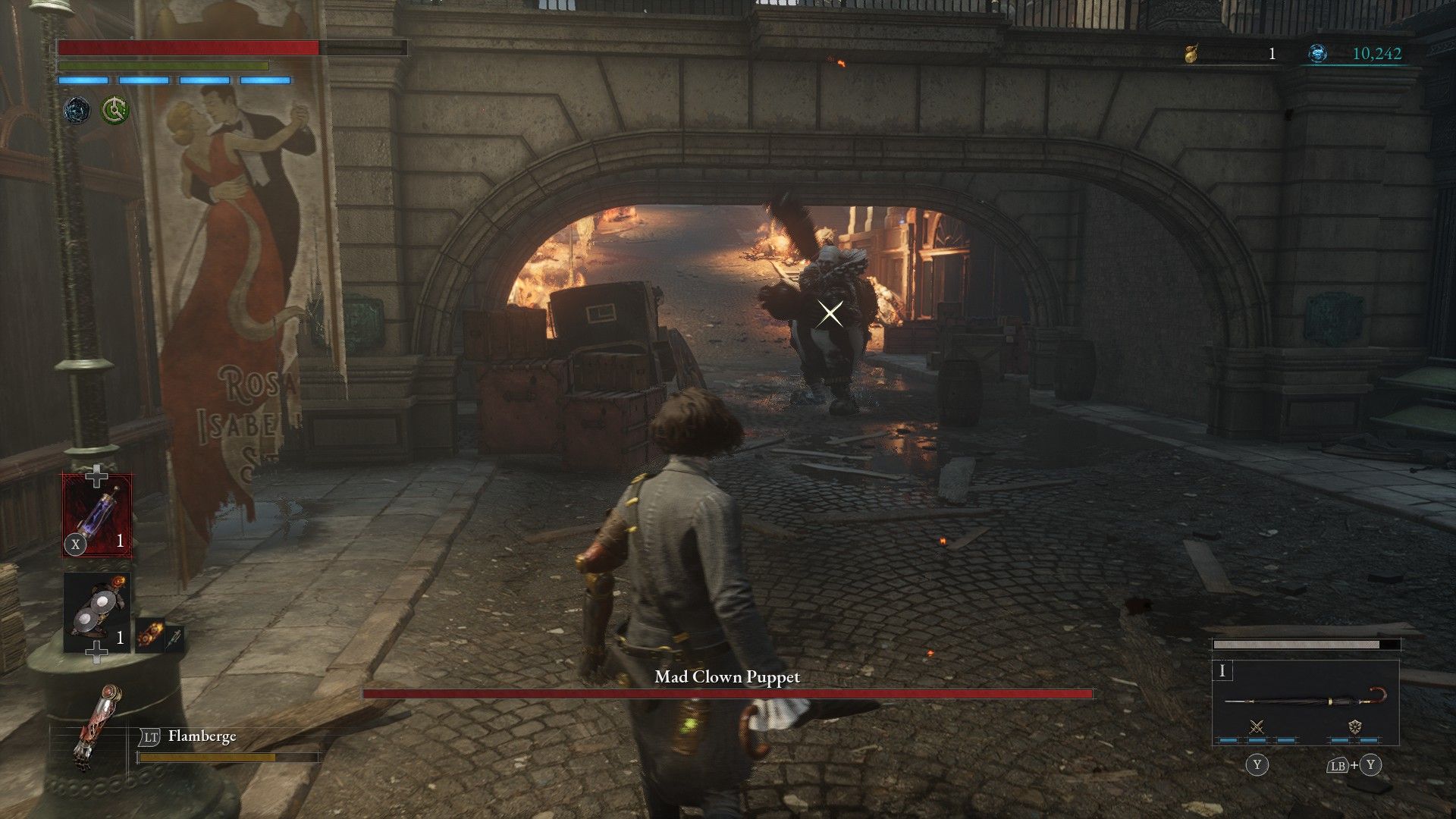 When beginning this fight, we recommend waiting for him to reach you at the bottom of Rosa Isabelle Street near the flaming barricade and past the bridge. Otherwise, you'll have to fight him at a slope (a battlefield you do not want).
This area is a nice square and an excellent place to fight on even terms.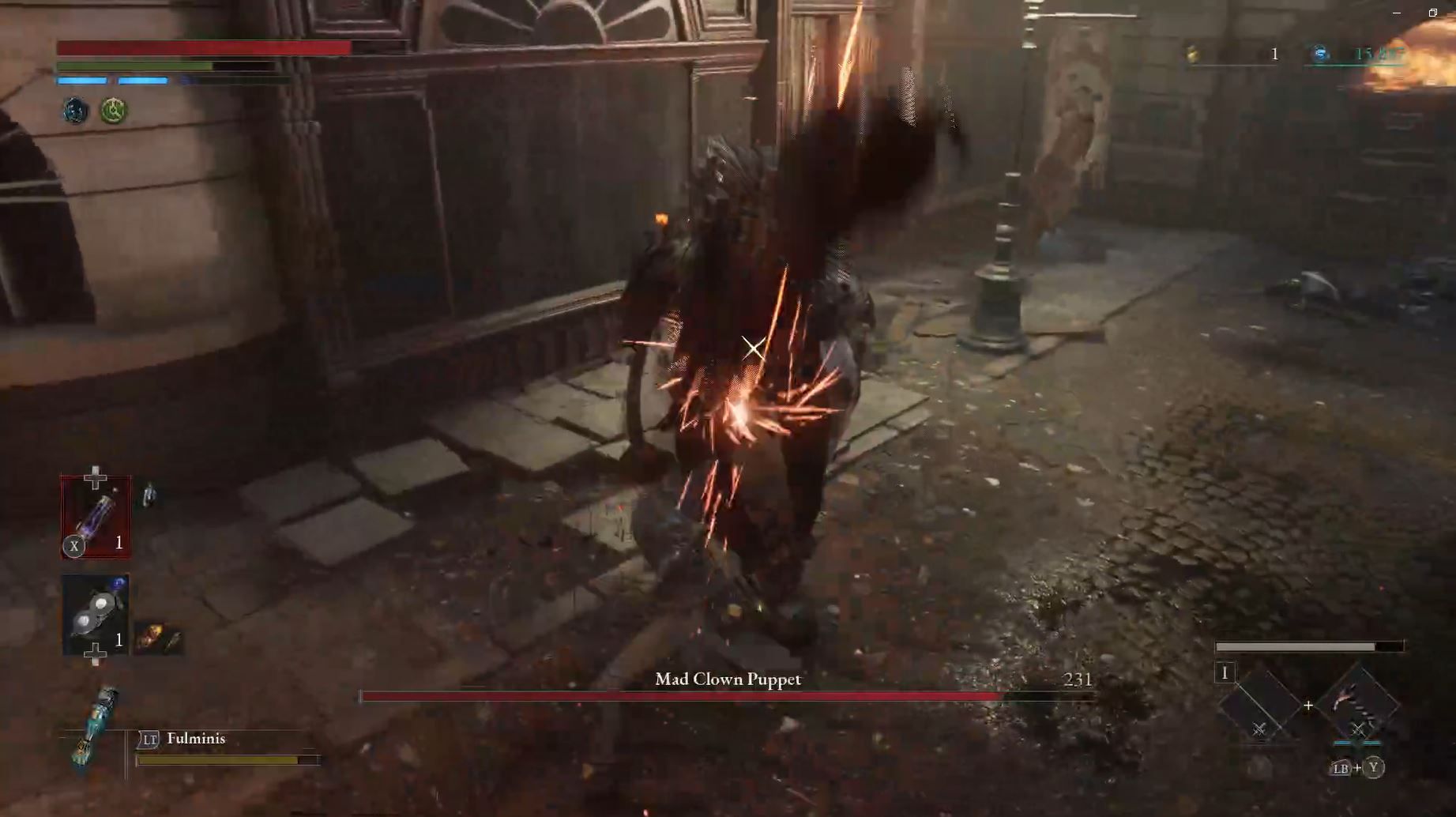 When fighting in this area, the attack you should be most concerned about is his spin attack. If you begin facing this attack near one of the walls, you can be pinned against them. The best thing to do in this scenario is to hold block and dodge before his uppercut swing.
For this reason, we recommend trying to dominate the middle of the field as much as possible and backing away when he begins lining up to spin. Punish attacks from behind after he's attacked.
The best attacks to punish are:
Smash
Belly Bomb
Circus Spin (after waiting a second for him to lower fists)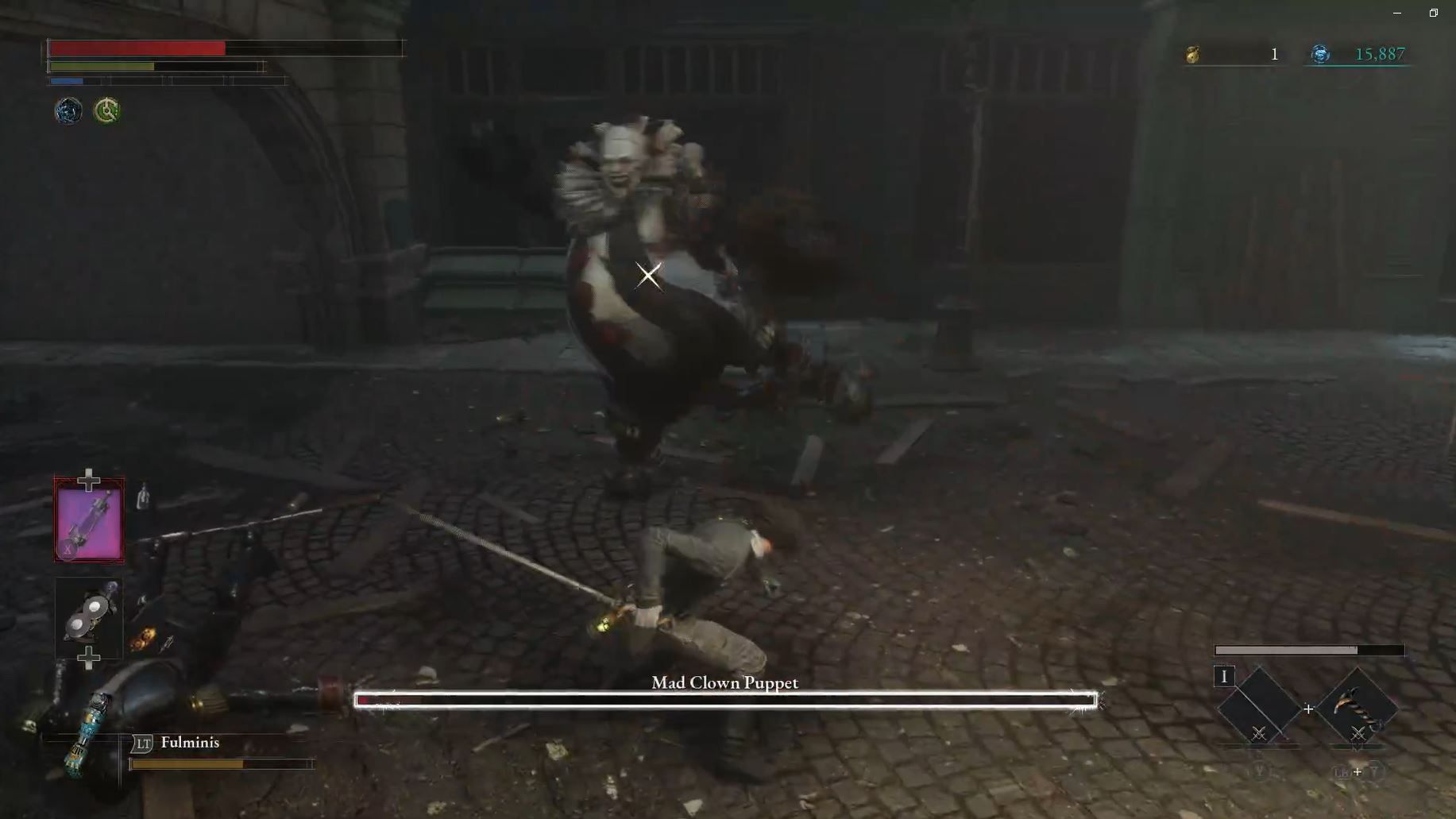 The attack you want most, surprisingly, is his ranged Fury Attack. You can bait this attack by staying far away from him. When you see the red flash, sprint in either direction (left or right) to avoid the attack.
If he attacks into the middle, you can punish this by continuing to sprint toward him and unleash a flurry of attacks. This is where you'll do the most damage.
If he attacks toward the buildings, his Fury Attack will ricochet off the buildings back toward him quickly. This won't hurt you, but it does quicken his recovery time and reduce your window of opportunity.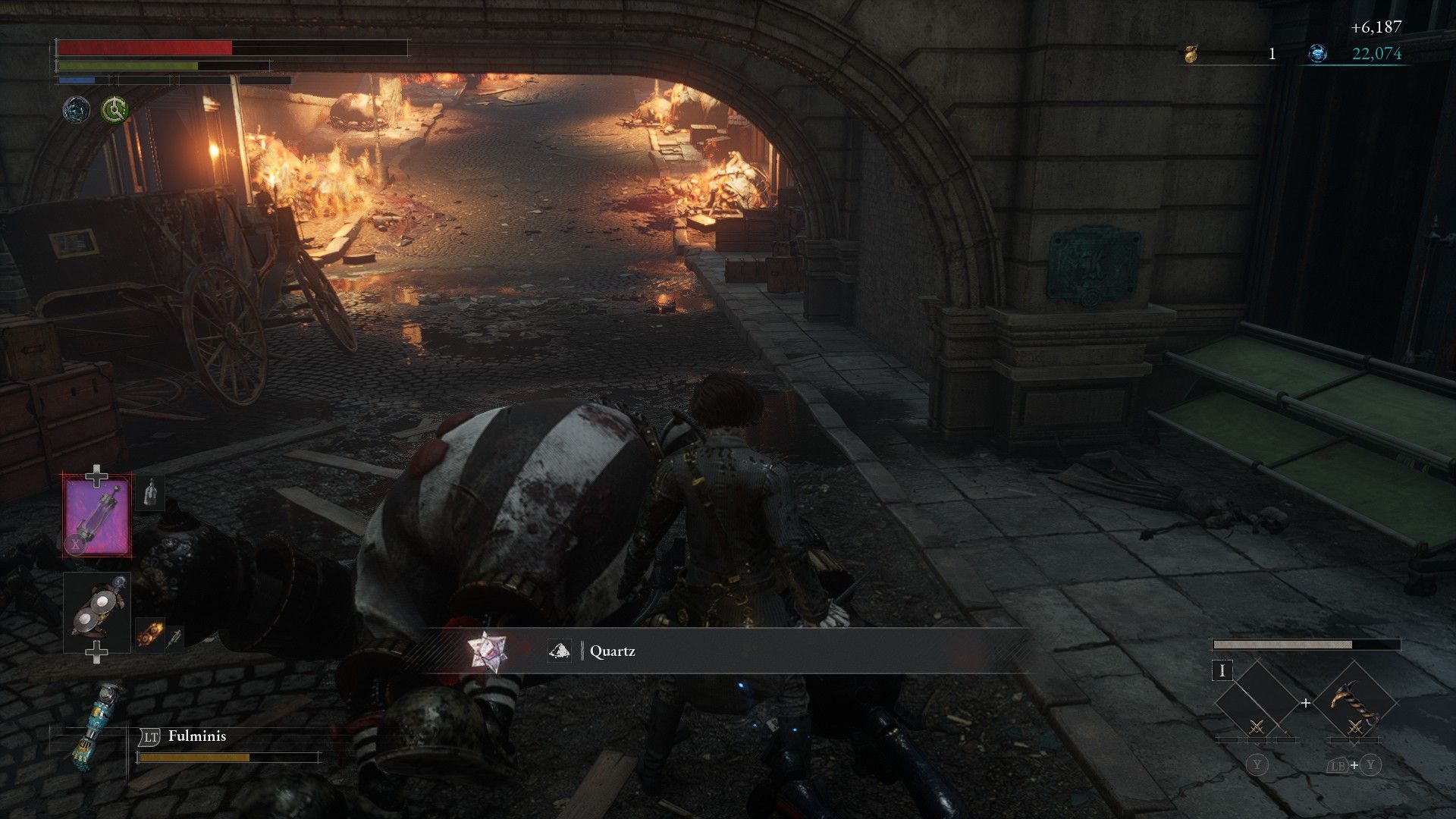 Continue punishing his Fury Attacks and giving space for his spin attacks, and you'll be golden for the fight. This may take you a few tries and no small amount of patience, but you'll deplete him in good time.
Your reward for the fight will be one Quartz for your P-Organ and a clear path up the street to the Estella Opera House.
NEXT: Lies Of P: The King Of Puppets Boss Guide