It's as if the ink came straight from the books with the Storyborn characters of Disney Lorcana. All the cards with the Storyborn classification are ones pulled right from the story they are in, with n o alterations or changes; just the characters we all know and love.
RELATED: Every Card Revealed For Disney Lorcana's Rise Of The Floodborn
There are plenty of great cards with this classification. From card draw, hand disruption, and the ability to remove cards from the board quickly these cards can all help send you closer to the needed twenty lore to win. It is safe to say these ten Storyborns of set one are making a name for themselves.
10
Flynn Rider, Charming Rogue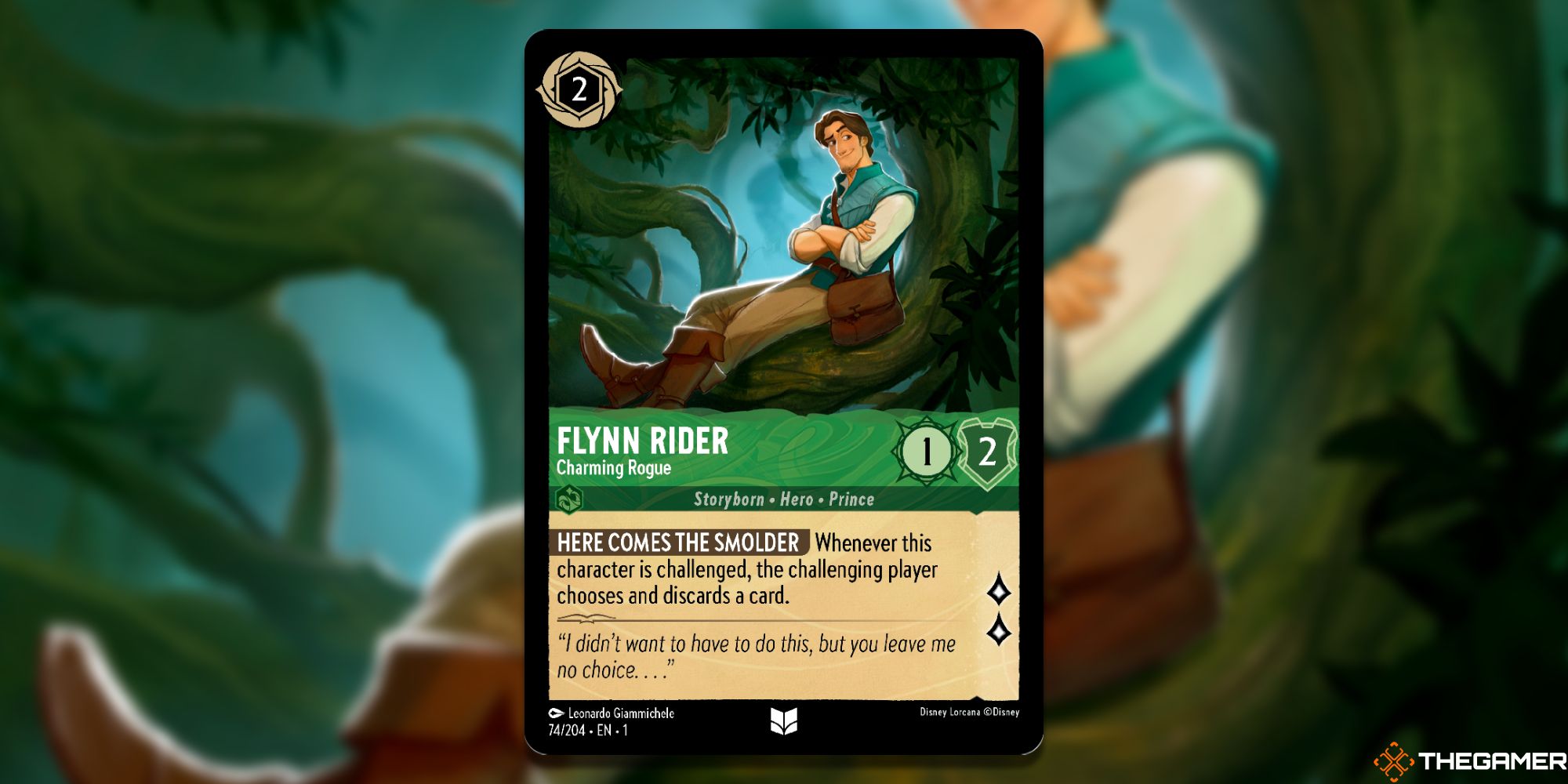 One of the strongest and most played two-cost cards from set one, Flynn Rider, Charming Rogue has several options when played. Firstly, he has the ability Here Comes The Smolder which makes any player who challenges him discard a card. This can be very useful early game in already giving your opponent a tough decision on what to do.
He also quests for two, and being able to get a card that can do that on the board and be able to quest with it early can give you quick momentum. It works great with his ability because if opponents want to remove it they'll have to challenge and therefore discard a card.
9
Maleficent, Sorceress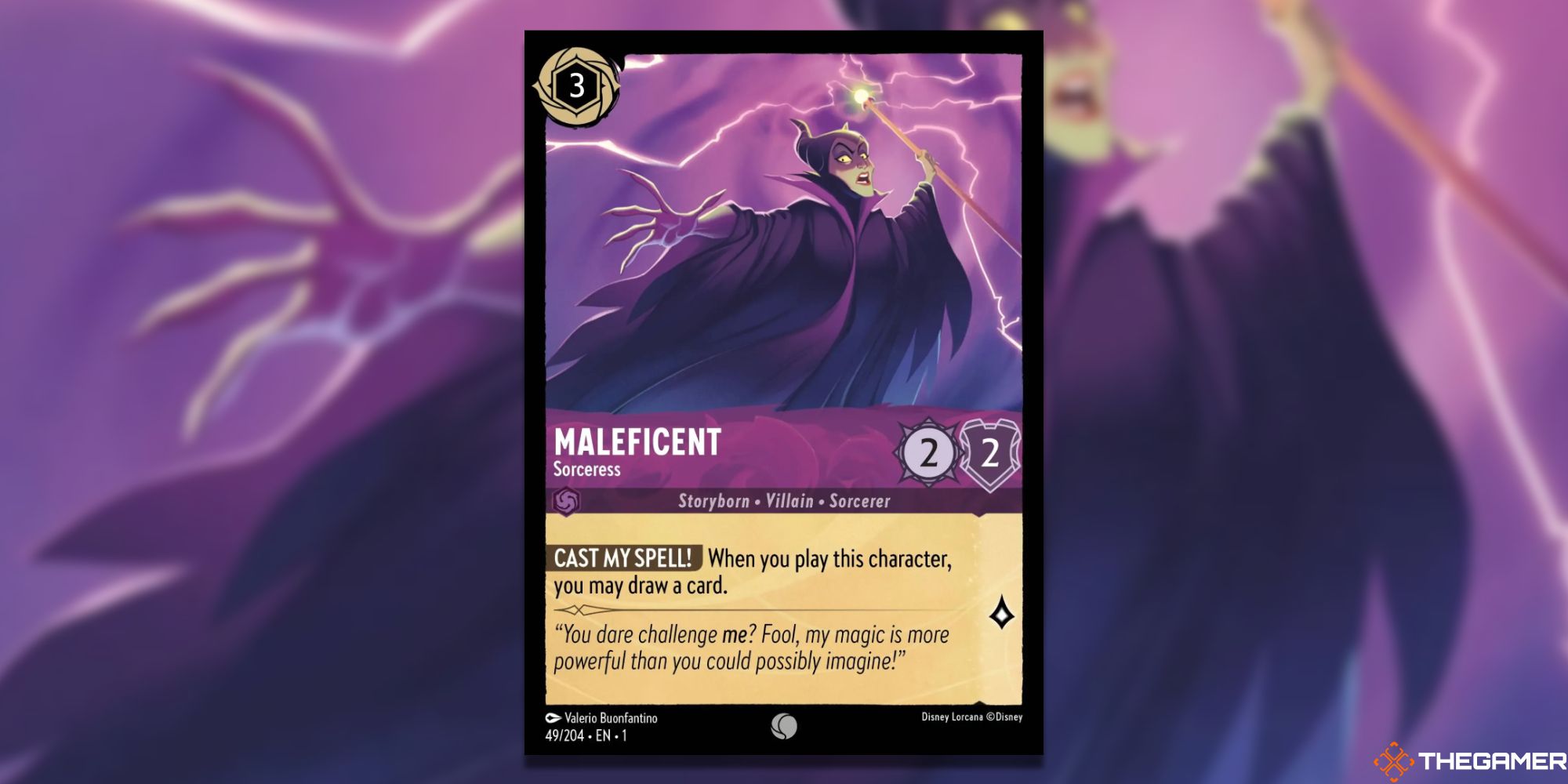 Draw is the most important thing in Lorcana. Being able to continuously replenish cards into your hand is key in making sure you can keep the momentum up in your favor. With Maleficent's ability Cast My Spell!, it allows you to draw a card whenever you play her.
That is already a great ability, but what comes next is even better. Friends On The Other Side is a song, and since Maleficent costs three ink, you can use Maleficent to sing FOTOS and draw two more cards. This combo is one of the most popular in Lorcana, and provides immediate value.
Related: Disney Lorcana: Every Floodborn Card In The First Chapter, Ranked
8
John Silver, Alien Pirate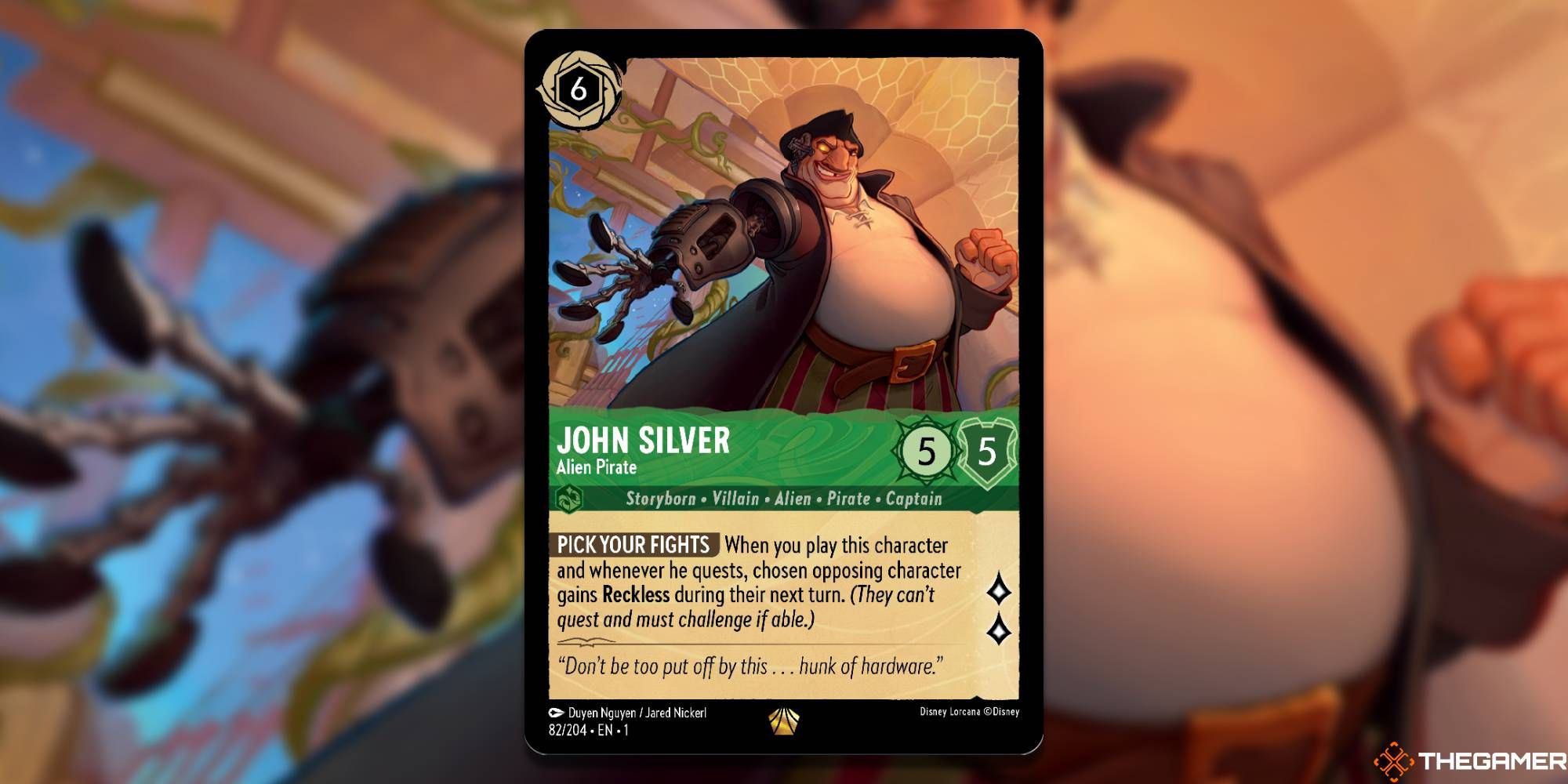 One of many Emerald control style cards, John Silver, Alien Pirate drops onto the board and provides a spark right away. His ability Pick Your Fights says that whenever he is played, and he quests, chosen opposing character gains Reckless during their next turn.
With the ability to give Reckless turn after turn if you choose to quest with John Silver, it gives you a lot more flexibility with what you want to do. Now yes, it does put your characters in line for an attack, but being able to keep your opponent from questing is always going to be a worthwhile thing to do.
7
Maleficent, Monstrous Dragon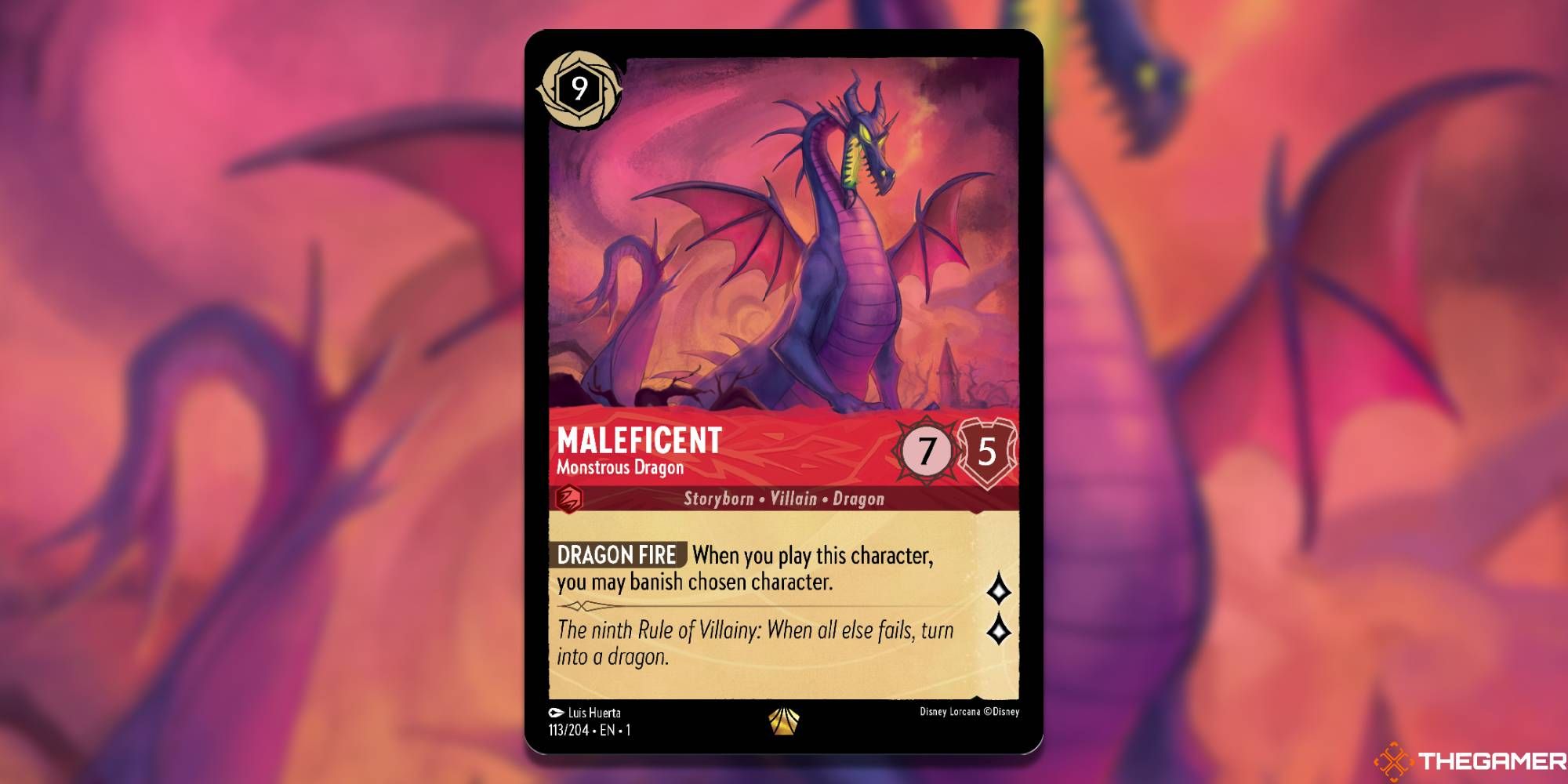 The Ruby action Dragon Fire has been one of the most used actions throughout The First Chapter, and Maleficent, Monstrous Dragon has the same exact ability on her card, which makes her one of the best high-cost cards to play in Lorcana.
The big difference between the action and the character is the fact you can now quest and do other things with Maleficent. With her seven willpower and five strength, she is one of the strongest challengers, and not to mention she can quest for two lore and defend herself very well with those stats.
6
Genie, On the Job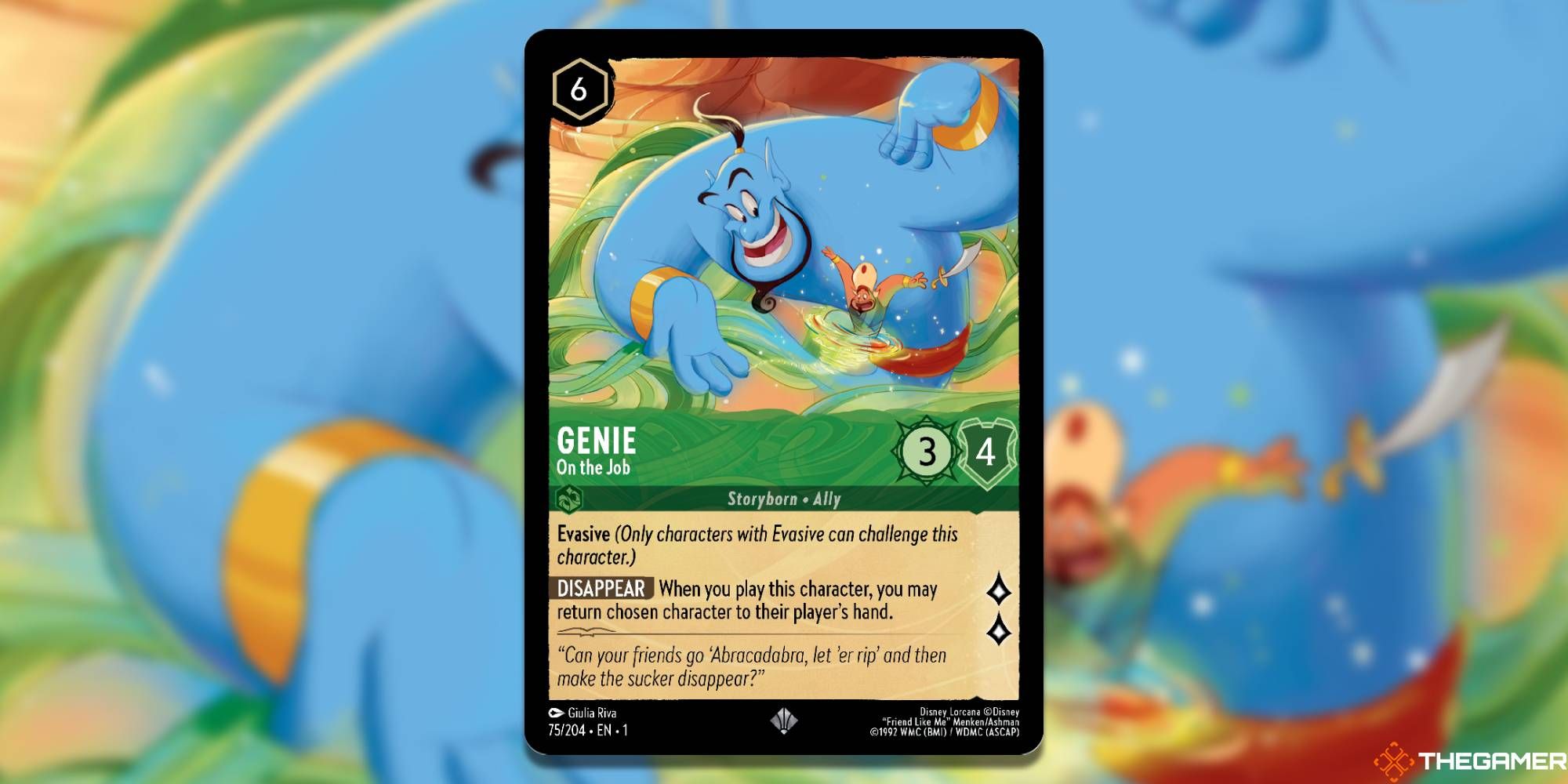 The phrase "bounce" is one that is very prevalent in any TCG and Genie, on the Job is one of the cards from The First Chapter that had it built right into his card. His ability Disappear says whenever he is played, you can return chosen character back to its player's hand.
This is one of the strongest abilities because it can swing the board state right back into your favor. When he does come down onto the board, he is a two quester with Evasive which makes him rather difficult to remove and deal with.
Related: Disney Lorcana: The Best Hero Cards In The First Chapter
5
Belle, Strange but Special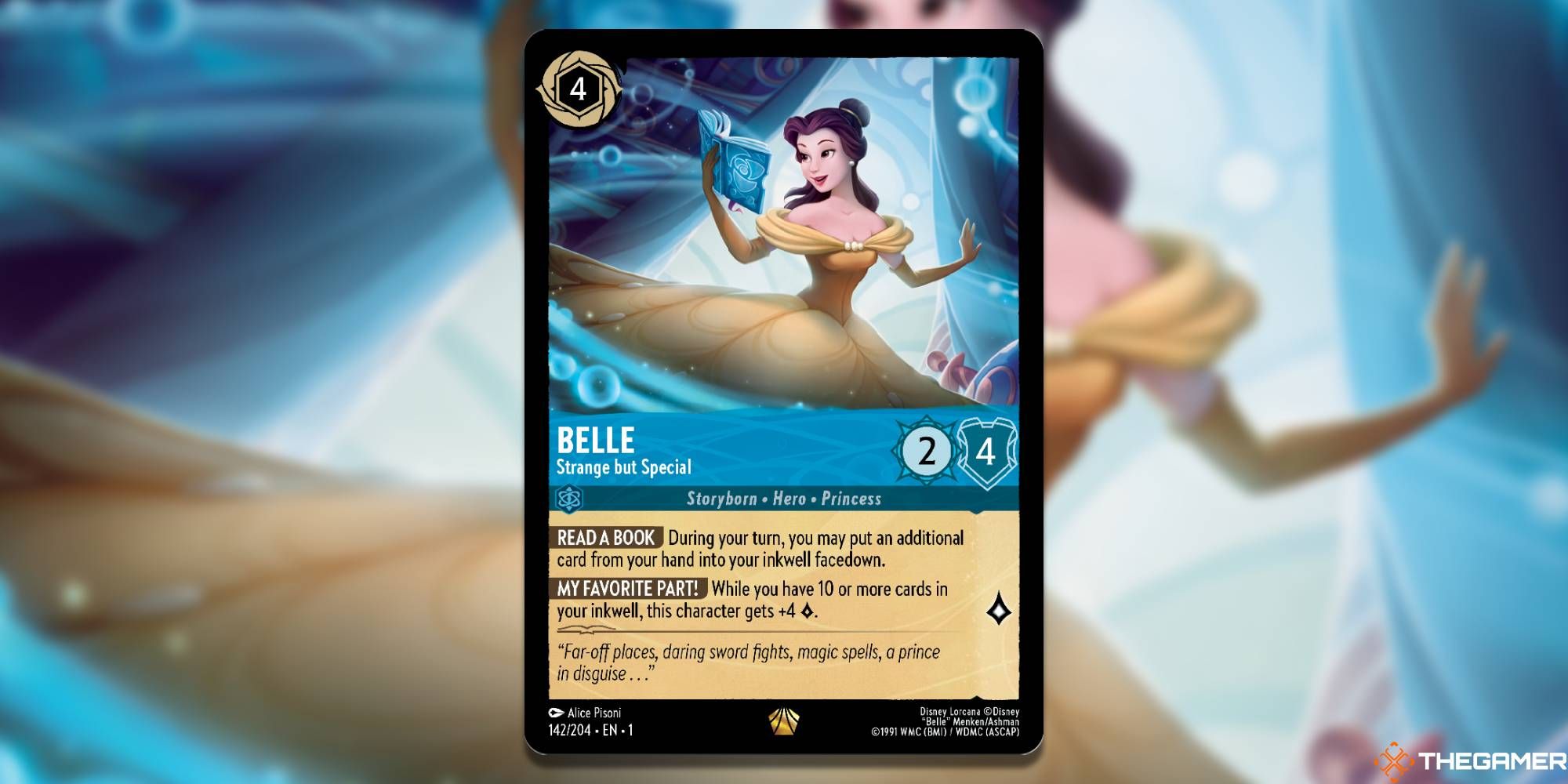 Belle, Strange But Special has two of the unique abilities we've seen in all of The First Chapter. Her first one, Read A Book, allows you to put an extra card in your inkwell each turn. Right off the bat she helps you to play even more cards each turn.
Her second ability, My Favorite Part! says that if you have ten or more cards in your inkwell you quest for a total of five lore with her. That is 25 percent of the needed lore to win and once you do get to ten ink, the game state may be at the spot where only one quest from her is needed to win.
4
Maui, Hero to All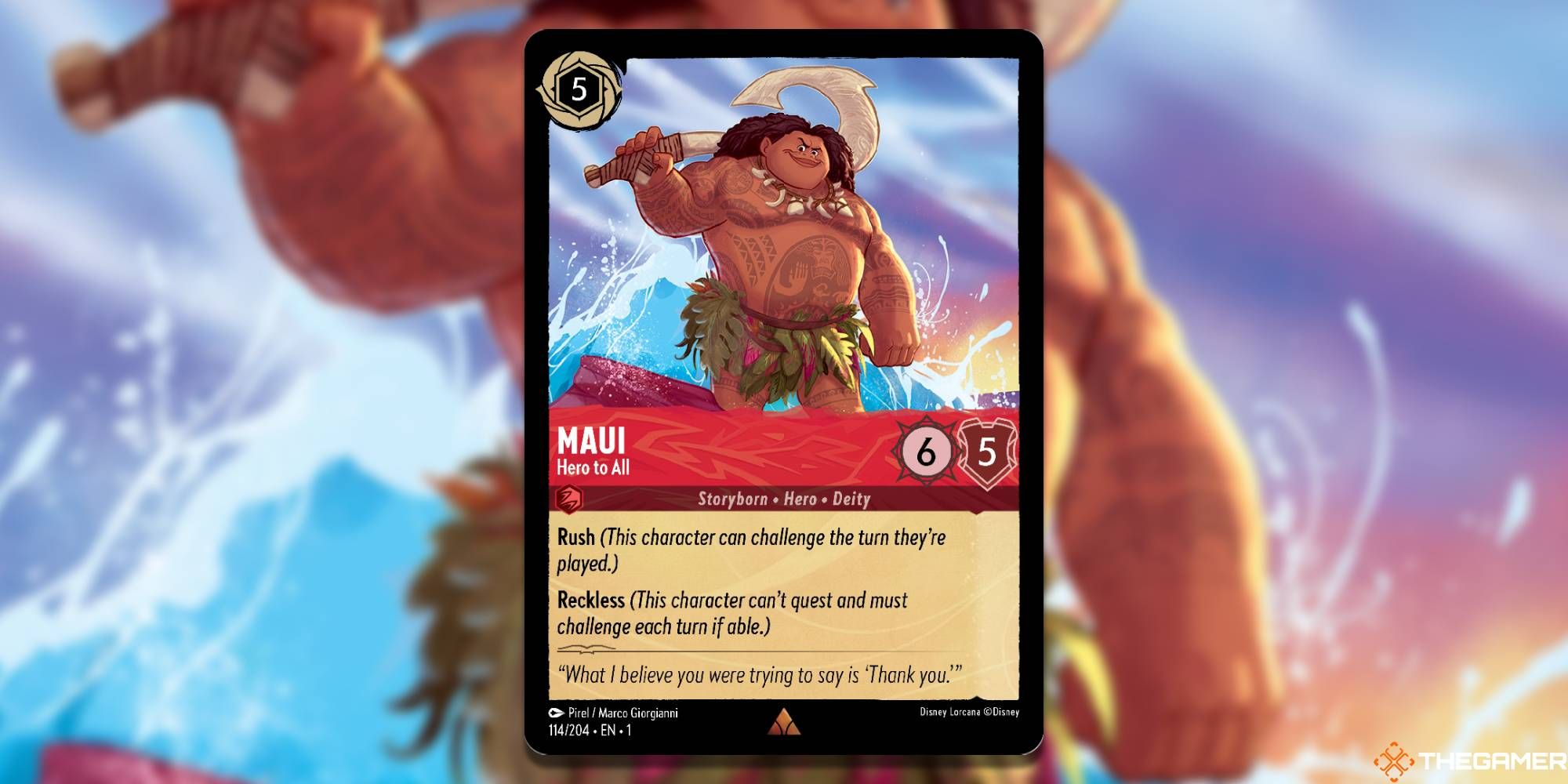 One of the most underrated cards from The First Chapter, Maui, Hero to All can truly do it all. Besides quest. But that is okay, because with the combination of Rush and Reckless on his card, he can take out almost any threat on the board.
His six strength and five willpower are what make him a valuable addition to any Ruby deck. As mentioned before, he can take out nearly any opposing character, and being able to do it on the turn he is played can be a game-changing play.
Related: Disney Lorcana: Every Legendary, Ranked
3
Ursula, Power Hungry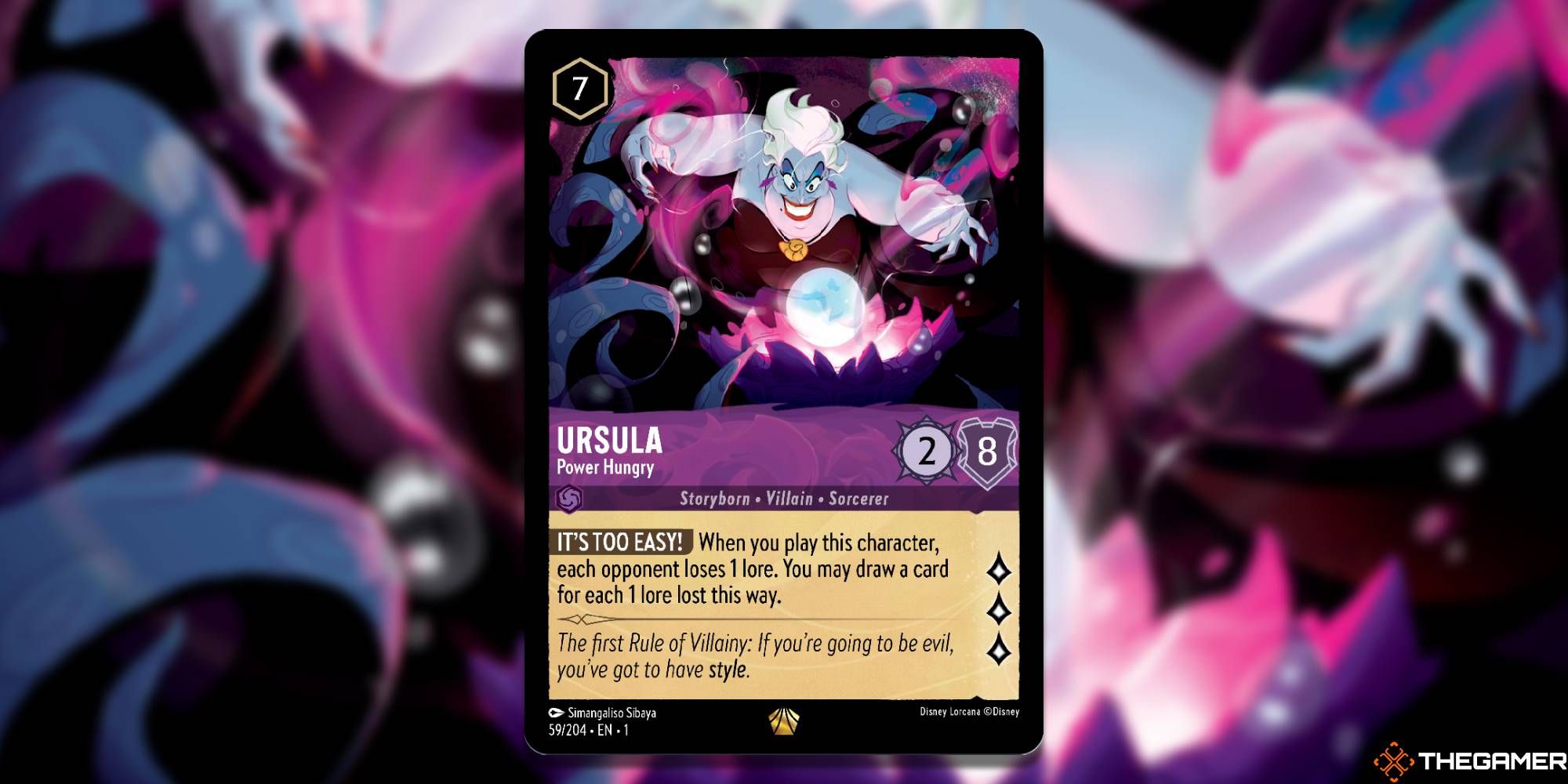 One of the best things about Ursula, Power Hungry is how many hits she can soak up before being defeated in a challenge. Her eight willpower makes her very difficult to deal with in one turn, and having three lore she can quickly turn the tides in your favor by doing that multiple times.
Not to mention, her ability It's Too Easy says that when she is played each opponent loses a lore, and you draw a card for each lore lost that way. So a great multiplayer card as well but should be highly considered for any Amethyst deck.
2
Kuzco, Temperamental Emperor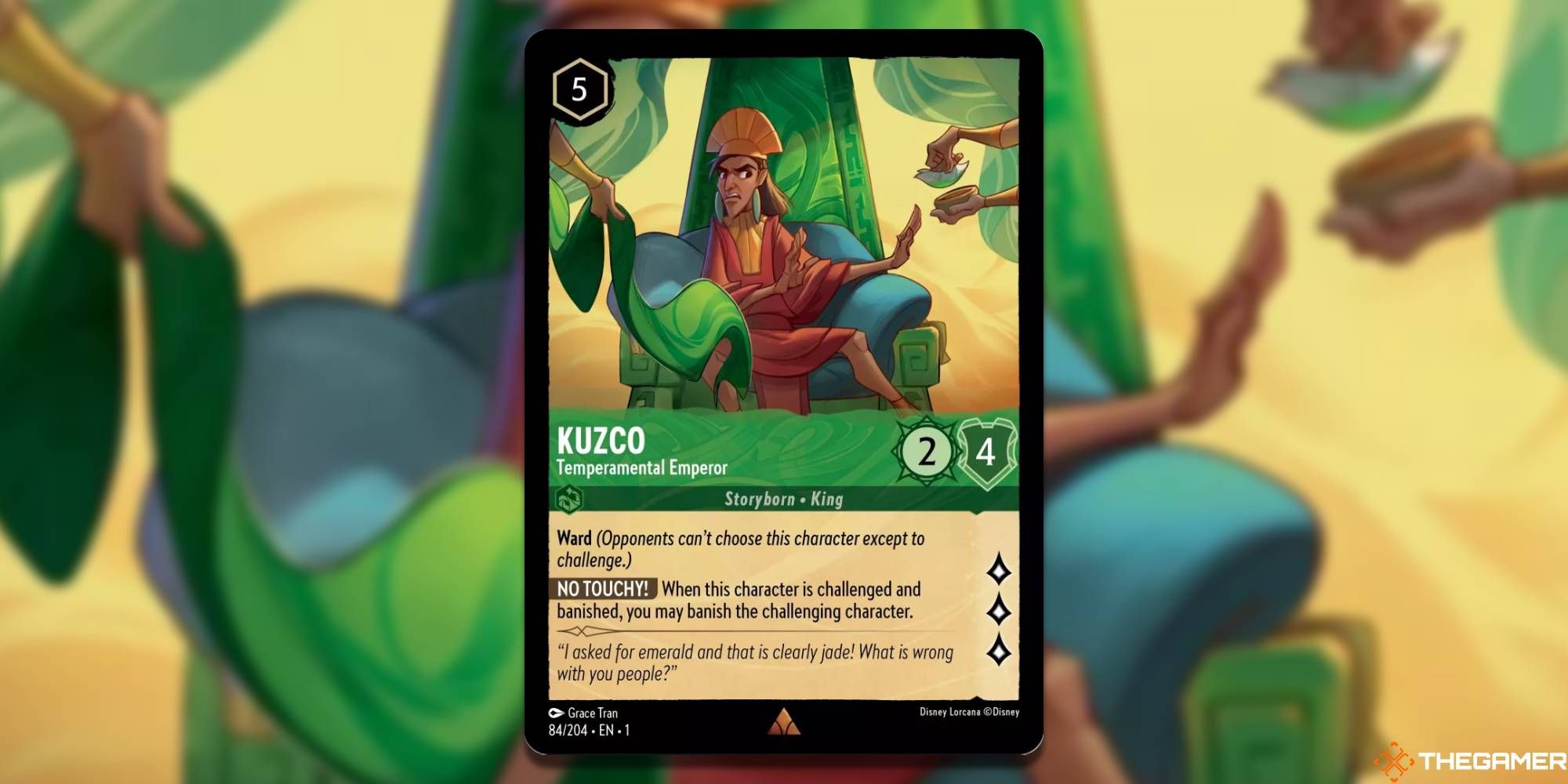 The many different types of struggles Kuzco, Temperamental Emperor can cause opponents can force them into some tricky plays. His ability No Touchy! says whenever he is challenged and banished, you may banish the character who challenged him.
That is great removal, but in combination with him having Ward, he has to be challenged into which guarantees an opposing character being banished. And if that wasn't enough he also has three lore which will draw a lot of attention to him therefore leading to No Touchy! getting triggered.
1
Rapunzel, Gifted with Healing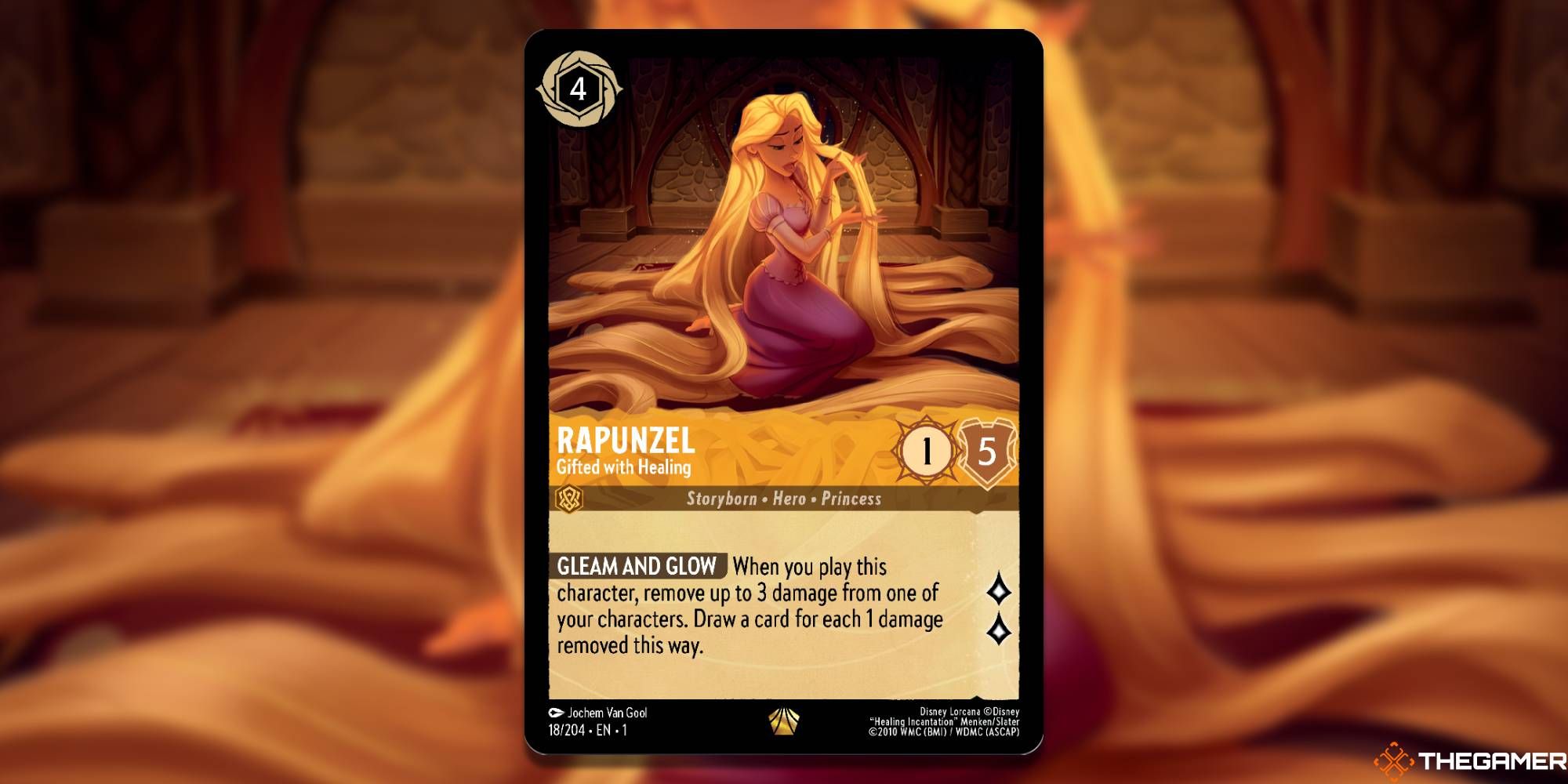 Arguably the best card in all of The First Chapter, Rapunzel, Gifted with Healing has the ability Gleam and Glow. This says that when she is played you choose a character and remove up to three damage counters from it and draw a card for each damage removed.
In a game where there isn't a significant amount of draw, this can replenish your hand and also give one of your characters new life. The great thing is she is only a four cost so this can easily happen multiple times in a game.
Next: Disney Lorcana: The Best Action Cards