Not a headphone person, and also don't want to spend a fortune on getting an external PC speaker? Well, no worries! The options for affordable PC speaker are getting better and better. And now, you can get a PC speaker that can deliver rich sound without straining your wallet—but only if you know where to look.
Related: Best PC Speakers For Gaming
The market is flooded with budget-friendly options. However, not all are actually worth buying. So, to help you find the right model for your budget, we have put together a list of the best budget PC speakers. Pick any one of these, and you won't be disappointed!
Creative Pebble Pro

Best Overall Budget PC Speakers

Creative Pebble Plus 2.1 USB Desktop Speakers

Best 2.1 Budget PC Speakers

Creative T100 2.0 Compact Speakers

Best 2.0 Budget PC Speakers

Logitech Z313 2.1 Multimedia Speaker System

Best Bass Budget PC Speakers

Cyber Acoustics CA-SP34BT Bluetooth Speakers

Best Wireless Budget PC Speakers
Our Top Picks For The Best Budget Speakers Of 2023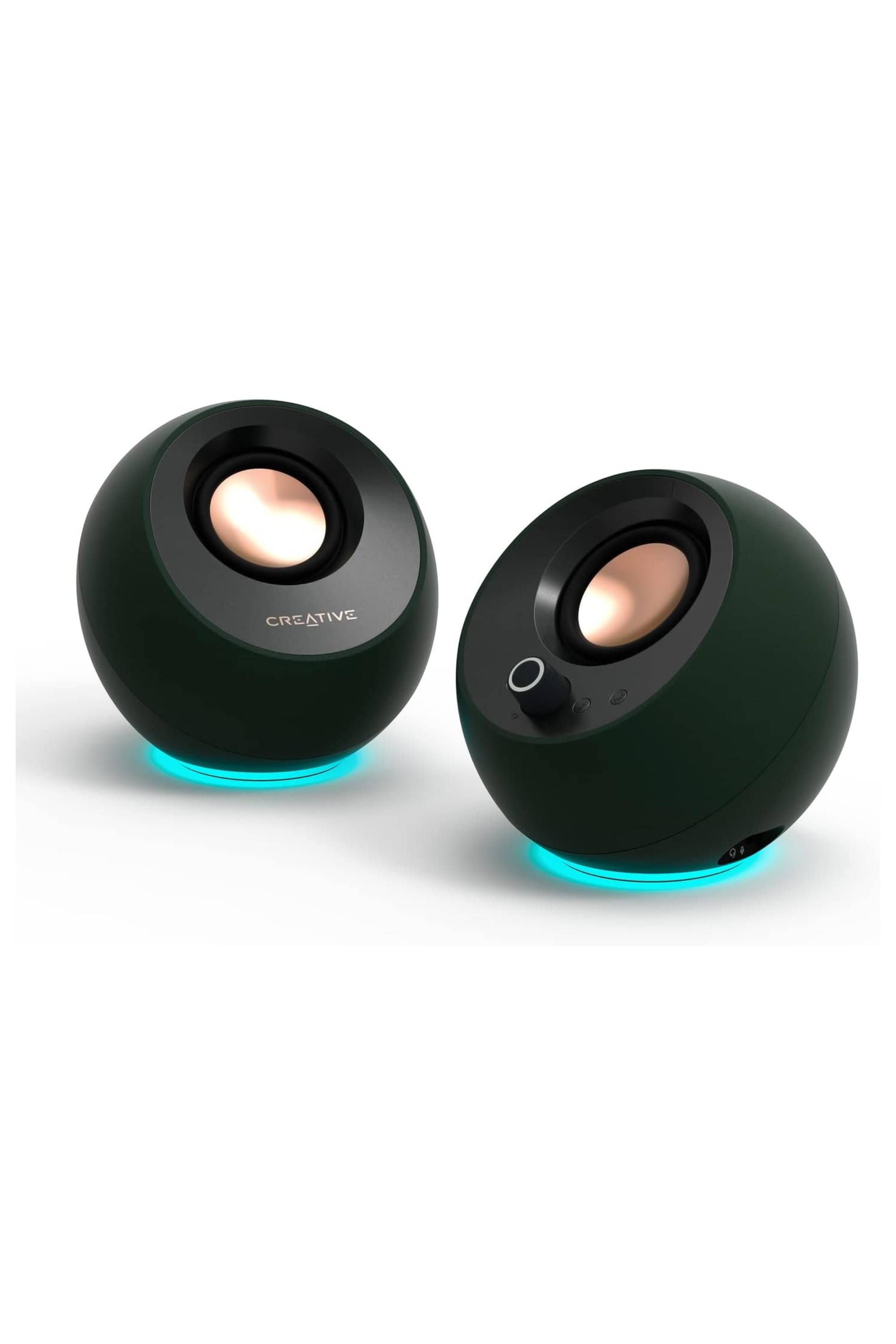 Creative Pebble Pro
Best Overall Budget PC Speakers
An all-in-one budget option.
If you're looking for the best specs for as low a price as possible, your best bet is the Creative Pebble Pro. It has a round "pebble" shape that is compact and beautiful, equipped with drivers that are angled 45 degrees upward to catch your eardrums.
Pros
Effortless setup
Impressive sound quality
Equipped with a controller to change volume, lighting, etc.
Cool design
Cons
No subwoofer port
Bunch of wires
And although this PC speaker lacks a subwoofer, its BassFlex technology enhances vocals over ambient sounds and boosts the low end. The Pebble Pro comes with RGB LED lighting as well, and it is USB-powered, so you don't need to worry about charging it externally. Overall, the Creative Pebble Pro offers everything you'd want from a high-quality yet budget-friendly PC speaker.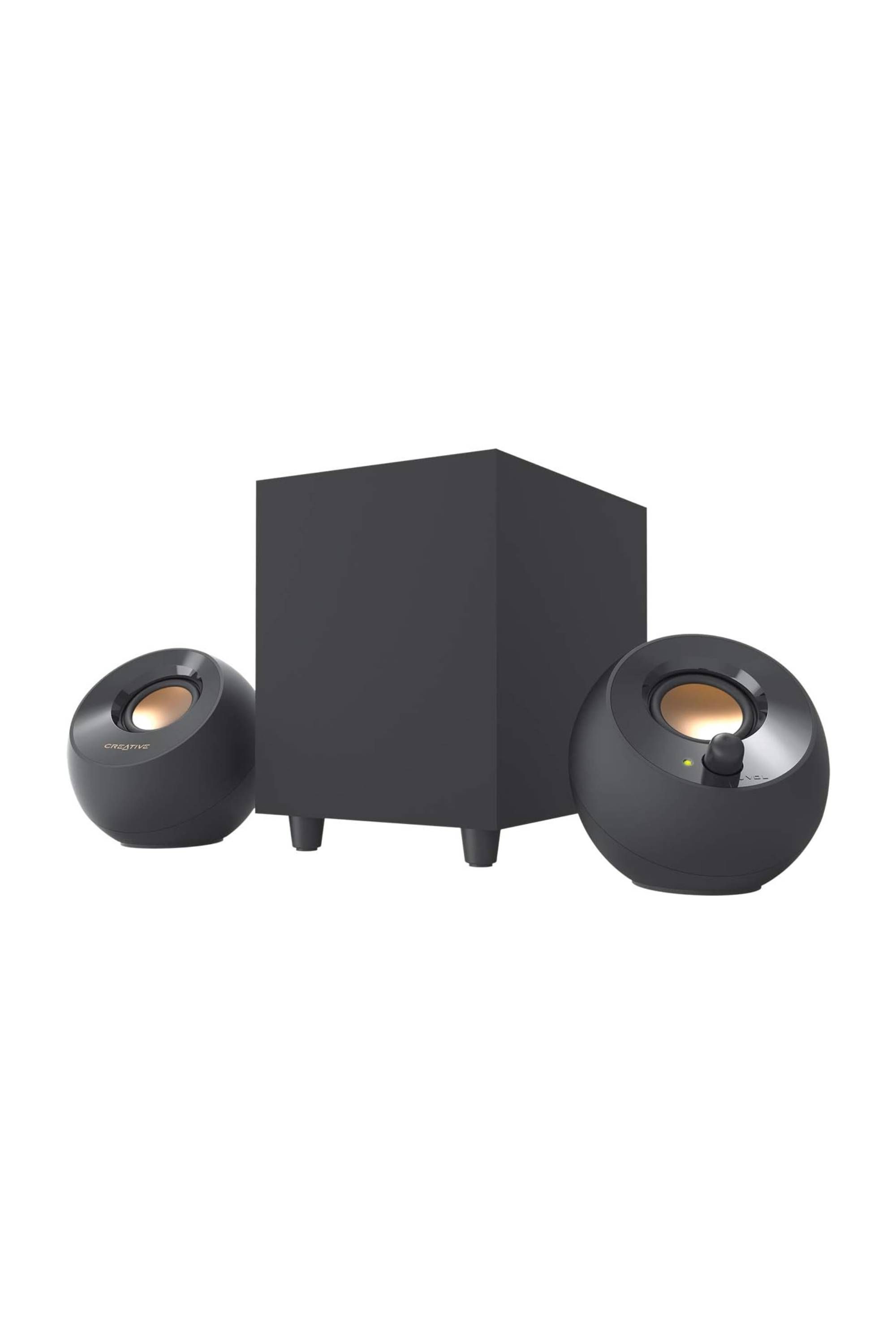 Creative Pebble Plus 2.1 USB Desktop Speakers
Best 2.1 Budget PC Speakers
Get extra sound power.
The Creative Pebble Plus 2.1 speakers are known for their high quality sound. They provide the additional thump you need while gaming, Each speaker of the Creative Pebble Plus has a 2-inch midrange driver that delivers 2 watts of audio. And unlike Creative Pebble Pro, its speaker system has a subwoofer that offers a quality of sound normally associated with much more expensive speaker systems.
Pros
Cost-effective pricing
Improved bass compared to the original Pebble
Compact and stylish design
Cons
Absence of wireless connectivity
No bass control
The subwoofer of Creative Pebble Plus has no controls or indicators and connects to the right speaker via a single cable. This means that you can't control the bass, unfortunately. Nevertheless, its speaker system draws power from a USB port, so you don't need an AC adapter or a power outlet. Another good thing is that the creative Pebble Plus has a rubberized bottom that prevents it from sliding or scratching your desk.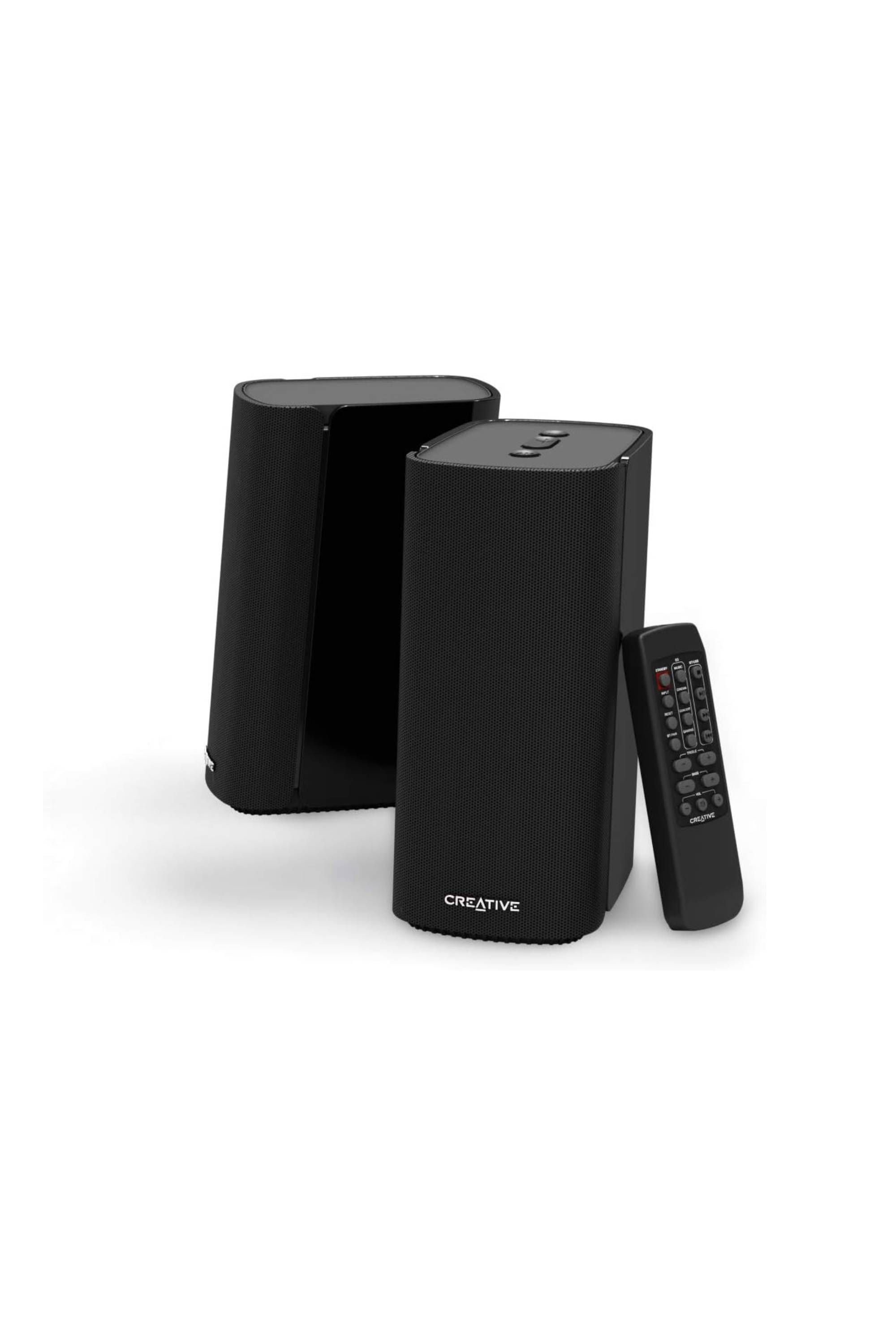 Creative T100 2.0 Compact Speakers
Best 2.0 Budget PC Speakers
One of the loudest speakers around.
While the Creative T100 PC speakers cost a little more upfront than many other options on this list, they are likely to save you money in the long run. With an impressive 82.5 dBA at 50 percent volume and 90.4 dBA at maximum volume, they're among the loudest 2.0 PC speakers around. They have a modern and minimalist design with a glossy black finish and an LED indicator on the top of the right speaker.
Pros
Clear and detailed sound
Multiple connection options
Remote support
Cons
No subwoofer
Relatively higher price when compared to other budget-friendly speakers
There is also a Bluetooth connection option on the T100 speakers for those who don't want to be restricted to playing audio through a 3.5mm audio cable. In addition, the T100 has a compact design and great sound quality. It also features a remote control and can be set up very easily.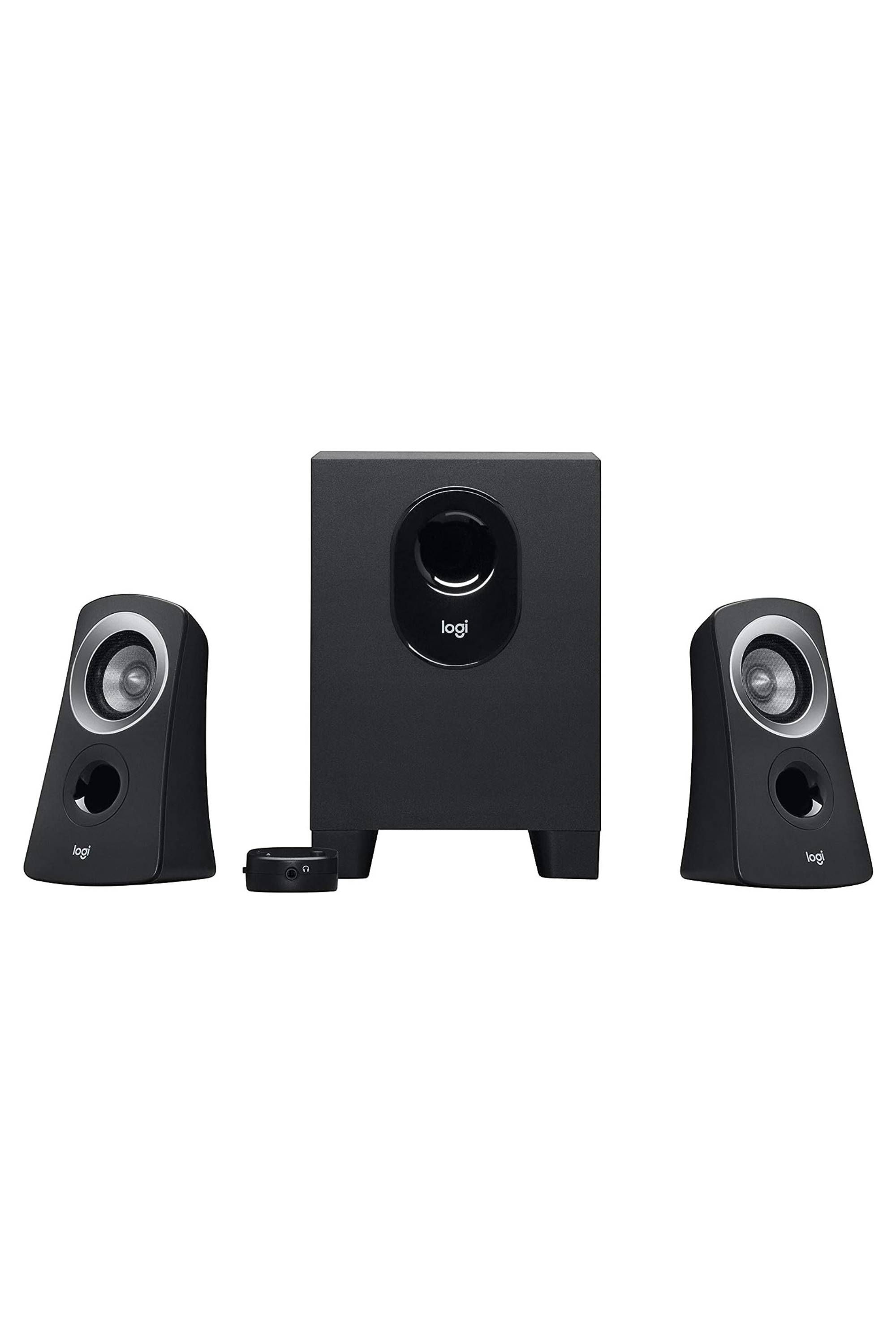 Logitech Z313 2.1 Multimedia Speaker System
Best Bass Budget PC Speakers
A bass experience like no other.
For your PC entertainment, the Logitech Z313 delivers balanced sound and a bass you can feel. It consists of two satellite speakers with 2-inch drivers and a ported subwoofer with a 4-inch driver that produces up to 25 W RMS of power and a frequency response of up to 20 kHz. No matter whether it's a movie, TV show, or PC game, the speakers will pick up every minute difference in sound.
Pros
Excellent bass
Clear and loud sound output
Simple setup
If you're someone who likes their bass output to be strong and booming, the Logitech Z313 won't disappoint you. It is quite powerful for a speaker in this price range. Additionally, the Logitech Z313 can be plugged into the standard headphone jack, so setting it up with your PC won't be a problem.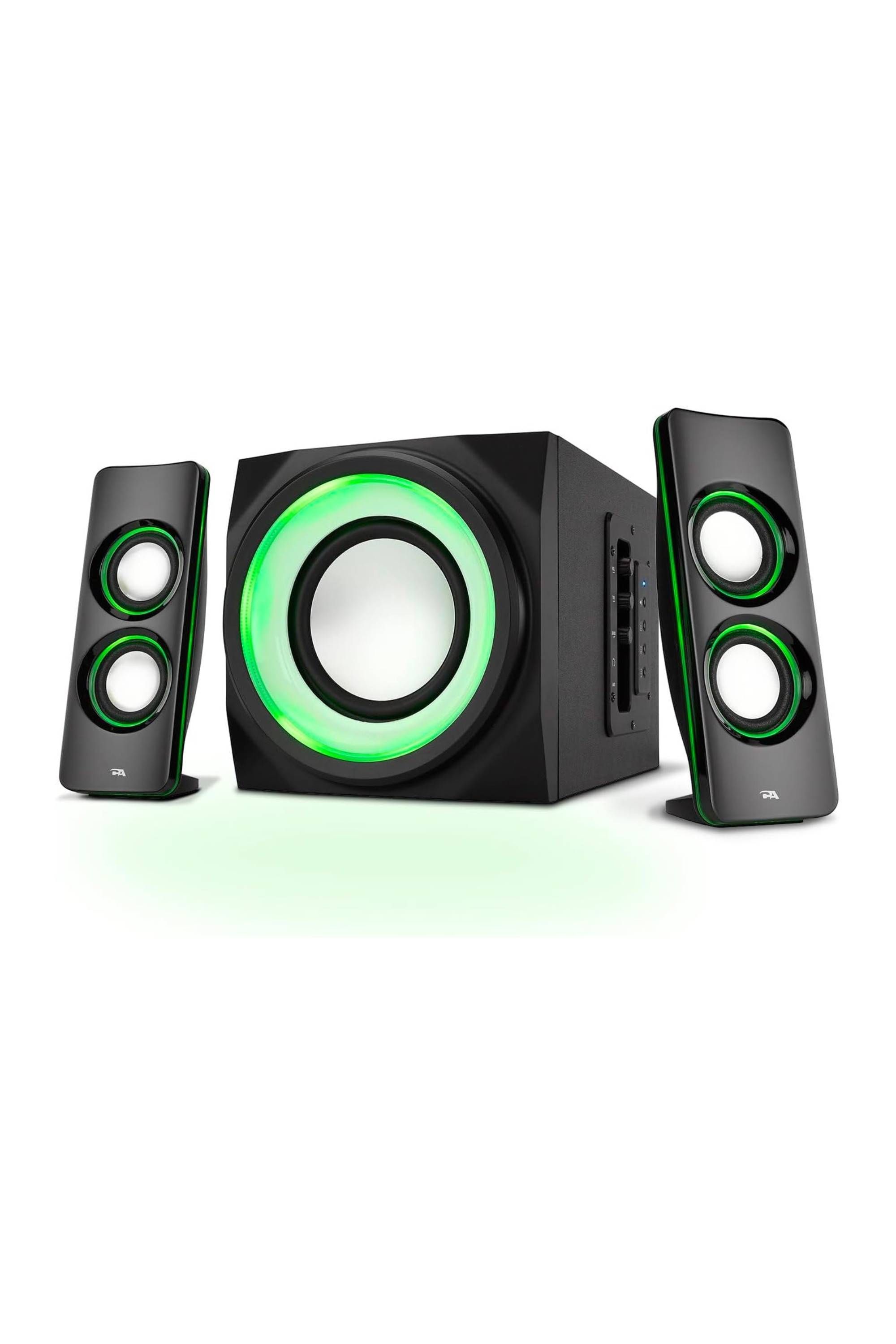 Cyber Acoustics CA-SP34BT Bluetooth Speakers
Best Wireless Budget PC Speakers
Great sound, great features.
Cyber Acoustics CA-SP34BT wireless speaker system offers wireless connectivity for an immersive audio experience. Its wireless feature eliminates the need for messy wires and cables and gives you more freedom and flexibility to place the speakers anywhere in the room. For its wireless connection, it uses Bluetooth and is compatible with any device that has it enabled.
Pros
Supports USB playback
Features LED lighting with various modes and colors
Easy sound customization
Cons
LED lighting doesn't sync with music
And though CA-SP34BT comes with a low RMS, it is capable of producing 32W of peak power, which is sufficient to fill a medium-sized room with clear, balanced sound. Besides, its subwoofer includes essential controls like power on/off, volume, treble, bass, headphone jack, and LED color selection. So, you can conveniently switch between various modes and customize the sound to your liking!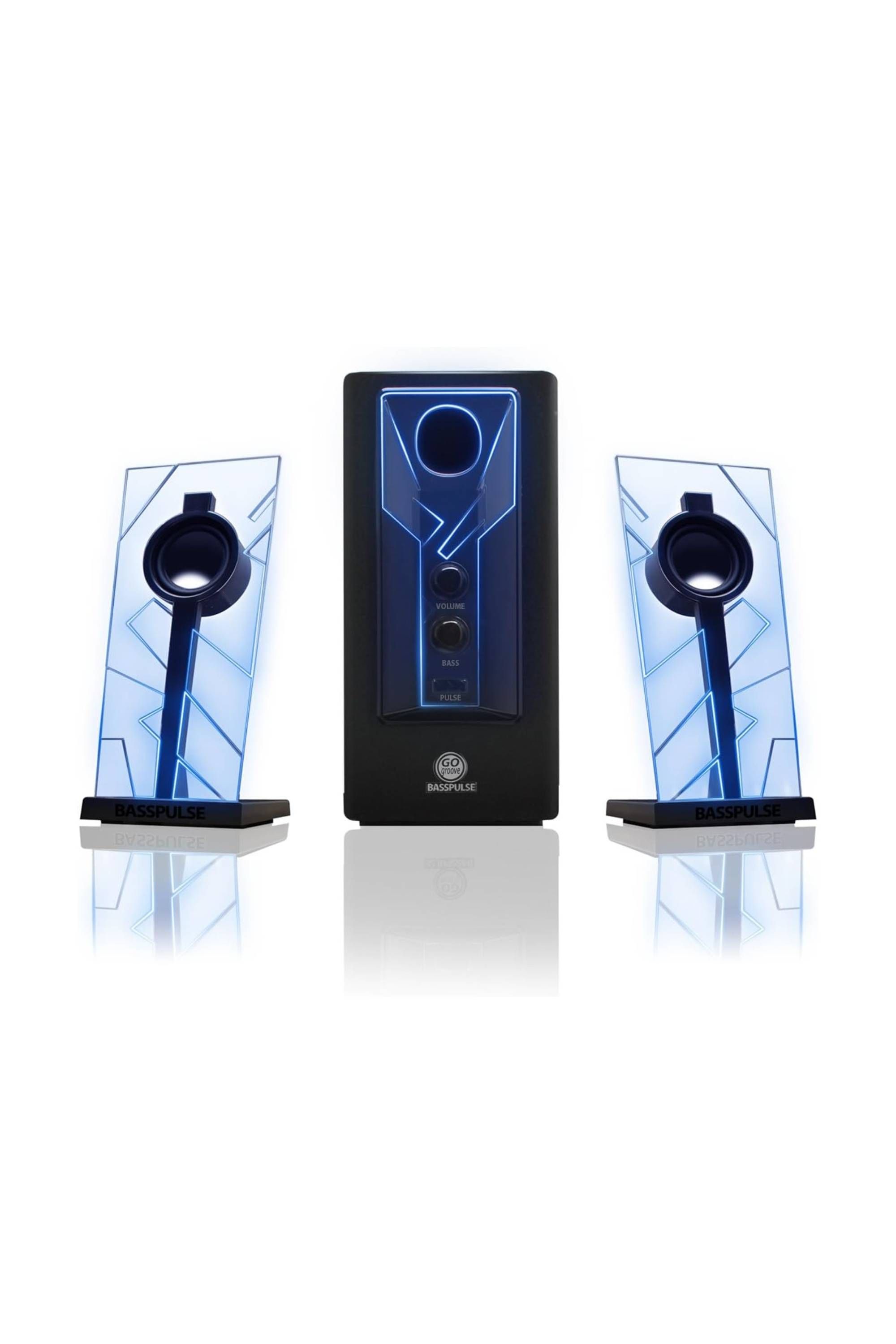 GOgroove BassPULSE 2.1 Computer Speakers
Best Design Budget PC Speakers
Aesthetics combined with quality sound.
GOgroove BassPulse stands out due to its budget-friendly price tag and best design. Based on its bass level, this speaker's LED lights change color, creating a rhythmic light show. Besides, the speaker system has a black piano finish that gives it a classy and elegant look. If you want aesthetics, this is your pick!
Pros
Eye-catching design
Good overall sound
LED lights look cool
Now, about the sound! GOgroove's BassPulse comes with two full-range satellite speakers and a larger subwoofer. The speaker set can produce a continuous power output of 40W and cover a frequency range of 80Hz–20kHz. All in all, the GOgroove BassPulse provides a substantial, robust audio experience while giving sci-fi aesthetics.
Conclusion
Be prepared not to get much spectacular if you're on a budget, but don't expect complete mediocrity either. In this list of the best budget PC speakers of 2023, you will find affordable companion units that offer everything you'd want from a great budget-friendly option. The Creative Pebble Pro will prove to be an excellent option, and if you're looking for an even cheaper speaker set, go fo for the Cyber Acoustics CA-2014.
FAQs
Is it worth it to get speakers for PC?
Yes, if you want good-quality sound, a good set of speakers for your PC is definitely worth the investment. They can improve your audio experience and make it more enjoyable
Are cheap PC speakers any good?
Cheap PC speakers are a good choice for basic audio needs. However, for demanding or professional purposes, higher-end options are definitely more suitable.
Next: Best USB PC Speakers