Clara in Honkai: Star Rail is a character you'll want to invest in if you have her. She's a powerful Physical damage dealer who follows the Destruction Path. She can tank, deal damage, and increase her survivability. If you want to build her, you might be wondering which Light Cones and Relics are the best for her.
Related: Honkai: Star Rail – Beginner Tips
Clara is a five-star character available on the Standard Banner and through the Limited Banner if you lose the 50/50 chance to get the featured character. You might have gotten her early, and she is a strong carry for the start of the game. Furthermore, she continues to be excellent as you progress through more challenging encounters.
Updated on October 09, 2023, by Sanyam Jain: With new Relics and Light Cones released in the game, Clara's position as one of the best DPS characters has only gotten better. The article has been updated to reflect these changes.
Best Relics And Planar Ornaments For Clara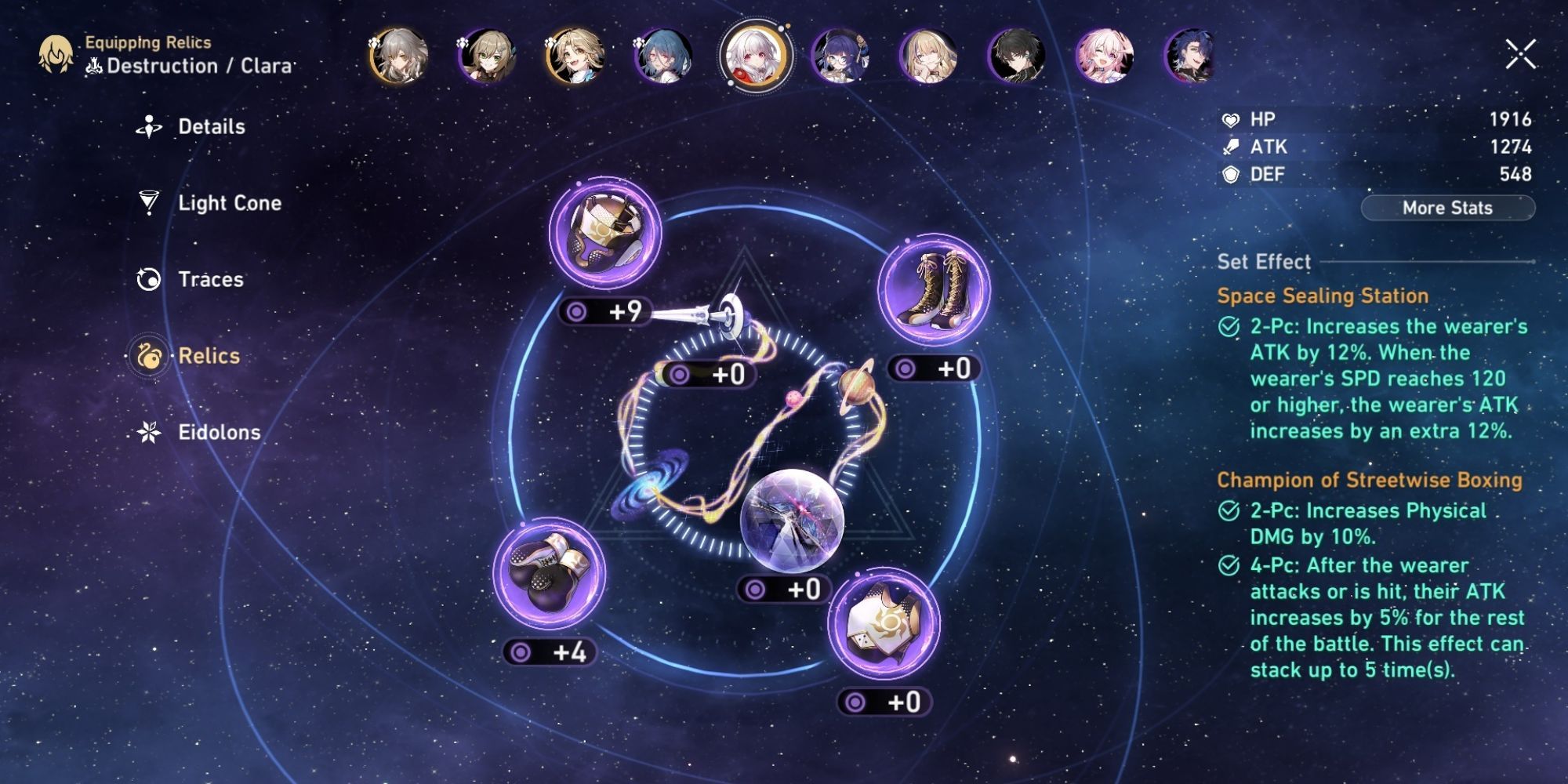 If you're familiar with HoYoverses' other Gacha game Genshin, you'll notice several similarities when it comes to character building in Star Rail. Each character can equip four Relics that can be upgraded and offer the character a set bonus based on how many pieces of a set they are wearing.
Planar Ornaments are a new addition to the HoYoverse formula, effectively giving you an extra Relic slot to provide more set bonuses and stat boosts. With so many to choose from, you should consider these options for Clara:
Type

Name

Reason

Relics

Champion of Streetwise Boxing

This is currently the best Relic choice for Clara since it works perfectly with her kit. Whenever you ATK an enemy or take a hit, you get one stack of this set, which increases your ATK by five percent for the rest of the battle.

---

Clara has a higher chance of getting attacked, and she also deals a follow-up ATK instantly after, which makes it quite easy to stack this effect up.

Thief of Shooting Meteor

If you build Clara correctly, you'll see her getting hit left and right. This launches a follow-up ATK that deals damage to the enemy and shreds their Weakness bar. Her Skill also deals AoE DMG and Weakness shred.

---

This makes her quite a good candidate for a Break Effect set. Physical Break Effect inflicts Bleed on the enemy, which makes them take high DMG at the start of their turn.

Planar Ornaments

Inert Salsotto

Unfortunately, Clara doesn't have any Ornament set that suits her play style completely. However, you can use the Inert Salsotto set on her to boost her follow-up ATK damage, which is her main damage output.

---

Keep in mind that the Ultimate DMG boost with this set will be useless for her since her Ultimate doesn't deal damage.
The Head and Hands Relics in HonkaI: Star Rail will always have ATK and HP respectively. When it comes to choosing the main stats on other Relics for Clara, you should focus on the following:
| Gear Type | Main Stat Priority |
| --- | --- |
| Body | Crit Rate / Crit DMG |
| Feet | ATK Percent |
| Planar Sphere | Physical DMG Bonus |
| Link Rope | ATK Percent |
For the sub-stats, you should focus on Crit Rate, Crit DMG, ATK Percent, and Effect RES for Clara.
This character doesn't need as much SPD since she relies on follow-up DMG.
Best Light Cones For Clara
Light Cones in Star Rail increase your stats and have passive effects, but they are locked to certain Paths, which makes things a bit more tricky when building characters. Clara belongs to the Path of Destruction, which means she can only benefit from Light Cones from the Destruction Path.
Something Irreplaceable

Something Irreplaceable is Clara's signature Light Cone, and it is also her best in slot. It grants her more ATK power and heals her every time she gets hit. She also gets a DMG boost when this healing triggers.

---

This DMG boost lasts until the end of her next turn, so she can benefit from having less SPD with this Light Cone.

On The Fall of an Aeon

Another five-star Light Cone, this one should be used if you don't have Something Irreplaceable. Each time Clara attacks, it increases her ATK stat by eight percent, stacking up to four times. As a bonus, it grants her more DMG when she breaks an opponent.

---

The stacks provided upon performing an attack stack quite well with the Champion Relic set, giving her a bunch of free ATK.

The Unreachable Side

This Cone gives you free Crit Rate and increases your DMG whenever the wearer gets attacked. The HP stat on it might be useless on Clara, but she has a high chance of getting attacked, which makes this one worth it.

The Moles Welcome You

Clara benefits greatly from ATK boosts, which is exactly what the Moles Welcome You does. Each time you use the Basic Attack or Skill, Clara will get one stack of Mischievous.

---

This increases her ATK by 12 percent each time it stacks. The best thing about this Light Cone is that doesn't require you to kill an enemy to gain any benefits.

Shattered Home

If the Gacha Gods have been cruel, this three-star Light Cone will be ideal until you can find something better. It increases your damage by 20 percent to any enemy who has more than half their HP.
Clara Traces Overview And Priority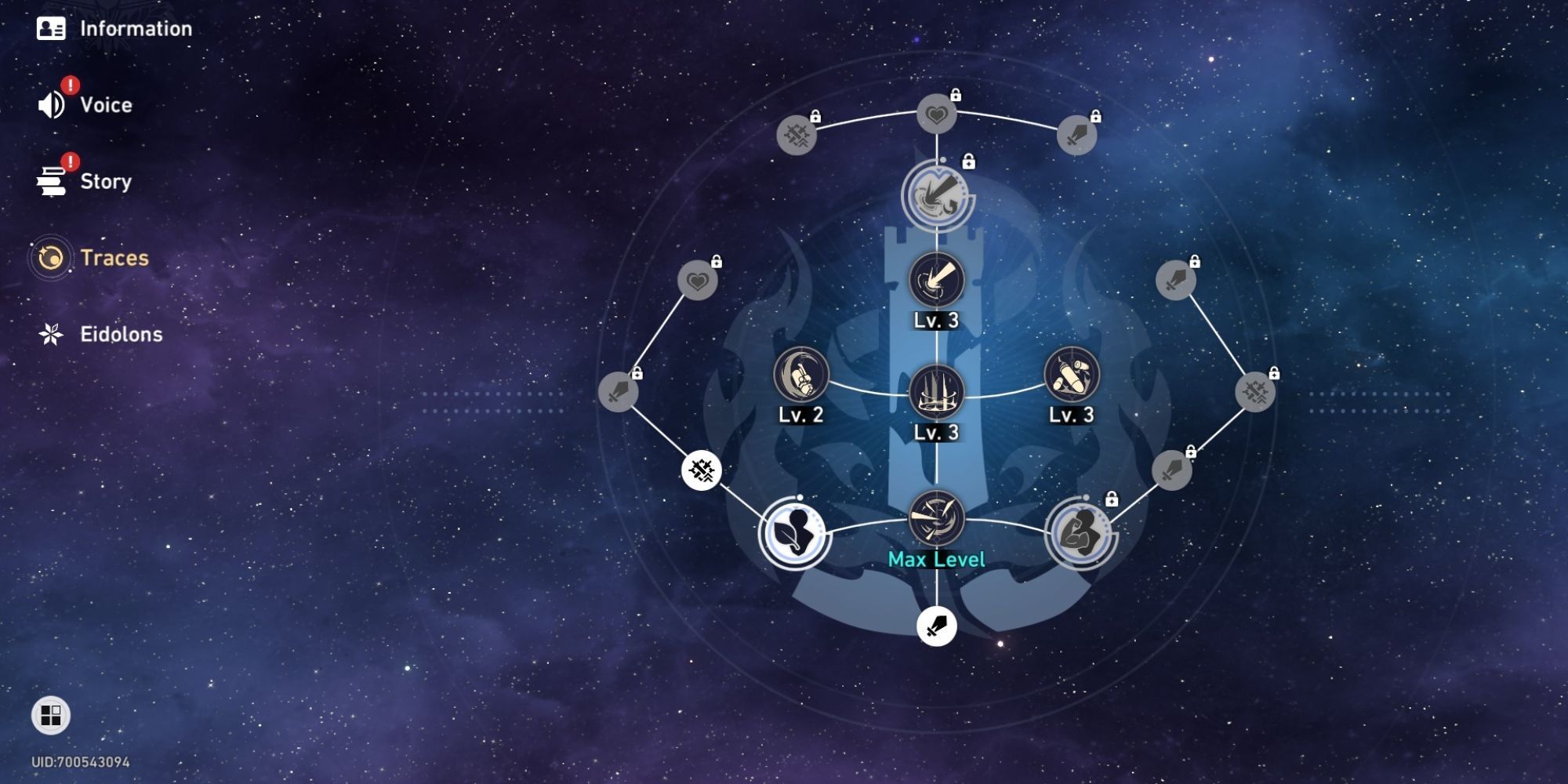 Traces are effectively Honkai's version of Talents from Genshin Impact, just with a bit more depth to them. Each Trace can be unlocked and some can be leveled more than once, such as your character's Basic Attack, Skill, Attack, and Ultimate.
Clara has excellent Traces, and you'll want to focus on her Ultimate, Skill, Talent, and her bonus abilities that increase the damage of her counterattacks.
| Ability Name | Type | Description |
| --- | --- | --- |
| I Want to Help | Basic Attack | Deals physical DMG to one enemy. The damage increases with each level. |
| Svarog Watches Over You | Skill | Deals physical DMG to all enemies. Deals additional damage to enemies marked by Svarog after attacking Clara, triggering more hits. |
| Promise, Not Command | Ultimate | Clara takes reduced damage and increases her chances of being targeted by the enemy for two turns. Svarog's counter is also enhanced, doing AoE damage and triggering when any ally is hit. |
| Because We're Family | Talent | Reduces damage inflicted on Clara by a fixed amount. Svarog marks the enemy and counters the attack aimed at Clara, dealing one instance of physical DMG to the attacker. |
| A Small Price for Victory | Technique | Attack the enemy and increase Clara's chance of being targeted for two turns. |
| Revenge | Bonus Ability | Increases Svarog's Counter DMG by 30 percent. |
| Kinship | Bonus Ability | When attacked, Clara has a 35 percent chance to remove a single debuff on her. |
| Under Protection | Bonus Ability | Clara has a 35 percent chance to resist Crowd Control debuffs. |
With Clara, you don't need to worry too much about improving her basic attack. Due to the multipliers of her follow-ups, you should prioritize the Traces that bolster these.
Are Clara's Eidolons Worth It?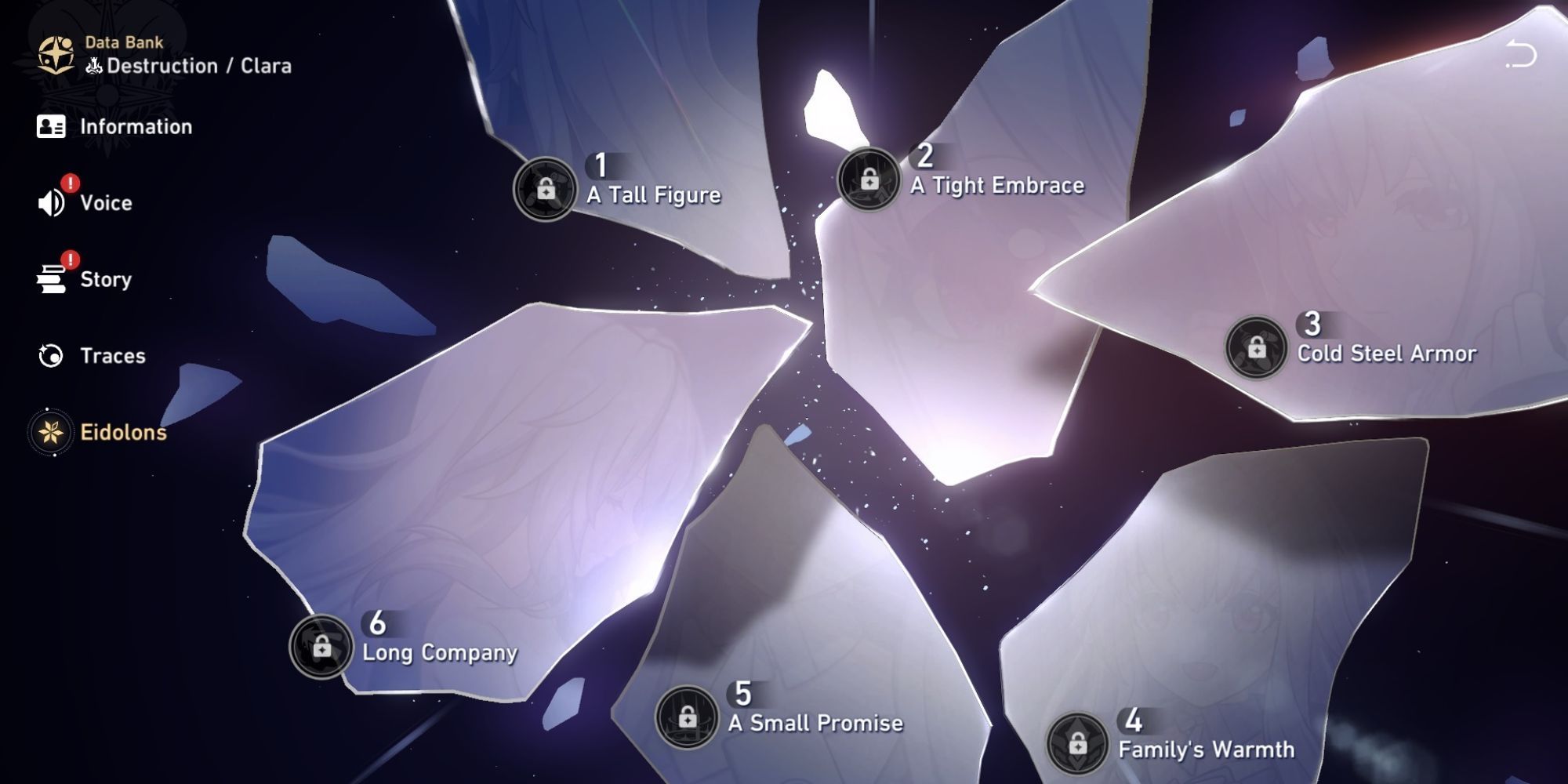 Each character has six Eidolons in Honkai: Star Rail, which can be activated upon receiving a duplicate of the character. Clara's Eidolons are, unfortunately, incredibly powerful. Her first and second Eidolons are excellent. The first keeps Svarog's mark on enemies permanently, while the second increases Clara's damage by 30 percent after using her Ultimate.
We don't recommend going further, due to how unlikely it is to get copies of Clara.
However, if you really like her, Clara's sixth Eidolon makes it so every character who is hit has a chance of triggering Svarog's counter. Not to mention, it gives Svarog another charge of his enhanced counterattack when using Clara's Ultimate.
NEXT: Honkai: Star Rail – Best Team Members For Clara