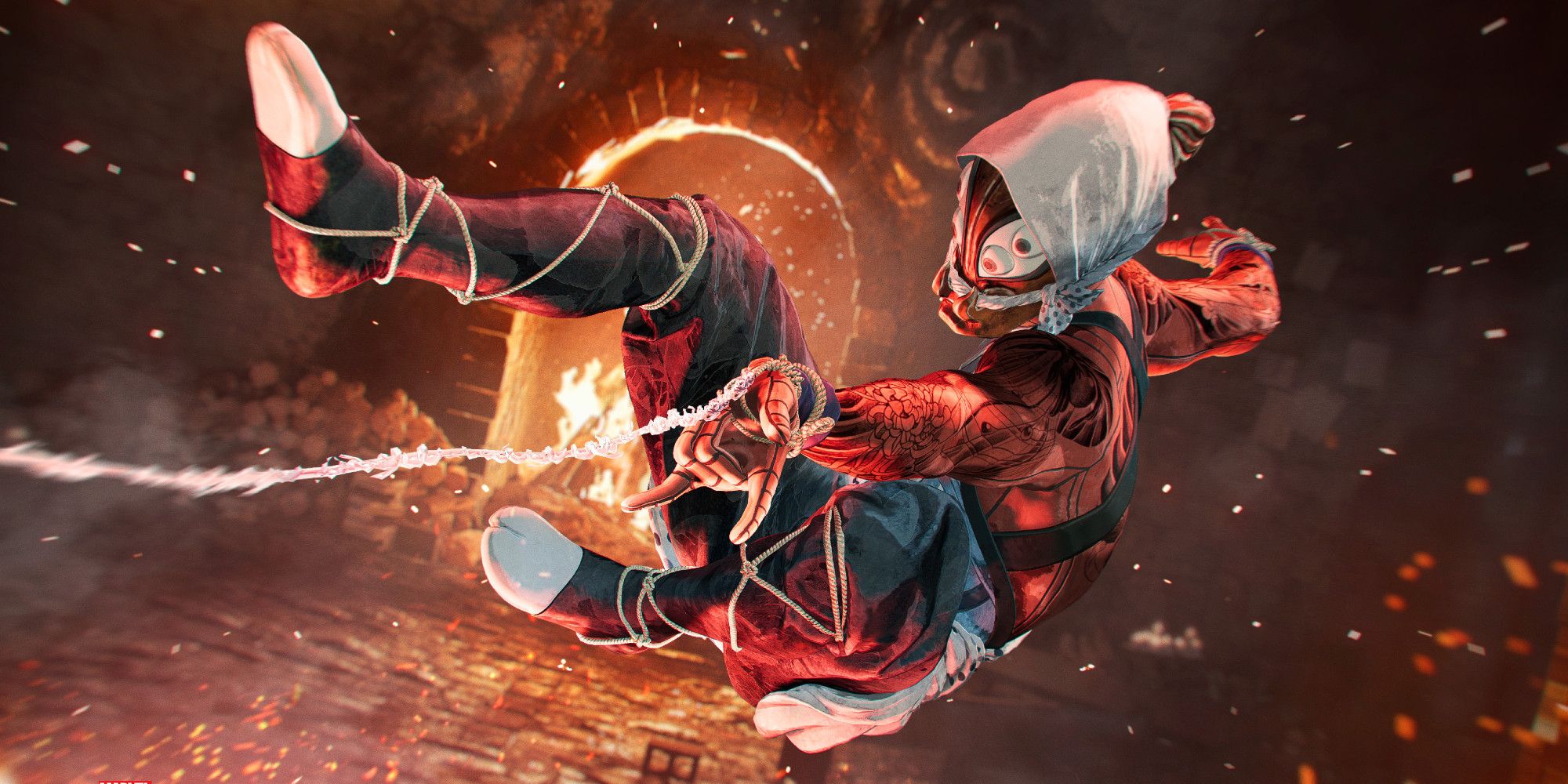 Spider-Man 2 will be chock full of new and interesting suits for both Peter Parker and Miles Morales to wear while they swing around New York, but the full range of suits on offer is still unknown. Thankfully, developer Insomniac Games has given us a first look at two new suits that will be included in the game when it launches, those being the Brooklyn 2099 suit and the brand-new Kumo suit.
Insomniac shared a couple of images on Twitter earlier today of both Miles Morales and Peter Parker sporting the suits, both of which look rather flashy. Those who have played Spider-Man: Miles Morales should recognize the Brooklyn 2099 suit, as it was included in the spinoff title back when it launched in 2021. It's nice to see it in the sequel though, and we know that Miles Morales has a least one flashy suit to show off later this month.
Related: I Won't Rent, Let Alone Buy, A PS5 Just To Play Spider-Man 2
The Kumo suit is a brand new design though, and is definitely the showpiece of the tweet, gathering from the reactions from fans in the tweet's replies. The Kumo suit doesn't appear to be based on any pre-existing Spider-Man media like many other suits from past games, meaning this is most likely a suit of Insomniac's own design. No information has been released at to how we actually earn these suits, though we don't exactly have to wait too long to find out.
With this news, we now have a pretty good idea of at least a dozen or so suits that will be included in the game when it launches. Of course, we have Peter Parker's black suit, which gives him all of his Symbiote powers, but we also recently saw the announcement of a range of DLC suits for Peter and Miles, which includes the Apunkalyptic Suit, 25th Century Suit, Tokutatsu Suit, Agimat Suit, Encoded Suit, and a whole bunch more.
Fans will be willing Spider-Man 2's release date to come closer, especially since it seems as though story spoilers have been leaking pretty frequently on social media for the past few days. Insomniac has warned fans that story spoilers are out there, and there are several gameplay videos floating around on sites like Twitter and Reddit, so anyone that wants to keep the adventures of Miles and Peter a secret until release day should probbaly go on a complete social media lockdown.
Thankfully, the official launch of Spider-Man 2 is a little over a week away, as the game will launch exclusively on PS5 on October 20. Until then, batten down the hatches and have patience.
Next: I Was Thrilled About Guitar Hero's Possible Return Until Bobby Kotick Mentioned AI