The Hittites have fallen into decline by the start of Total War: Pharaoh. Never having fully recovered from the Battle of Qadesh decades prior, their empire is on the brink of civil war as power-hungry nobles seek to supplant the Great King.
Related: Total War: Pharaoh – Pillars Of Civilization, Explained
Battles in Anatolia can be quite different from those in the deserts to the south; you can rely more on heavy infantry without worrying about attrition, and there are plentiful woods for setting up ambushes. Use these top-quality Hittite troops to fill your armies, and you'll reunite Hatti with ease!
8
Armoured Hattusan Archers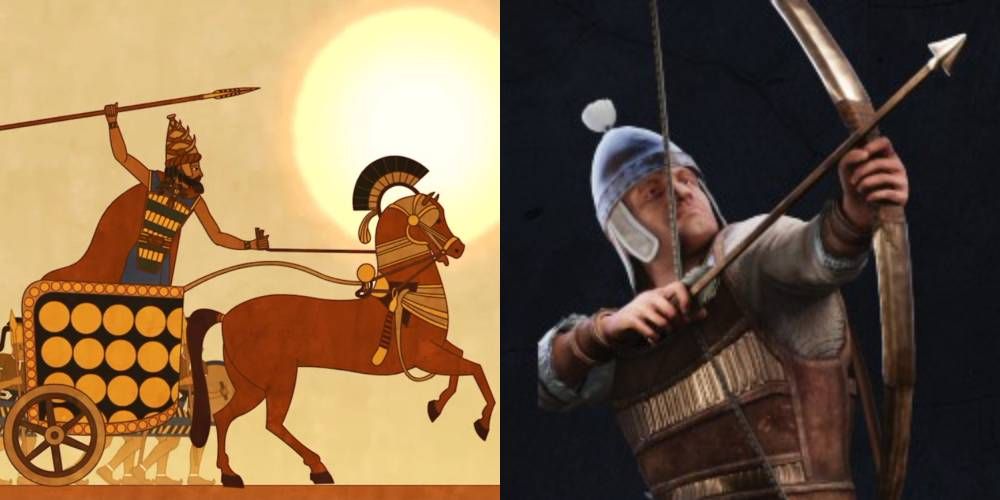 Lines of bowmen aren't as big a part of Hittite battlefield doctrine as they are for the Egyptians, but if you're playing as Suppiluliuma you'll want to make an exception for these guys. Their arrows hit decently hard, and they have access to both Rapid Fire and Flaming Shot to make them even more effective.
Like other middle-tier archer units, Armoured Hattusan Archers can also hold their own in combat, and they even have axes to help them break up shields. In a pinch, they can even take a spot on the front lines, softening up approaching enemies before engaging alongside your spear and sword units.
7
Armoured Kaskian Chariots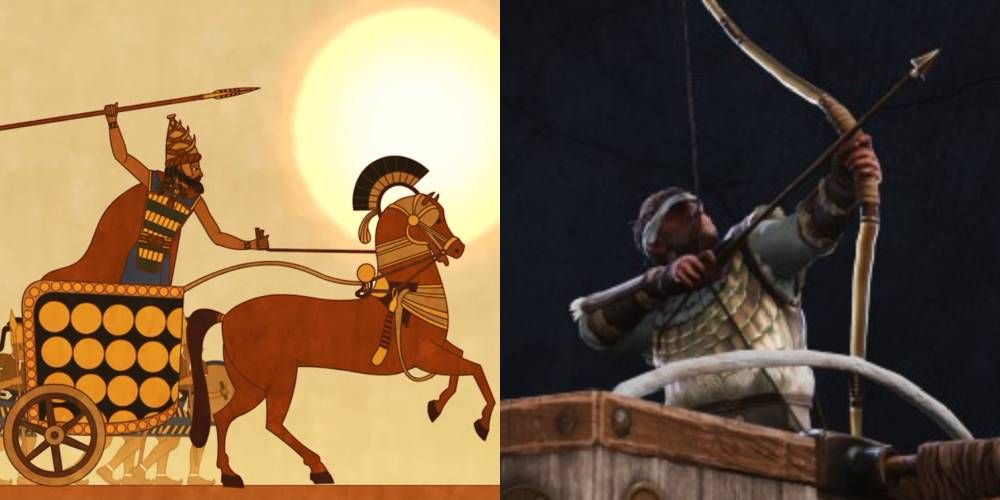 Kurunta's Kaskian mercenaries fight with chariots similar to those used in Egypt, which provides him with some tactical options not normally available to Hittite factions. Rather than focusing on a devastating charge, Kaskian chariots can opt instead to ride circles around the foe, firing arrows the whole time.
This tactic can be a little tricky in the rough terrain of Anatolia, but if you're planning an expedition into Canaan or even daring an invasion of Egypt, Armoured Kaskian Chariots can give your opponents a painful surprise.
6
Veteran Hattusan Swordsmen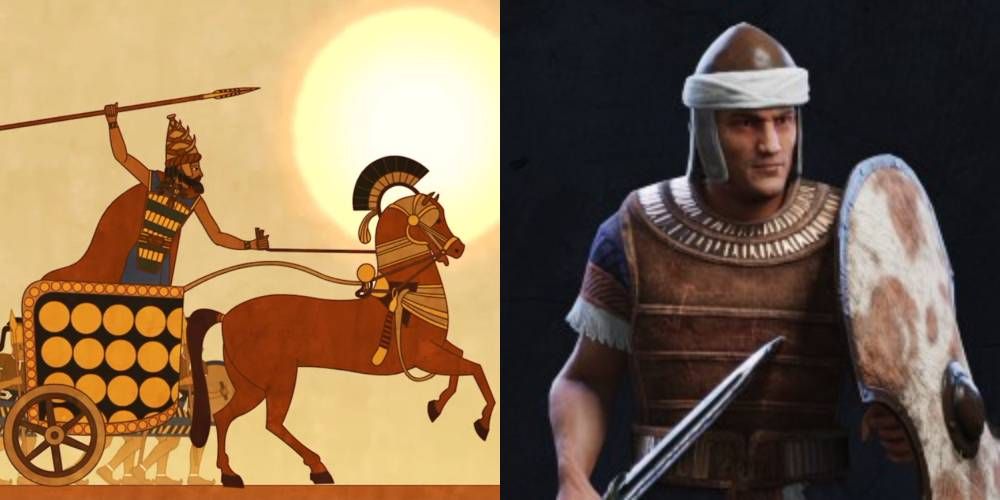 A little versatility can go a long way, especially when your budget for unit upkeep is tight. While not quite as durable as Hatti's incredible spearmen, Veteran Hattusan Swordsmen do a great job holding a melee line while your skirmishers and chariots flank.
This unit, only available to Suppiluliuma, has a standout ability in its Shield Wall stance. When activated, it pushes their Melee Defence into the mid-forties, putting them on par with some of the game's best defensive troops. When the time comes, they can then drop the stance and charge, taking advantage of their better Charge Bonus than the spear units they'll be supporting.
5
Royal Hittite Chariots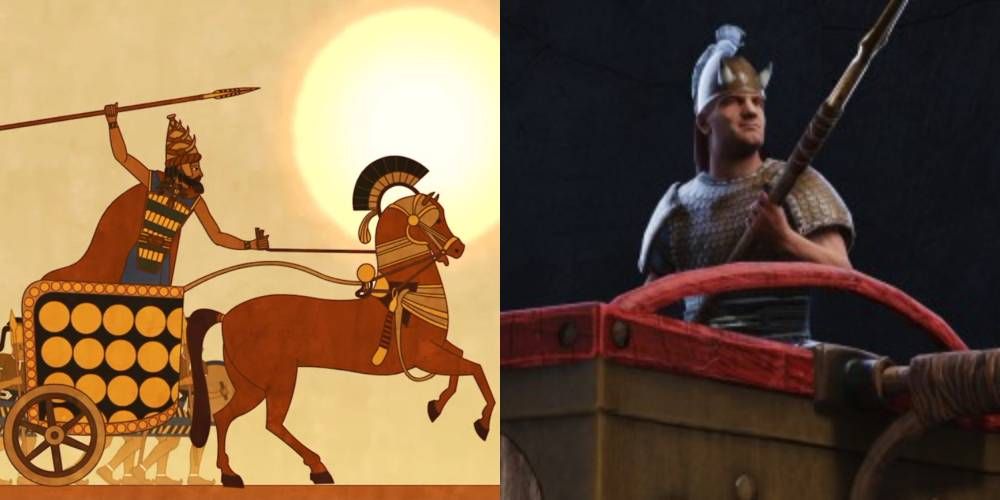 The Hittites were the best chariot-makers of their time, and the power of their wheeled weapons is on full display in Total War. Hittite Chariots in general are fantastic, smashing into units with a shattering charge before pulling back to do it again.
Related: Total War: Pharaoh – Complete Guide To Civil Wars
Royal Hittite Chariots are the best of the best. Available only to the Great King and High Commander, they're expensive to build and upkeep, and can only be recruited a few at a time. Once they're rolling, though, there isn't much that can stand in their way. They cause Fear and even have some javelins on hand for drive-by attacks against other chariot units and armored infantry. Just watch out for their small unit size and vulnerability to spears, javelins, and clubs – each destroyed chariot will severely reduce the unit's overall effectiveness.
4
Renowned Phrygian Javelineers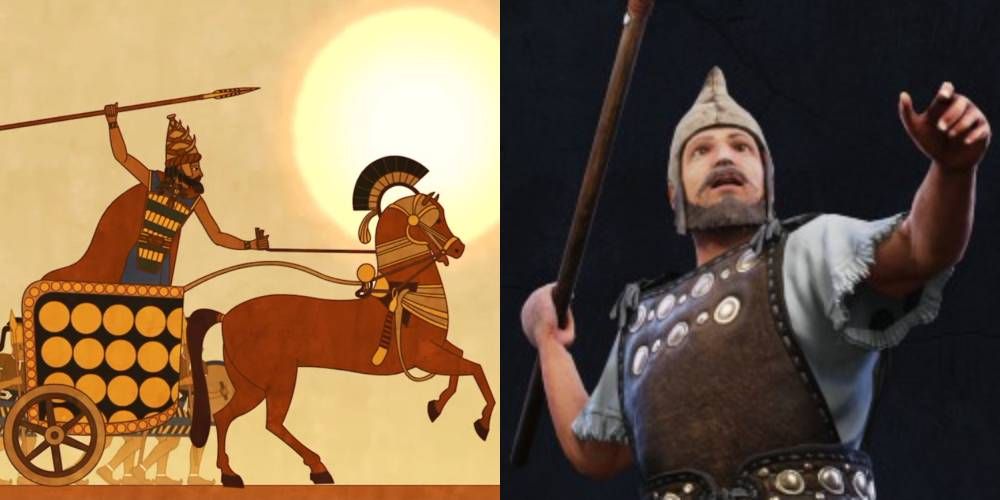 Hittite armies make heavy use of javelins, easily penetrating enemy armor before closing for melee. The best javelineers available hail from the Phrygian Highlands, so be sure to build a Native Recruitment Center in at least one city that you control in the region.
Renowned Phrygian Javelineers don't have a lot of ammo, but the seven spears that they throw over the course of a battle are sure to count. With an exceptional Missile Damage of 64, which ignores armor, they can put a dent in chariots or heavily-armored troops with ease.
3
Royal Hittite Chargers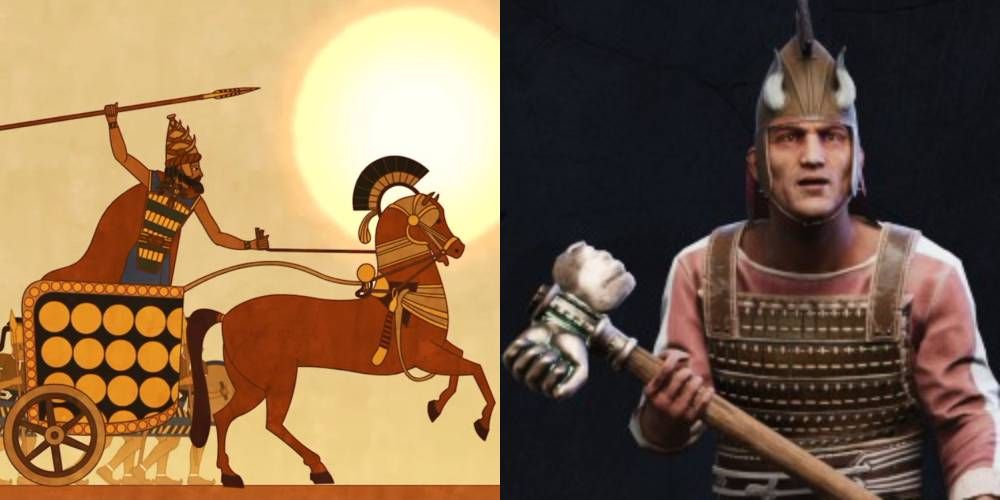 The perfect complement to javelin units on the flank, Royal Hittite Chargers are the perfect hammer with which to smite enemy armies. Like the other units reserved for the Great King, Royal Chargers have amazing stats and their two-handed clubs pack a massive punch on the charge.
Unlike lots of other risk-prone units, Royal Hittite Chargers can handle themselves if they get countercharged. With improved flank attack and flank defense, along with Underdog and faster Stamina recovery, Hatti's mightiest warriors are usually the ones left standing when the dust settles.
2
Veteran Hittite Spearmen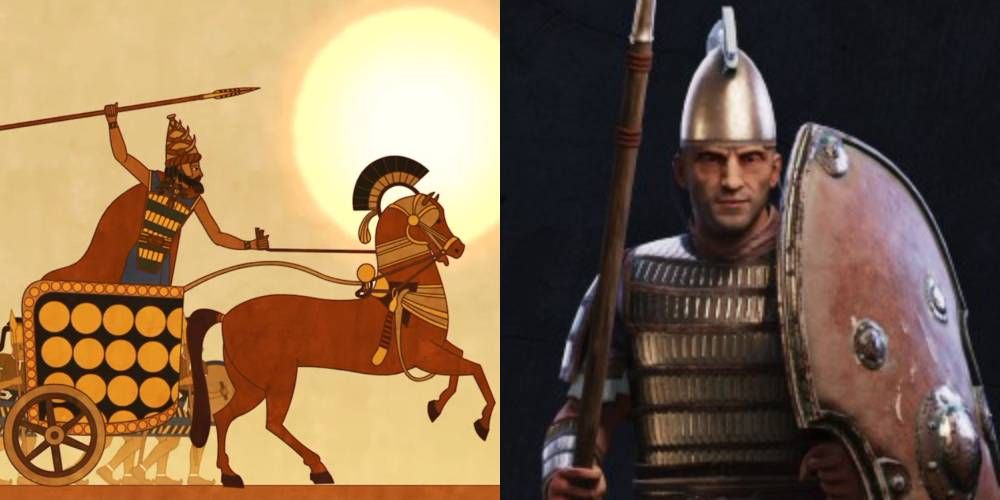 Veteran Hittite Spearmen are technically Faction Units, but they're available to both Suppiluliuma and Kurunta. That's a good thing, because these immovable spear units should form the keystone of your army throughout the late game.
Veteran Hittite Spearmen have comparable stats to the Golden Spearmen of the Hittite Royal Court, but they have a greater focus on defense. Considering that's their primary battlefield role, their lower costs and greater availability makes them an easy choice. Their top-tier shields (not to mention their jaw-dropping Armor rating of 125 and 175 HP per soldier) make them all-but impervious to arrow fire, and with Redoubt they can temporarily ignore any penalties they incur from being attacked on the flank.
1
Mesedi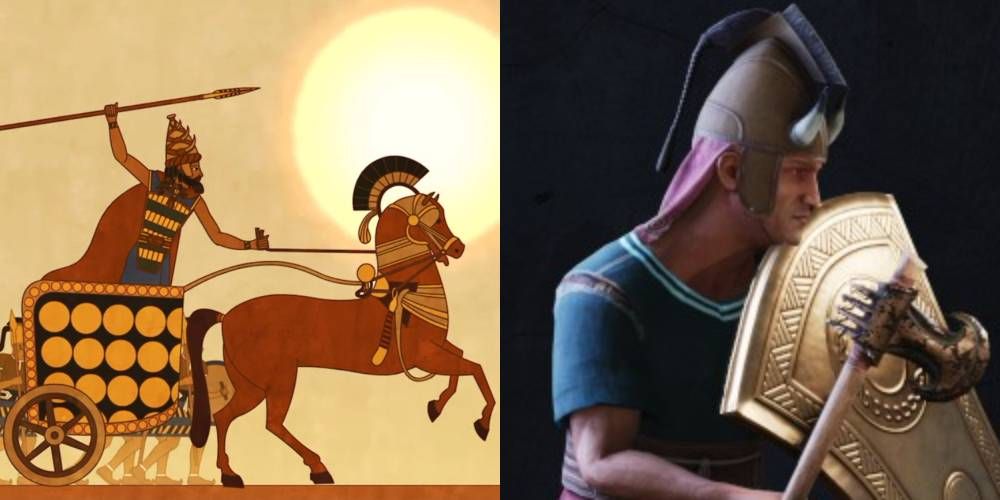 The axe-wielding heroes of Hatti aren't just the best units available to Hittite players, they're arguably one of the best units in the entire game. A Tier 6 unit with stats to match, Mesedi are made all the more impressive by their excellent gear – including the largest possible shield – and their fantastic unit abilities.
Like most axe units, Mesedi prefer charging to being charged, and with Improved Flank Attack, Catch Your Breath, and Underdog, they're absolutely devastating on the outer edges of your line. If they get caught on the receiving end of a charge, that's no problem – they can just pop Shield Wall and rely on their Improved Flank Defense to hold out until reinforcements arrive… assuming that they even need the help to begin with.
Next: Total War: Pharaoh – Best Egyptian Units