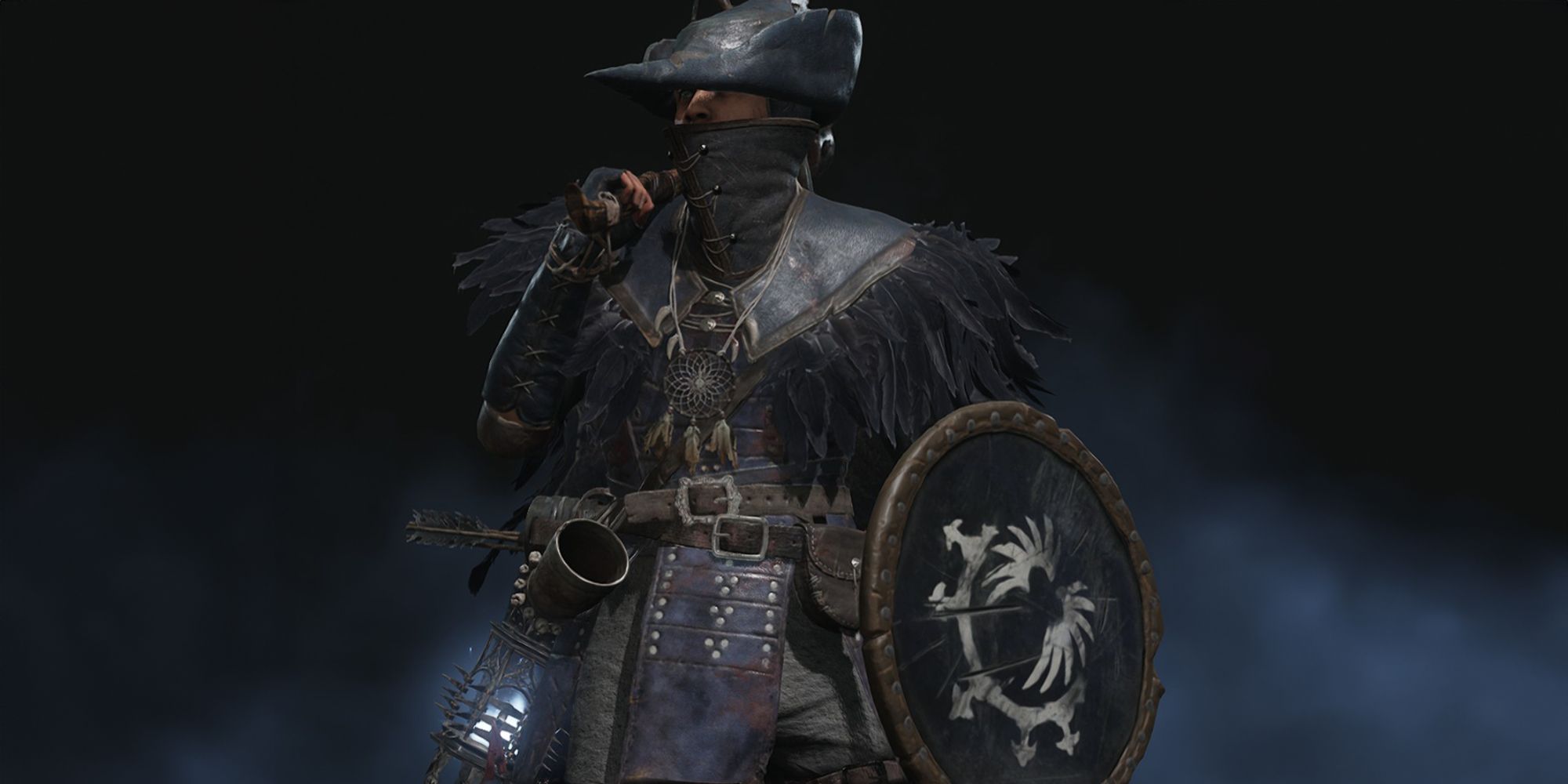 Lords of the Fallen doesn't shy away from its inspirations. You have an Estus equivalent, what amounts to bonfires, and menus that feel ripped right out of Dark Souls. But it's not just From's defining series that it draws from, as LotF even has a Bloodborne-like starter class.
There's your standard selection – the knight, barbarian, pyromancer, and of course, deprived (all with their own LotF-styled names). Then there's the Blackfeather Ranger, "A member of the elite band of rangers who patrolled the forests of the fief of Kinrangr before a terrible curse born of grief lay waste to their home."
RELATED: Try These Horror-Themed Steam Next Fest Demos To Celebrate Spooky Season
The outfit this ranger adorns is strikingly similar to Bloodborne's typical hunter, albeit with a shield. There are also no guns, so the ranger uses a bow and arrows. Of course, Bloodborne didn't invent this look. A big inspiration was the 2001 French film Brotherhood of the Wolf. It's possible that Lords of the Fallen was also inspired by the same movie, but given how much it draws from across the Souls series and From's other Soulslikes, Bloodborne seems more likely.
That's not to mention the description of the ranger. They're an "elite band" who were driven from their home due to a "terrible curse". It's vague, sure, but I'd like to imagine that this elite band are Lords of the Fallen's equivalent to the Old Hunters and that the curse is the kind that transforms people into beasts.
Maybe they even lived in an old Victorian-style town with a big, ominous church nearby. The outfit is fairly modern after all (at least, relative to the high fantasy medieval setting), given that the film it originates from is set in the 18th century.
With the class, you could try and play Lords of the Fallen like Bloodborne. When you enter the Umbral world via your lamp, you don't heal fully. Instead, the Estus equivalent gives you back a portion of what it would in the normal world, while a grey bar replaces the rest. You replenish this by attacking enemies. Sounds familiar, aye? Don the Blackfeather Ranger gear, enter the world of Umbral – which is essentially like having maximum insight – and you can roleplay a hunter who has stumbled into a land closer to Dark Souls, like Marvelous Chester.
There's also the other recently released Soulslike, Lies of P, which is unabashedly inspired by Bloodborne. Between the two, it's almost like having the game on PC. Maybe one day, eh?
Next: Delay It By 2 Months, And The Quest 3 Could Have Had The Greatest Launch Line-Up In Video Game History