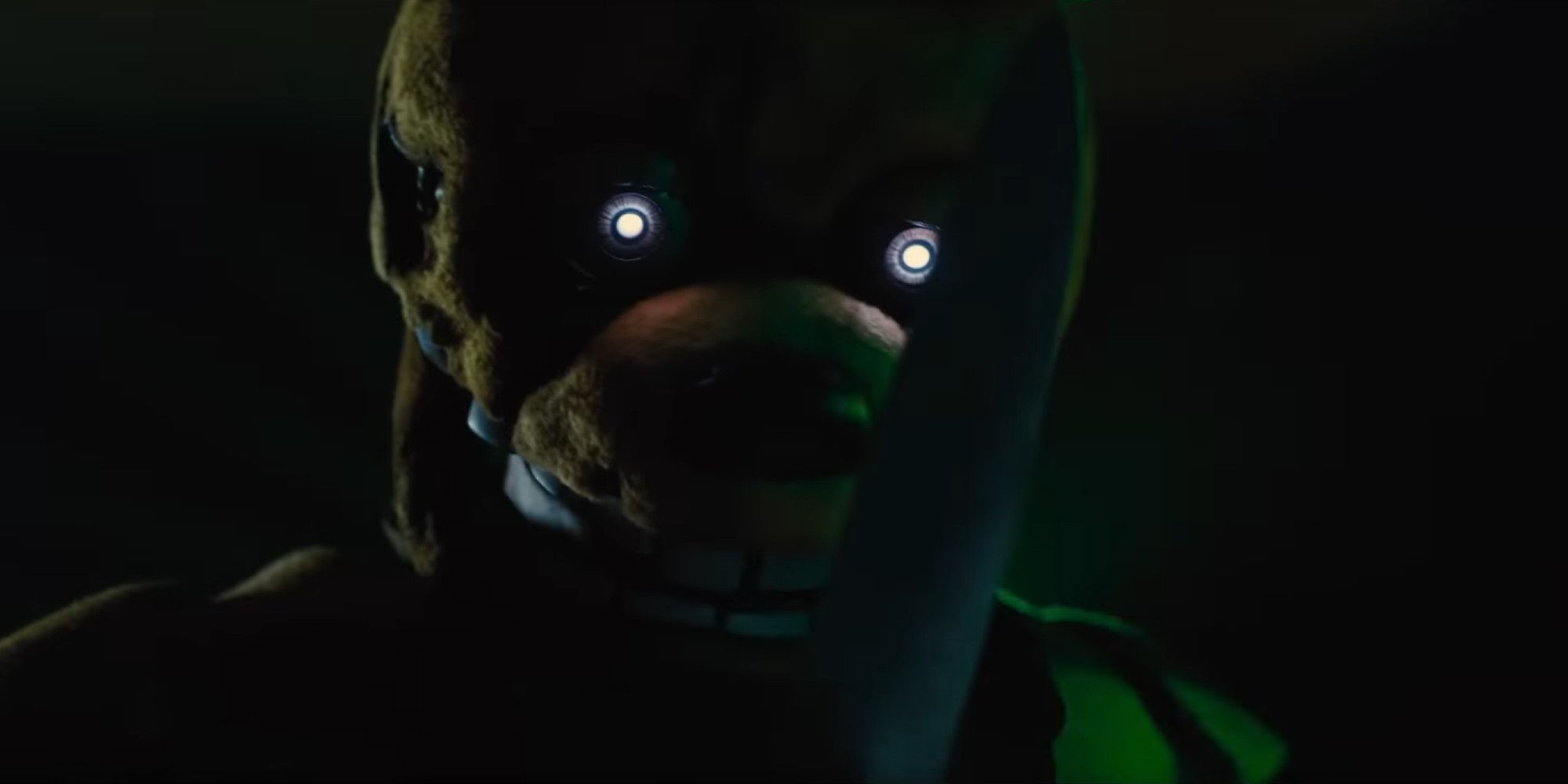 Five Nights at Freddy's fans have been having a good time lately, mostly because of all the new details being shared for the upcoming release of the film adaptation, which is slated for release in October. In fact, earlier today we got a brand new trailer that gives us a further look at the film's animatronics, some new plot details, and the reveal that Springtrap will also play a role in the story.
However, many Five Nights at Freddy's fans believe that the very brief glimpse of Springtrap isn't really him, at least not yet. The vast majority think it's actually child serial killer and film antagonist William Afton in a worn Spring Bonnie outfit, mostly because you can faintly make out part of Afton's cheek in the animatronic's mouth.
Related: Across The Spider-Verse Wasn't Worth What It Had To Do
For those not up to speed on their Five Nights at Freddy's, the animatronic known as Springtrap is actually possessed by the ghost of William Afton, who dies while hiding in a Spring Bonnie suit from the ghosts of the children he murdered. Afton is killed by a ventilator process called "springlocking", as the suit's exoskeleton breaks down and impales whoever is inside.
Considering that Afton appears to be alive and well in the film, and that he apparently gave protagonist Mike Schmidt a job at Freddy Fazbear's pizzeria, fans are certain that Afton will be locked up at some point. If this does happen, it means that the film will shake up the Five Nights at Freddy's lore a bit, but that's probably okay since series creator Scott Cawthorn was heavily involved in the production.
Springtrap/Spring Bonnie's brief appearance wasn't the only fun little reveal in the film's latest trailer, as popular Five Nights at Freddy's YouTuber Cory Kenshin was also spotted. He's unlikely to be a major part of the film, especially since he appears to be playing a taxi driver, though his appearance is a fun little nod to his fans and Five Night at Freddy's fans in general. We still have to confirm if Markiplier is even in the movie, something that fans can't wait for.
Next: I'm obsessed with these new beyblades that are sure to kill someone