Patch 6.1 brought many changes to Final Fantasy 14, with the complete overhaul of the PvP being among the most surprising. Not only are the systems and mechanics reworked from the ground up, but the new Crystalline Conflict mode is one of the best competitive PvP modes out there, encouraging teamwork and a strong understanding of your role and job.
RELATED: Final Fantasy 14: Guide To Playing Dragoon In PvP
With every job receiving significant modifications in PvP, the Ninja stands out as a single-target threat that can obliterate their opponents from the shadows. Their ability to deal immense burst damage will surely keep people on their toes throughout the match.
Updated June 27, 2023: Lots of gradual changes have been dished out to the Ninja in Final Fantasy 14's PvP Modes in the past three major patches, with the latest Patch 6.4 offering even more tweaks to the list. As such, we have decided to revisit this guide to include all of the changes that transpired since we created it and touch up the formatting to make it easier to follow!
Overview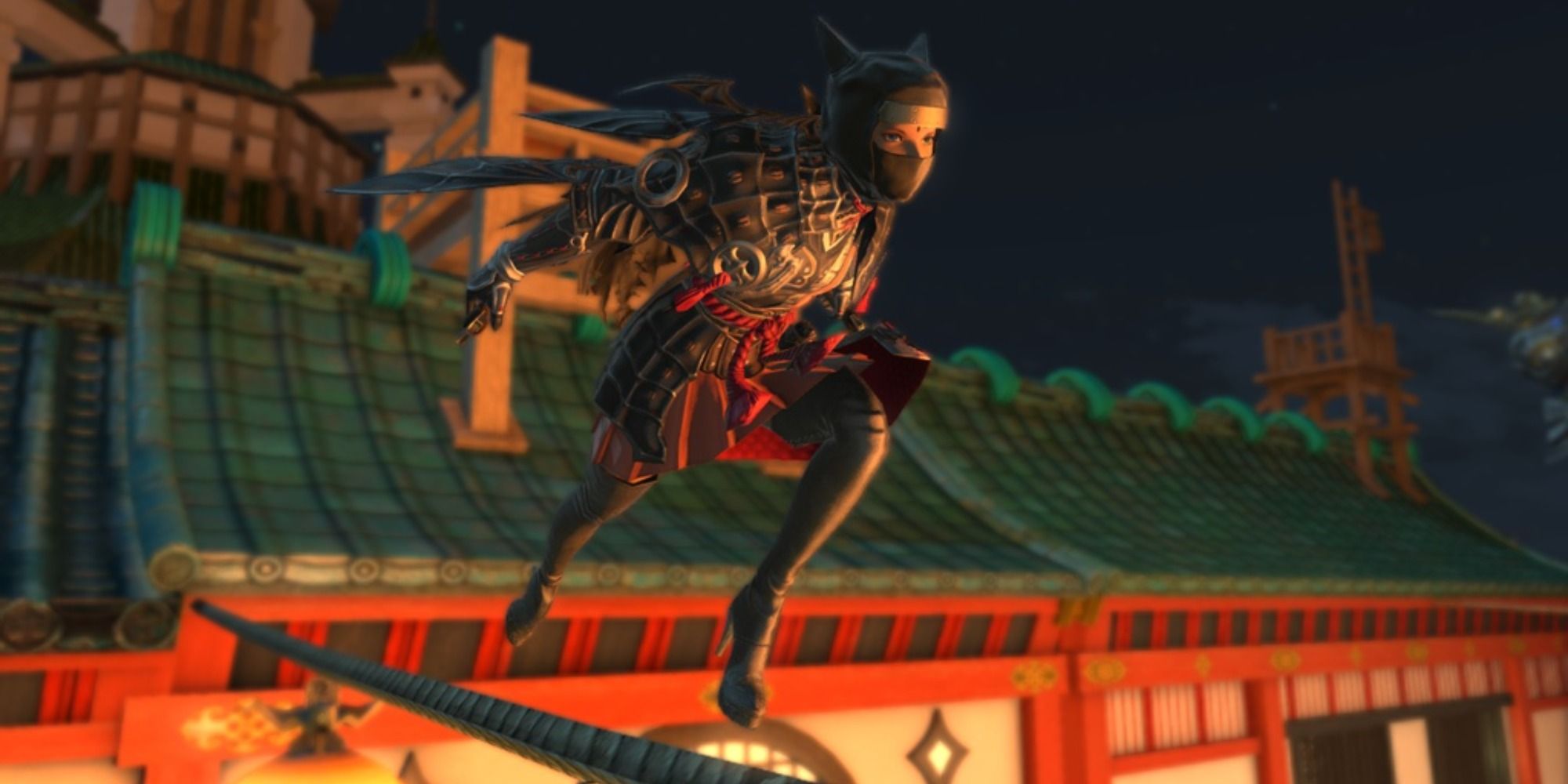 The Ninja is one of PvP's most unique jobs after the arrival of Patch 6.1, changing the class into a stealth powerhouse that deals high single-target damage from the shadows.
While the update does make the class feel and play like an actual Ninja, it does have some drawbacks, making it hard to get used to if you're new to the role, used to another class, or even the pre-patch version of the job.
As with most Melee DPS jobs in PvP, you are expected to deal tons of damage throughout the match, but your approach is severely different here. For example, you will constantly be attacking and retreating and will often use cover to your advantage to get the jump on your opponent.
Furthermore, you will almost always be behind your teammates, focusing on priority targets or enemies with smaller health pools rather than leading the charge or doing flashy combos in a pit of chaos.
Due to the Ninja almost having a specific way to play them in PvP -especially in Crystalline Conflict- we will go over the job's overall strategy and cover their abilities in great detail to highlight what makes them worth playing.
Job Action Breakdown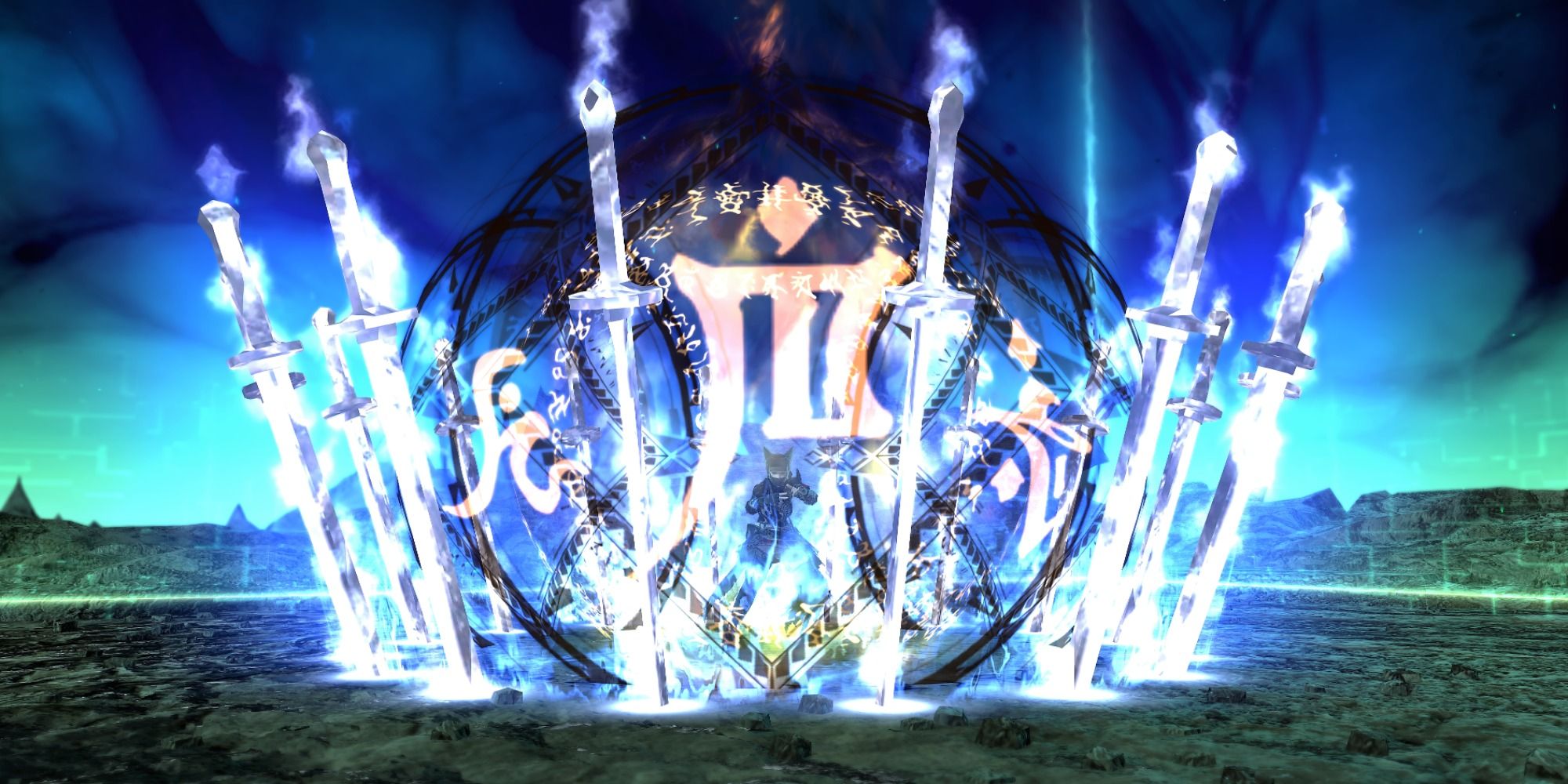 Most of what makes the Ninja a truly special and unique job is its ability to play passively while awaiting their chance to strike. Their ability to apply the Hidden effect allows them to stay invisible to their opponent and swiftly execute a deadly combo on their prey, taking them out of the equation.
As a Ninja, you will essentially be out of sight and mind of your enemy but will still contribute to your team by picking off targets with your extremely high-damaging attacks before slipping back into the shadows.
Action

Recast Time

Attack Type

Information

Spinning Edge

2s

Weaponskill

Attack with a potency of 3,000.

Gust Slash

2s

Weaponskill

Attack with a potency of 4,000.

Combo Action after Spinning Edge.

Aeolian Edge

2s

Weaponskill

Attack with a potency of 5,000.

Combo Action after Gust Slash.

Fuma Shuriken

10s

Weaponskill

Attack with a potency of 6,000 from range. (25y) – Three charges are available.

---

When under the effects of Three Mudra, the action turns into Hyosho Ranryu.

Mug

20s

Ability

Attack with a potency of 2,000.

---

Increases damage dealt to target by 10 percent for 10 seconds and reduces Fuma Shuriken's recast timer by 10 seconds. When under the effects of Three Mudra, the action turns into Goka Mekkyaku.

Three Mudra

15s

Ability

Enables the use of any Ninjutsu action for 10 seconds (you cannot use the same Ninjutsu action consecutively). – Two charges are available.

---

Action changes to Meisui. – Every action aside from Seiton Tenchu will change to their corresponding Ninjutsu actions.

Bunshin

30s

Ability

Turns your shadow animate for five attacks, allowing it to attack your targets whenever executing a weaponskill. The attack potency of the shadow attacks mimics the weaponskill unless performing Fuma Shuriken or Assassinate, which will then be halved. Bunshin lasts for 20 seconds.

---

Spawns a shadow that absorbs 8,000 damage for 10 seconds. When under the effects of Three Mudra, the action turns into Huton.

Shukuschi

20s

Ability

Has you move swiftly to a new, specified location while granting Hidden. Hidden blends you in with the surrounding area, making it impossible for the opponent to see you for five seconds. – Casting anything other than Sprint will remove the Hidden effect. Taking damage will also reveal you.

---

When under the effects of Three Mudra, the action turns into Doton. Additionally, when hidden, the Aeolian Edge Combo changes to Assassinate.

Forked Raiju

2s

Weaponskill

Attack with a potency of 4,000 with a lightning strike after rushing at your target.

---

Stuns target for two seconds and grants Fleeting Raiju Ready for 10 seconds. When Fleeting Raiju Ready is active, the Aeolian Edge Combo changes to Fleeting Raiju.

Fleeting Raiju

---

Only when under the effects of Fleeting Raiju Ready

2s

Weaponskill

Attack with a potency of 4,000 with a lightning strike after rushing at your target.

---

Stuns target for two seconds.

Hyosho Ranryu

---

Only when under the effects of Three Mudra

2s

Spell

Attack with a potency of 16,000.

Goka Mekkyaku

---

Only when under the effects of Three Mudra

2s

Spell

An AoE attack with a potency of 4,000.

---

Enemies hit will take Damage Over Time for 12s with the potency of 4,000.

Meisui

---

Only when under the effects of Three Mudra

2s

Spell

Heals your (allied) target with a cure potency of 10,000.

---

Gradually restores your own HP over the span of 15 seconds with a cure potency of 4,000.

Huton

---

Only when under the effects of Three Mudra

2s

Spell

Creates a barrier that absorbs 16,000 damage and increases your movement speed for 10 seconds. – If the barrier gets completely absorbed, your movement speed will return to normal.

Doton

---

Only when under the effects of Three Mudra

2s

Spell

Corrupts the ground beneath you with an AoE that damages anyone who enters the area for 2,000. Doton lasts for 10 seconds.

Hollow Nozuchi

N/A

Ability

Enemies standing in the corrupted ground created from Doton will receive additional earth damage with the potency of 2,000. Hollow Nozuchi requires you to perform a weaponskill, Hyosho Ranryu, or Goka Mekkyaku to activate.

---

Hollow Nozuchi also inflicts enemies with 75 percent Heavy for three seconds, which significantly reduces their movement speed.

Assassinate

---

Only when under the effects of Hidden.

2s

Weaponskill

Attack with a potency of 12,000.
Default Rotation
The Aeolian Edge Combo is an excellent way to keep damage on your target whenever you're waiting for actions found in the "Full Combo" to become available again.
While this rotation is decent at dealing damage, it isn't ideal to use due to the Ninja's ability to go invisible and obliterate its unsuspecting target. Still, this is a useful combo to use whenever you're being pursued with nothing else available or finish a weak target off after performing your full combo.
Spinning Edge > Gust Slash > Aeolian Edge
Full Combo
Unlike the rotation presented above, the full combo is the string of actions you will be relying heavily on throughout the match. This takes advantage of the Ninja's ability to go under the effects of Hidden, which allows them to Assassinate their opponent and deal immense damage.
(Bunshin + Shukuchi) > Assassinate (Mug + Three Mudra) > Forked Raiju (Three Mudra) > Hyosho Ranryu > Fleeting Raiju > Aeolian Edge Combo*

*Ending with Aeolian Edge Combo is optional and dependent on your situation. Read the breakdown below for more information!
Full Combo Step-By-Step Breakdown
Starting the combo string off with Bunshin seems like the best move as it makes your shadow become animate for the subsequent five attacks and lasts 20 seconds, allowing you to deal significant damage out of the gate with the right actions.
Even if some of your shadow's attacks deal half damage, it's still a powerful ability that will help wipe your target out in the blink of an eye. After casting Bunshin, immediately go into Shukuchi to go under the effects of Hidden and become invisible to the opponent.
Bunshin and Shukushi should be performed before the encounter, allowing you to obtain the buffs from both actions and deal excessive damage throughout the rest of the combo as a result. You should cast Bunshin out of sight from the enemy and use Shukushi to move to your specified location (typically closer to your target).
Once you're under the effects of Hidden, your Aeolian Edge Combo will change to Assassinate. Assassinate your target and launch directly into Mug to make your target receive 10 percent more damage for 10 seconds.
This step is essential as not only is your shadow still active, but your attacks will now deal 10 percent more damage to your target, which is quite a lot of damage in such a short window. After using Mug, use Three Mudra to ready your Forked Raiju.
After performing Three Mudra, launch into Forked Raiju to deal 4,000 damage and apply the stun effect on your target for two seconds. Next, pop Three Mudra once more, and go directly into Hyosho Ranryu for another 16,000 damage.
Finally, close out strong with Fleeting Raiju, which has the same attack potency and effects as Forked Raiju. With your opponent stunned once more for two seconds from Fleeting Raiju, you have a couple of options at your disposal.
If your life isn't in active danger, you can finish the combo off with the Aeolian Edge Combo and milk the rest of Mug's 10 percent damage buff.
However, if you are being pursued by enemies or need to be elsewhere, use this time to retreat and start your vicious cycle of devastation once more. Your Shukuchi should be available, so use that to escape the scene and reposition yourself accordingly.
After fleeing the scene with Shukuchi, you will essentially rinse and repeat the steps above for the remainder of the match. The only time you will do things slightly differently is whenever your Limit Break, Seiton Tenchu, is available. We will touch more on that in the section below!
Limit Break Breakdown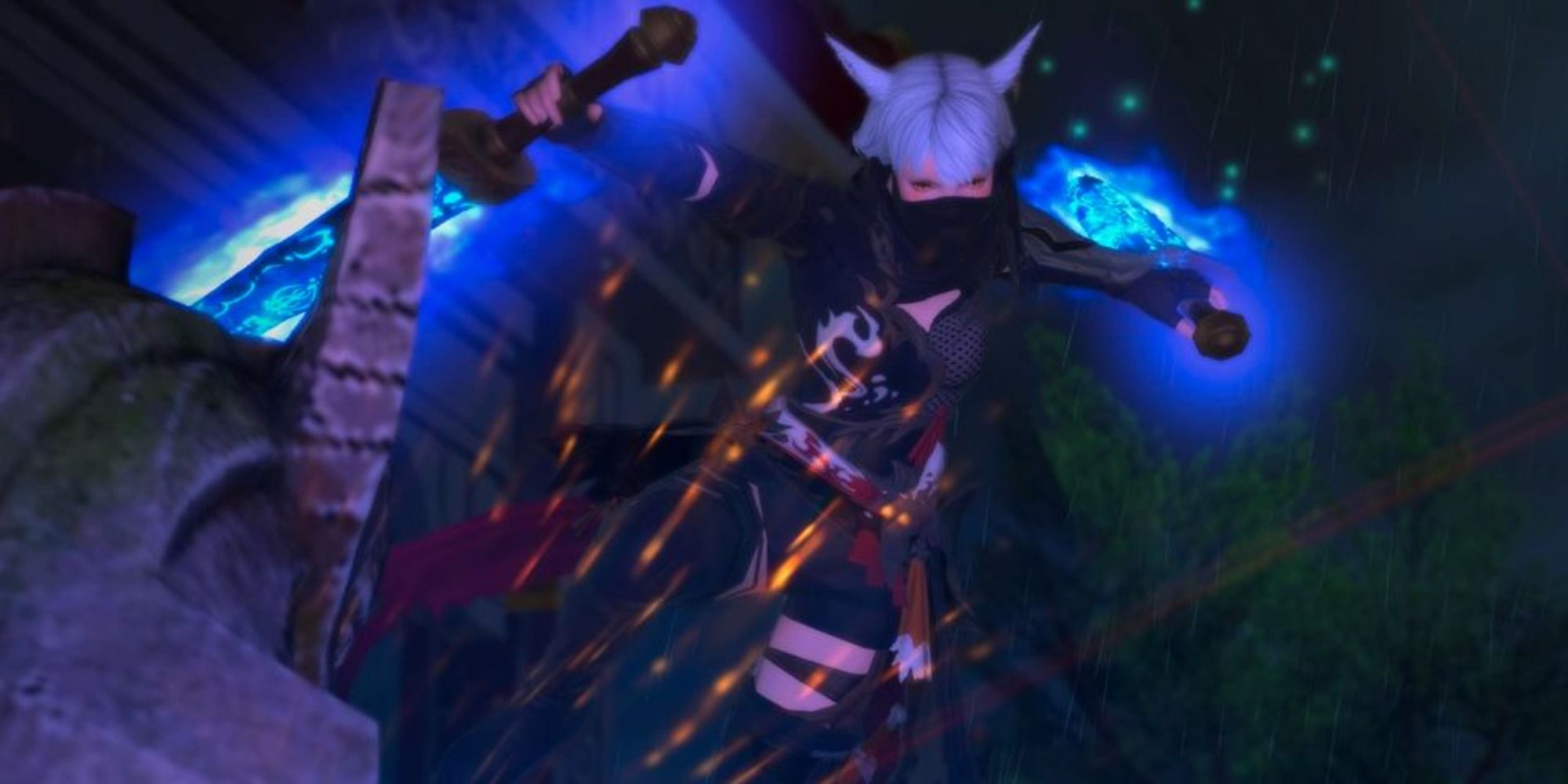 Seiton Tenchu is an incredibly powerful Limit Break that allows you to one-shot an enemy below half health in the blink of an eye. While on its own, it deals a whopping 10,000 damage, we recommend only using this Limit Break on enemies that are below 50 percent health or at the end of a specific combo string (provided below).
It can be tempting to use your Limit Break as soon as it's ready. Still, Seiton Tenchu offers excellent benefits for scoring a kill with it, so it's essential only to use it when you're positive you will eliminate the enemy.
Action

Recast Time

Information

Seiton Tenchu

10s

Attack with a potency of 10,000 after rushing the target. If the target is below 50 percent health, Seiton Tenchu incapacitates them.

---

Afflicts the target with the effect of Death Link for four seconds. Eliminating an enemy with Seiton Tenchu or one afflicted with Death Link grants Seiton Tenchu ready for 10 seconds, allowing you to perform the Limit Break once more.
Seiton Tenchu Combo
The combo below showcases one of many ways you can use the Ninja's ability to go under the effect of Hidden and deal an absurd amount of damage on their target in the blink of an eye.
Except, in this case, you can eliminate the opponent with only a handful of moves, thanks to Seiton Tenchu's extraordinarily ridiculous bonus effect for enemies below half health.
(Bunshin + Shukuchi) > Assassinate (Mug + Three Mudra) > Hyosho Ranryu > Seiton Tenchu
Seiton Tenchu Combo Step-By-Step Breakdown
Like your default combo, the Seiton Tenchu Combo starts with you applying Bunshin and Shukuchi before jumping into the encounter. Bunshin will bring your shadow to life, allowing you to deal additional damage. And Shukuchi will enable you to jump to your target and apply the Hidden effect, making you invisible to the enemy.
After using Shukuchi to get closer to your enemy, Assassinate your opponent and immediately follow it up with Mug and Three Mudra. Remember, Mug will make the target take 10 percent more damage for 10 seconds, which is excellent news for the closing two attacks.
Three Mudra will enable Hyosho Ranryu, which is the action you will follow up with as soon as you finish casting it.
Once you perform Hyosho Ranryu, launch immediately into Seiton Tenchu. Everything you did prior to the Limit Break should have taken your target down past half health, meaning Seiton Tenchu will likely deliver the killing blow.
If they still have health left, fear not. They now have the Death Link effect applied to them for the next four seconds. They shouldn't have much health left now, and you can likely finish them off with the Aeolian Edge Combo or by using another stack of Three Mudra to use Forked Raiju or any other Ninjutsu.
Finally, if you successfully eliminate your target with Seiton Tenchu or when they're still under the effects of Death Link, you will have the ability to perform another Seiton Tenchu within 10 seconds. Use this second Limit Break however you see fit.
Due to it only being available for 10 seconds, you don't have time to set up a combo or anything too wild, so just look for a target with half health or target an enemy with a low health pool. Once you no longer have your Limit Break, return to the standard combo outlined above!
Common Actions Breakdown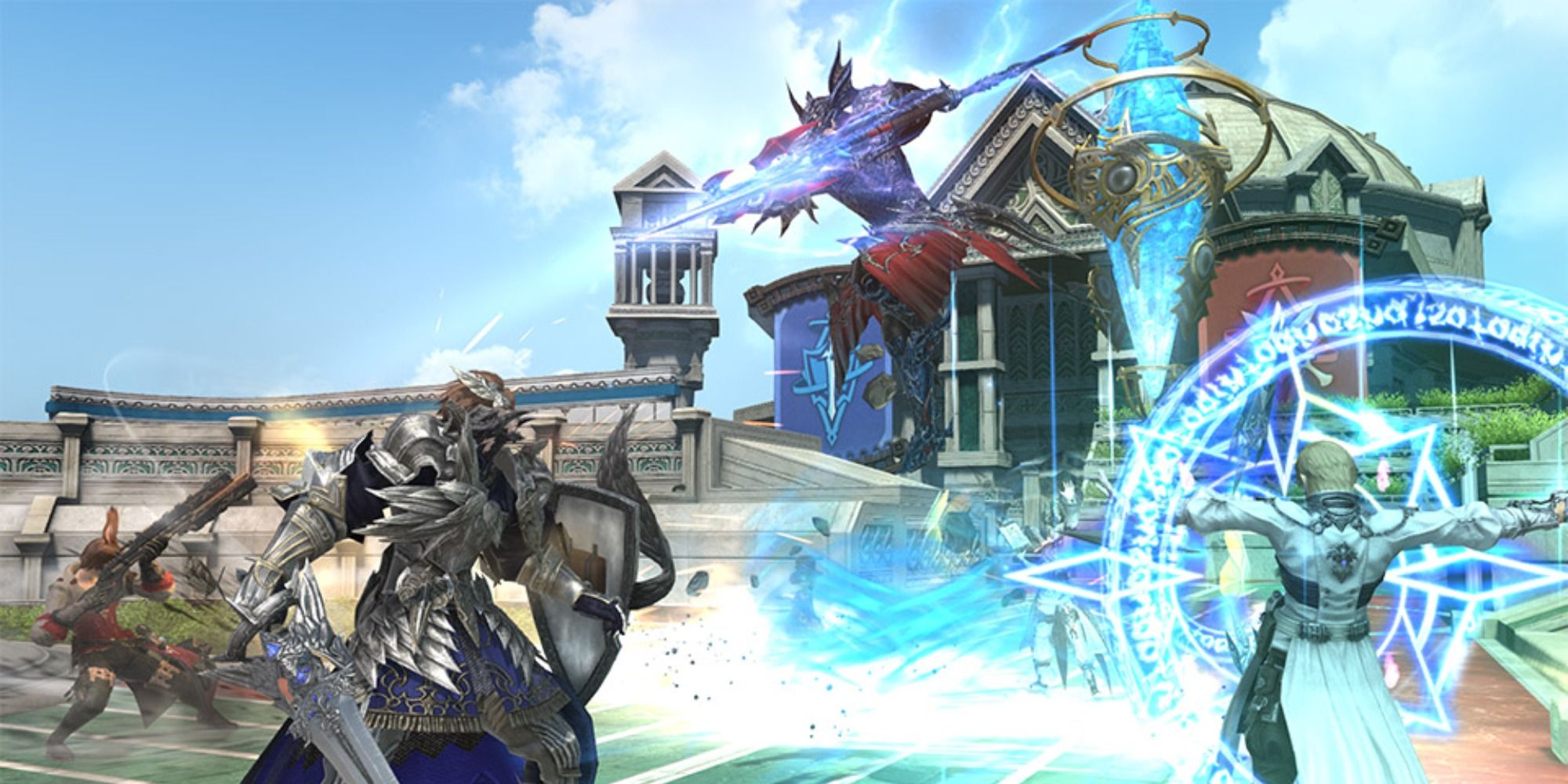 Action

Recast Time

Information

Standard-issue Elixir

5s

Fully replenishes your HP and MP.

---

Takes 4.5 seconds to cast and can be interrupted if you take damage. Use somewhere safe or behind cover.

Recuperate

1s

Replenishes HP with the cure potency of 15,000.

---

Only PvP action to use MP (2,500). Due to its instant cast time and short recast time, you can spam heal with Recuperate as long as you have enough MP.

Purify

30s

Removes ailments (Bind, Deep Freeze, Half-asleep, Heavy, Sleep, and Stun).

---

Grants Resilience for five seconds when successfully using Purify to remove any of the ailments mentioned above. Resilience nullifies the effect of Bind, Deep Freeze, Half-asleep, Heavy, Sleep, and Stun.

Guard

30s

Grants a barrier that absorbs 90 percent of all incoming damage for five seconds while also providing immunity to Bind, Deep Freeze, Half-asleep, Heavy, Sleep, Stun, Knockback, and Draw-in effects.

---

Your movement speed is decreased by 50 percent when using Guard. Guard also ends if you use other actions.

Sprint

1.5s

Your movement speed is increased until you perform another action or cancel it.
General Strategy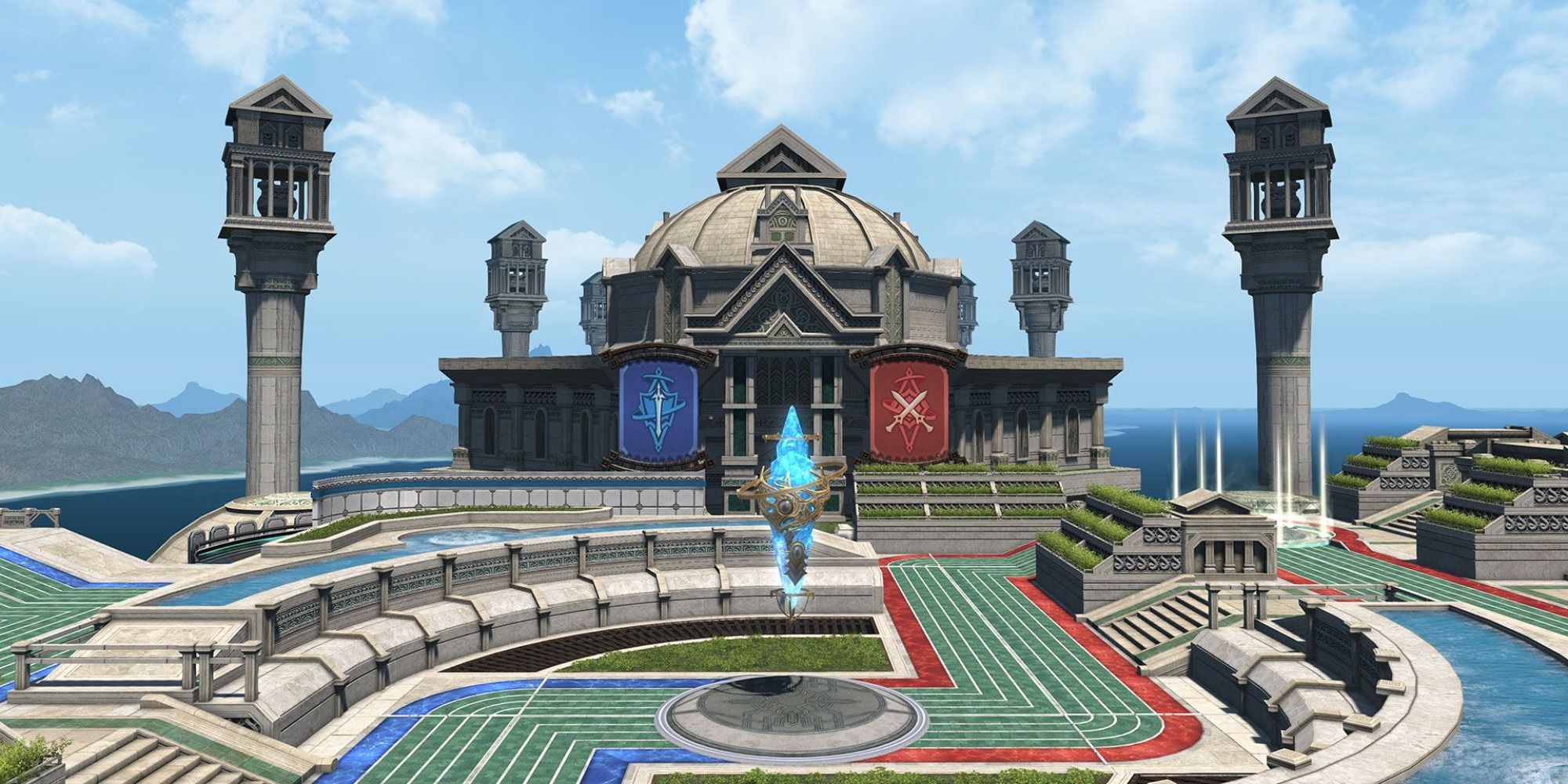 When playing as the Ninja, it's crucial to know what your goal, strategy, and overall path to victory are. For starters, as a Melee DPS, your primary goal is to deal damage, apply pressure, and be a general nuisance to the enemy team. Using Bunshin and Shukichi before every encounter is an excellent way to utilize the Ninja's unique actions to their fullest.
Since you're aiming to start every encounter with Shukichi, you should always have a backup plan in mind if the enemy is prepared for you and your antics. Unlike some classes, the Ninja doesn't have many options at their disposal to get away from enemies, making Guard, Recuperate, Purify, and Sprint your best friends. Use them to their fullest and to get out of trouble if an enemy stuffs your Assassination attempt.
Additionally, you must use the Ninja as a way to eliminate targets that will be troublesome to you and the rest of the team. Don't be afraid to target one enemy and make them irrelevant in the match's outcome.
Targeting Dragoons, Summoners, Casters, etc., will be your priority unless the situation calls for you to focus your attention elsewhere. Getting the powerful job out of the picture is what the Ninja was born to do, and you can do it effortlessly with the combos mentioned above.
Furthermore, you should always keep your enemies guessing and don't become too predictable with how you approach each encounter. If you're jumping on the same target, in the same way, someone will likely catch on and punish you significantly, which isn't only bad for you but can also be troublesome for your team.
One of the Ninja's greatest strengths is keeping their opponent on their toes, making them cautious about pushing forward. You can essentially apply pressure without even being there, and that's crucial to the mind games you can play as this role and job.
Crystalline Conflict Strategy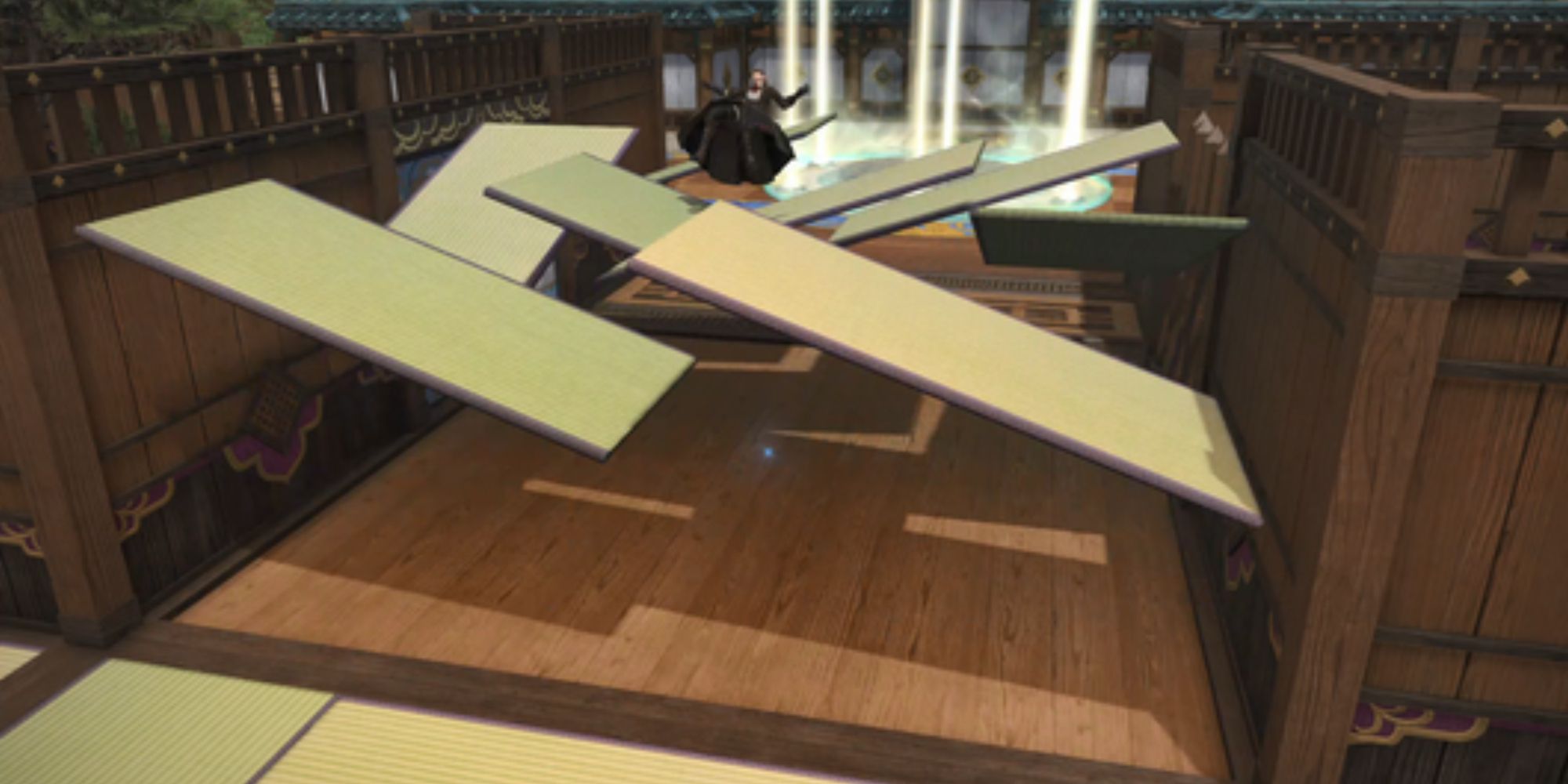 Playing Crystalline Conflict as a Ninja has incredible potential but can also be brutally punishing if you cannot adapt to the other team's composition or strategy.
In short, Crystalline Conflict is Final Fantasy 14's new competitive 5v5 mode introduced in Patch 6.1 that encourages teamwork and job knowledge. The Ninja, a Melee DPS, has one goal and one goal only: Deal immense amounts of damage, apply pressure, and move the Crystal with your team.
Additionally, after the pit opens, the Crystal will be locked in place for an additional 30 seconds, making this an excellent time to do several things. First, look at the matchups you're dealing with and determine a potential threat on the enemy team, and find a safe place to cast Bunshin and Shukichi.
As mentioned above, your targets should be jobs with either low health pools or those that are dangerously powerful. Once you have your target in mind -and if your team isn't prioritizing another enemy- you're ready to begin your rampage whenever the Crystal unlocks.
While the Ninja isn't nearly as powerful as the Dragoon, Reaper, or Samurai in Crystalline Conflict, you are still a significant threat to anyone on the field who isn't a Tank. Your ability to essentially one-shot most opponents is cause for concern, and they will play as such if you're doing your job properly.
Play with your team, target the enemy's main threat, and make sure to always be near the Crystal to defend and push it whenever possible.
Be sure to use the Full Combo we outlined above to get in on your target unnoticed every encounter you go in. Your ultimate goal is to build your Limit Break meter up and unleash the Seiton Tenchu Combo onto their best player to wipe them out of sight and mind for a bit, allowing you to capitalize on their absence and push the Crystal.
Unless you know the kill is yours without much hassle, never chase down a target or stray too far from the Crystal. Abandoning your team and the objective is never okay, and you will likely get caught in an ambush of other players regrouping.
Use their retreat to your advantage and wait for Bunshin and Shukichi to become available, heal, or focus your attention on another troublesome target. Remember, while kills are crucial, they aren't your primary focus unless you have Seiton Tenchu ready.
Your burst damage is unmatchable and lets your teammates swoop in and confirm the kill if you don't eliminate them with your standard combo. This is a team effort, so don't worry about teammates "stealing" your kill. Encourage it and just focus on racking up damage and setting your team up for success.
Frontline Strategy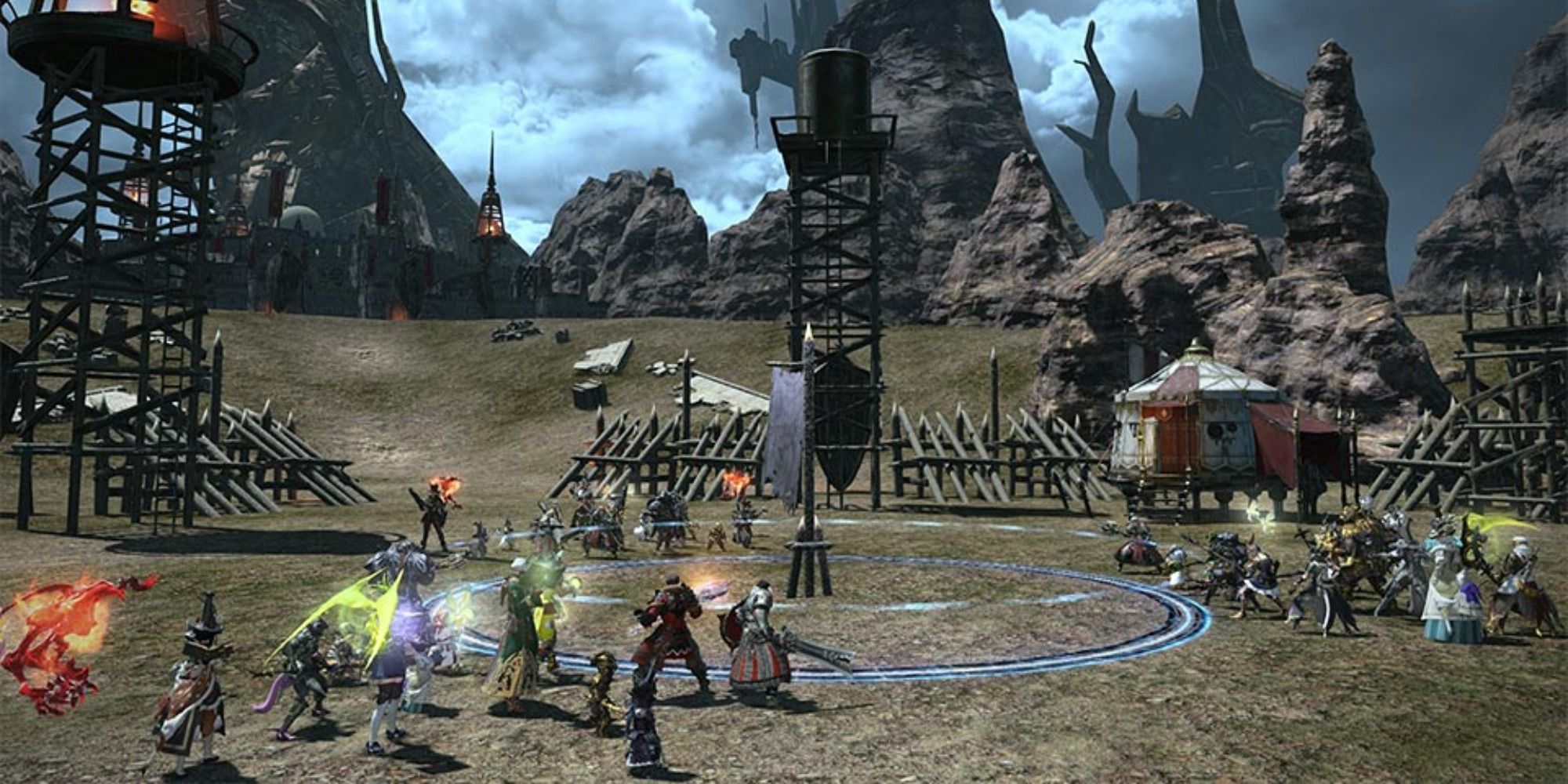 Thankfully the cool, new PvP abilities introduced in Patch 6.1 aren't exclusive to Crystalline Conflict and span across the entirety of the game's PvP modes, making Frontline play much differently.
If you aren't playing PvP for the new competitive mode, you are likely tackling it every day via Duty Roulettes. Frontline's laidback nature is a large contrast to the fast-paced action present in Crystalline Conflict, but it's a welcome one all the same.
Like in Crystalline Conflict, your role as the Melee DPS Ninja remains largely the same, with a few minor exceptions. Deal significant damage, pressure high-profile targets, and play the objective is the name of the game for the Ninja and other jobs in the same role.
Furthermore, the four maps present in Frontline are Secure, Seize, Shatter, and Danshig Naadam. While there are different modes available throughout each map, your focus remains unchanged throughout them.
As the Ninja, the world is your playground, and each Frontline map offers tons of obstacles and pieces of the environment to hide behind and apply your Bunshin and Shukichi to get the jump on an unexpecting target.
However, make sure you are always near a Tank and Healer, as you can use them to avoid getting erased by a group of enemies the moment you reveal yourself after Assassinating your prey. Similarly to other Melee DPS jobs, your overall order of operations is: Attack > Retreat > Regroup > Capture Objectives > Defend > Repeat
You can still be a detriment to your team by feeding the enemy kills, Frontline is a bit more lenient when it comes to abandoning your team or objectives to chase an enemy down. Occasionally, you will find enemies roaming about without a sense of direction who are easy targets.
While it would be ill-advised to go after them in Crystalline Conflict, you can target them and go after them in Frontline without worrying about your team imploding because their primary source of damage decided to run a mile away from the objective. Kills will affect the match's outcome in Frontline and count toward your score, so picking up freebies is encouraged here.
NEXT: Final Fantasy 14: Complete Guide