fast connections
How to find and complete Uldur's Cave
While most dungeons in Diablo 4 are easily accessible, some are located out of the way or in hard-to-reach locations. Crawling with bandits and various desert dwellers, Uldur's Cave it may not require special unlocking methodshowever, it lies in a rarely visited part of the map and may not be the first port of call for many players.
RELATED: Diablo 4: Kehjistan Dungeon Location Guide
This guide will explain where to find the entrance to the Uldur Cave dungeon, along with its main objectives and the enemies you'll need to destroy to clear the Bandit Hideout.
How to find and complete Uldur's Cave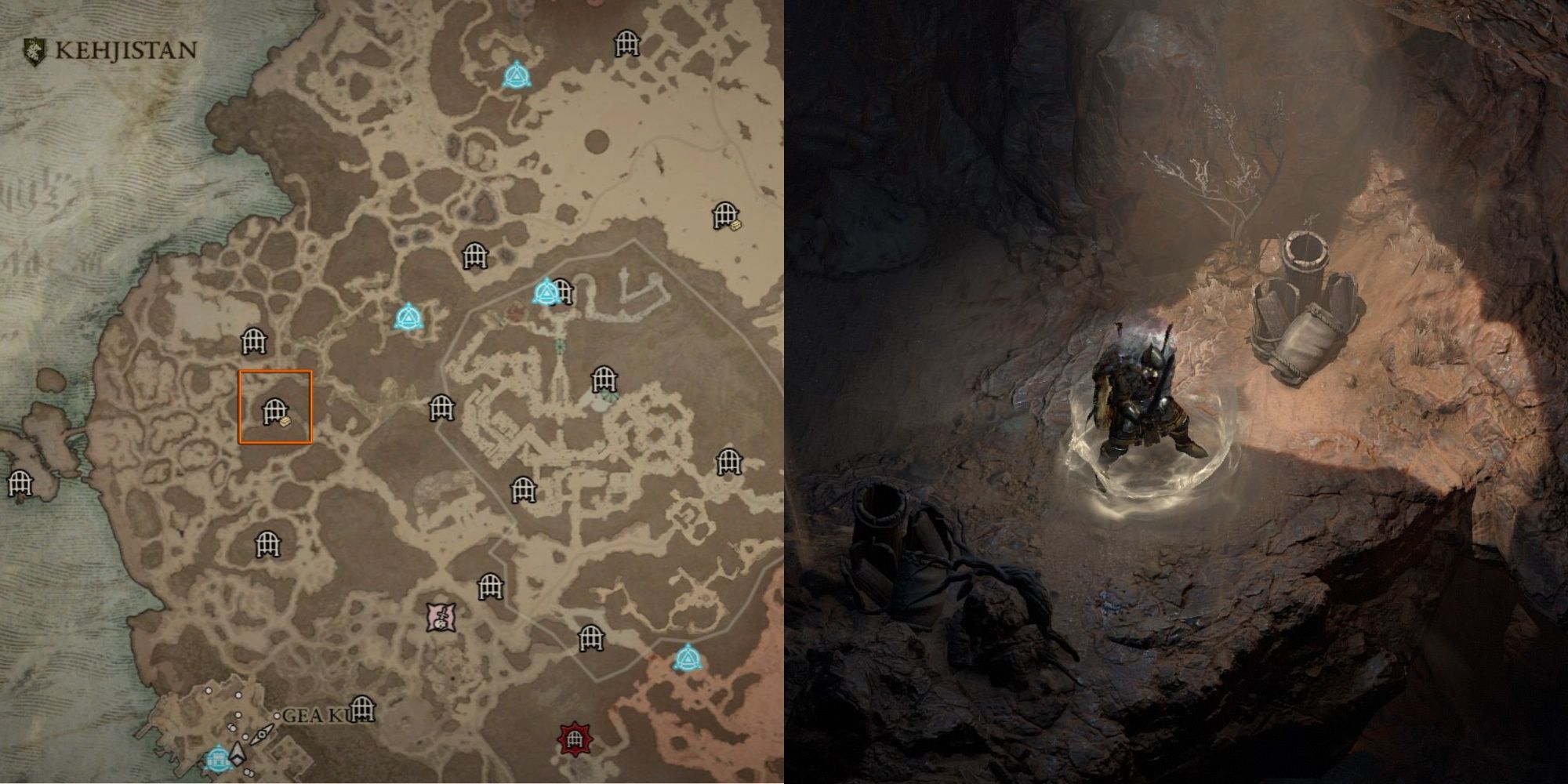 Uldur's Cave is a dungeon found in Torn part of the coast in the Kehjistan region. It is difficult to spot because of the location of its entrance at the end of a long tunnel. A short drive north of Gea Cool it will lead you to this tunnel and simply follow it to the end to find the entrance.
The dungeon is infested with Scorpions, Wild beasts and scorched stingers, which can be some of the most challenging regular enemies in the game. The Savage Beast front attack is deadly and Hornet Swarms fired from Stingers it can easily deal a lot of damage.
Focus on these beast enemies firstas regular Bandits shouldn't pose that much of a threat to you.
Your first objective in Uldur's Cave is destroy three barricades. These walls were built by bandits it will not cause you any harm but it will create a large group of enemies to defend it. The dungeon layout is fairly linear, so you won't have to go exploring a lot of side corridors to find those wooden walls.
Pay attention to Damn shiny chest and Damn well as you progress through the dungeon. They are great additional sources of loot and experience.
After you destroy the barricades, your objective will switch to Find the hideout of the bandits. This will be done by simply progressing forward where you will enter a chamber with four totems. Once you kill the enemies inside, you should activate both levers to unlock the next section of the instance.
Now in the real Bandit Hideout you will have a quest Killing all enemies inside. Although this is usually one of the longer objectives, Uldur's Cave is not particularly long, so you won't have to hunt down too many enemies to complete it. Be thorough and don't run away, leaving lingering enemies behind. After you kill the last of them, the final boss will appear at your location.
The bandit leader is the final boss of the instance, but only has the power of a regular Elite. His adds will be random and you will be able to take him out easily as he will be the only enemy left.
Completing Uldur's Cave will reward you with The offensive aspect of the damned. This is a Necromancer Legendary Power which increases your Shadow damage dealt to targets with both Decrepify and Iron Maiden debuffs. You will also receive experience and 30 fame with Kehjistan.
NEXT: Diablo 4: Every Druid Companion, Ranked