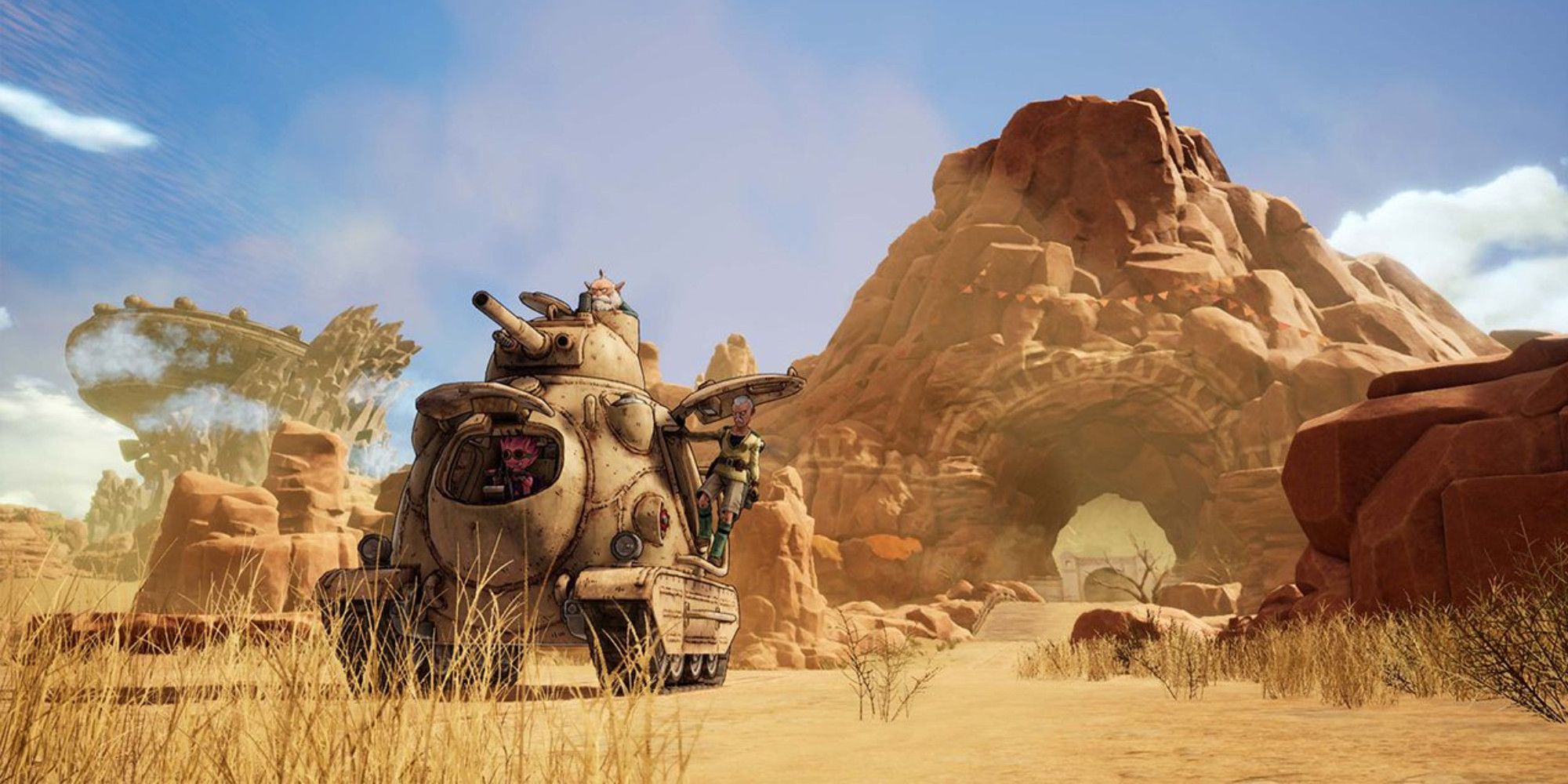 The gang at Namco Entertainment was at the latest AnimeExp earlier today, showcasing some of the new games coming out over the next few years. In addition to Naruto x Boruto: Ultimate Ninja Storm Connections and Baten Kaitos 1 + 2 Remastered, we also got a closer look at the upcoming Sand Land video game adaptation, with a first look at some of the in-game fights in the Tank and Jump Bot game.
For starters, we got a look at tank combat where the player takes on large alligators in a vast desert with a variety of weapons such as a machine gun and a whole bunch of projectiles. We get a demo of some direct attacks, as well as an area of ​​effect attack that fires multiple projectiles.
Related: Kicking Dinosaurs in the Face in Sandland Was the Most Fun I Had at the Summer Games Festival
Next, we get to see a snippet of gameplay with the player controlling the Jump Bot. First we see a little man crossing the bridge, but before you'd guess it, he jumps onto a nearby cliff. We are then treated to a bit of a fight as the Jump Bot uses machine guns and missiles to take out a bunch more gators. Both machines work quite similarly, although the Jump Bot looks a little more clunky than the Tank.
Unfortunately, we didn't get a release date for Sand Land, which means it's now more than likely not going to launch in 2023. However, there's a chance to get your hands on this title in just a few weeks, as it's also been announced that it'll be the first hands-on in the world at San Diego Comic-Con, which will take place later this month from July 20th to July 23rd. We don't know what the demo will include, but it's a good chance to get a feel for how the game plays for yourself if you're planning to go.
In addition to the Land of Sand, we also got a look at the new story mode Naruto x Boruto: Ultimate Ninja Storm Connections, which was revealed to feature a return fight between Naruto and a seemingly possessed Sasuke. We have no idea why the two are fighting again, so hopefully we'll get some more information as the game gets closer to launch.
We also got the announcement of Jujutsu Kaisen: Cursed Clash, a fighting game based on the anime of the same name. Again, no release date has been confirmed, but the game has been confirmed to be coming to PS4, PS5, Xbox One, Xbox Series, Nintendo Switch, and Steam.
Next: I'm sorry that the Switch is the perfect form of Nintendo