Good centre-forwards can be vital to your team's attack in FIFA 23's career mode. These players generally have a deeper role than the usual strikers and help in the build-up game. They also have the ability to play the role of striker if needed, or sometimes even the center forward position.
Related: FIFA 23: Best FUT Icons, Ranked
When using a formation that includes center forwards, you need to find the right players that fit the role perfectly. Since there are few options available, you have to choose carefully from those present. We list the best young centre-forwards to sign in the game's career mode.
The stats and ratings below are from the FIFA 23 squad update in June.
10
Hákon Arnar Haraldsson, FC Copenhagen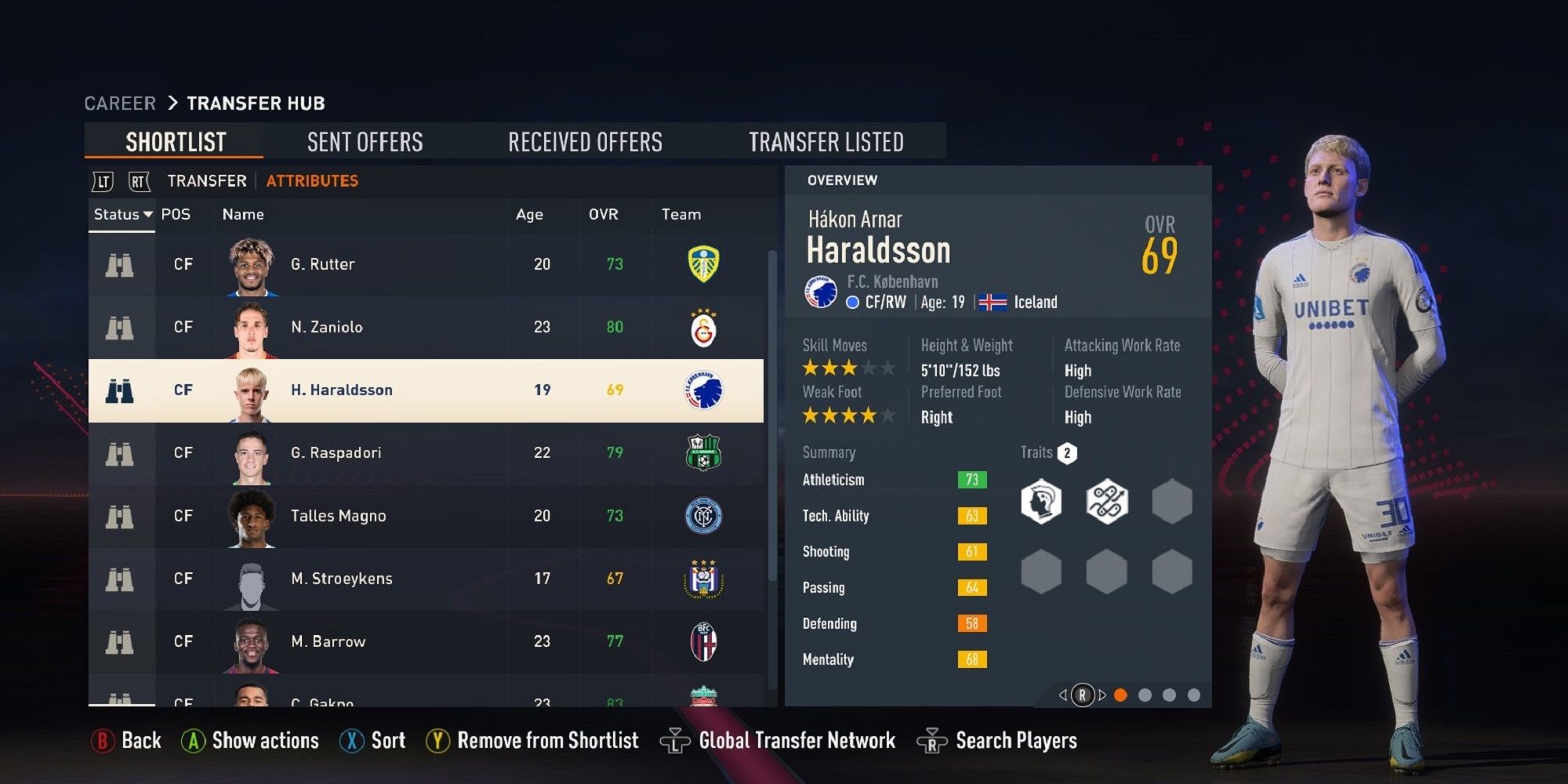 Hákon Arnar Haraldsson is considered the future of Icelandic football and has impressed everyone with his performances for Danish team FC Copenhagen. Works great both in attack and defense and is extremely comfortable with the ball.
Looking at his rating, he starts at 69, which is good enough if you're starting to rebuild your path to glory. Meanwhile, his potential is 83 and you can play enough matches with him to quickly raise his rating to that point or even higher.
9
Georginio Rutter, Leeds United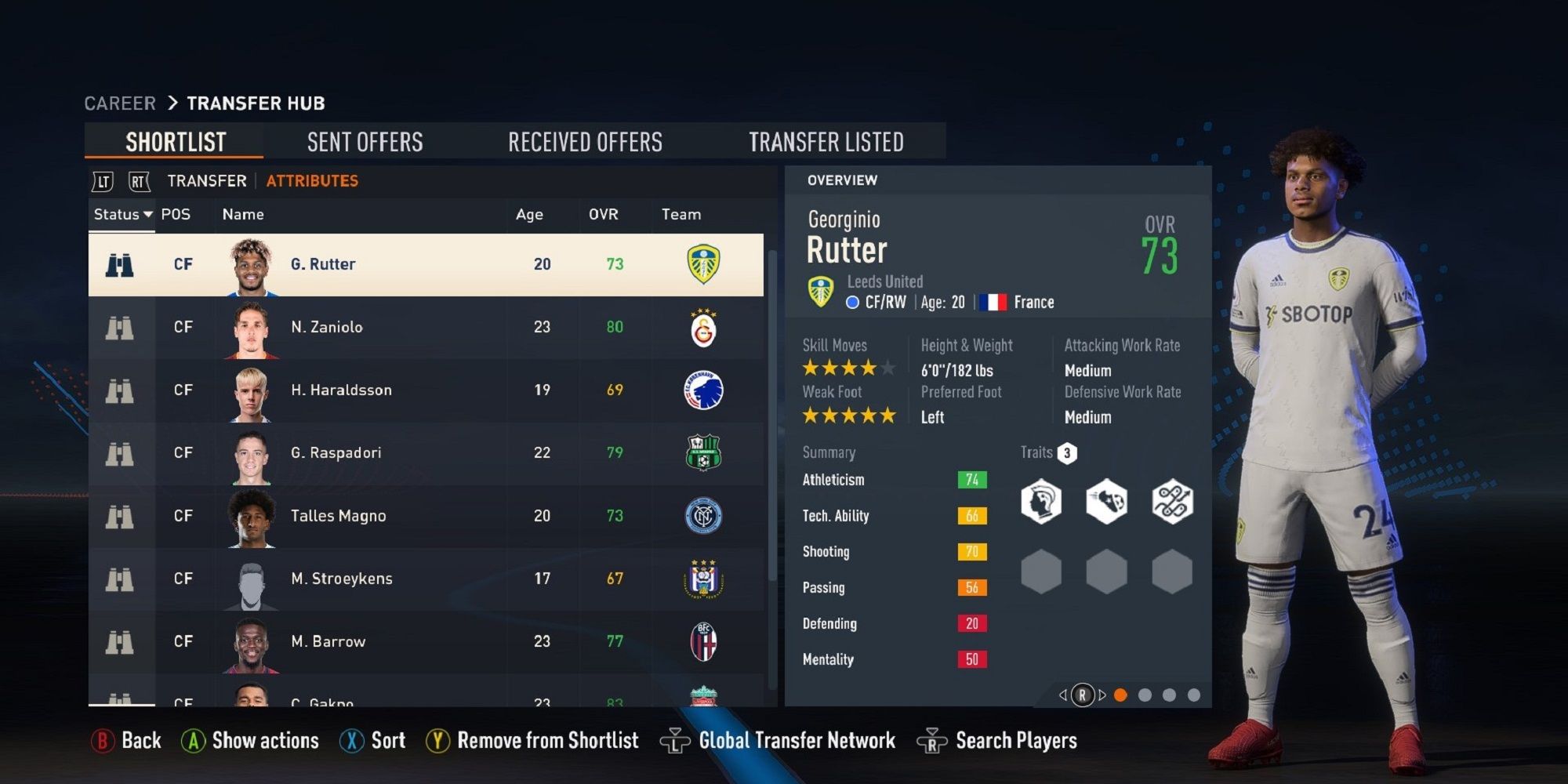 Georginio Rutter is one of the important upstarts that the United States has nurtured in recent years. His time at Hoffenheim attracted a lot of attention from clubs in Europe and in January 2023 he was signed by Leeds United for a club record fee.
In terms of overall, EA gave him a starting rating of 73, along with a nice potential of 83. His stats are very balanced and you can play him as a central striker or in other positions such as striker, right winger, attacking midfielder and more.
8
Talles Magno, New York City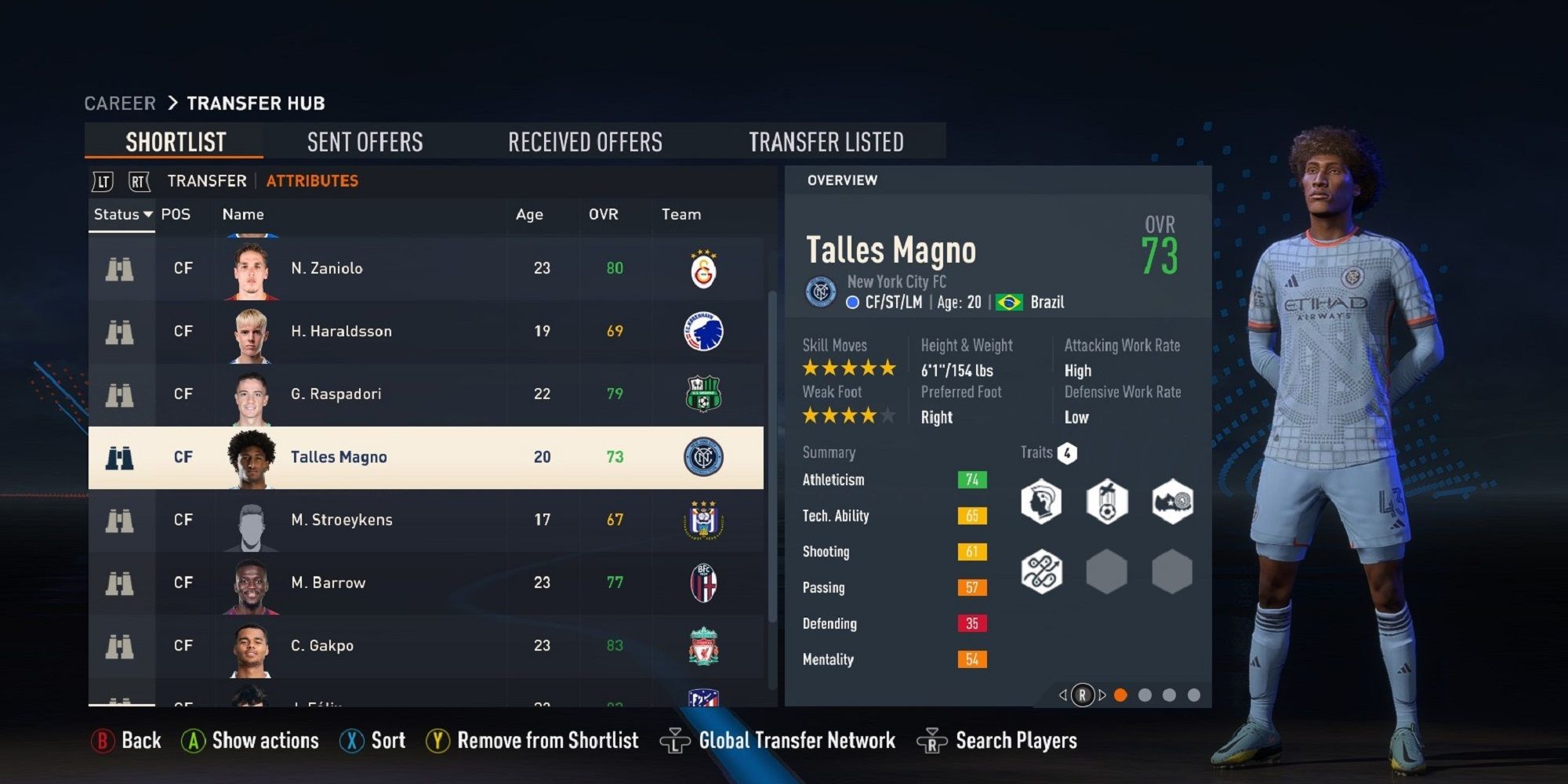 Talles Magno emerges among the many talented players in MLS and the young forward is a good option in FIFA 23's career mode. He is a quick center forward with excellent dribbling, but can otherwise be used on the wings.
The player actually has an excellent overall rating of 73 in the game and an excellent potential of 84. However, you will need around €7 million to get him, so getting Talles Magno in the first season will only be possible if you manage the mid-table side.
7
Mario Stroeykens, RSC Anderlecht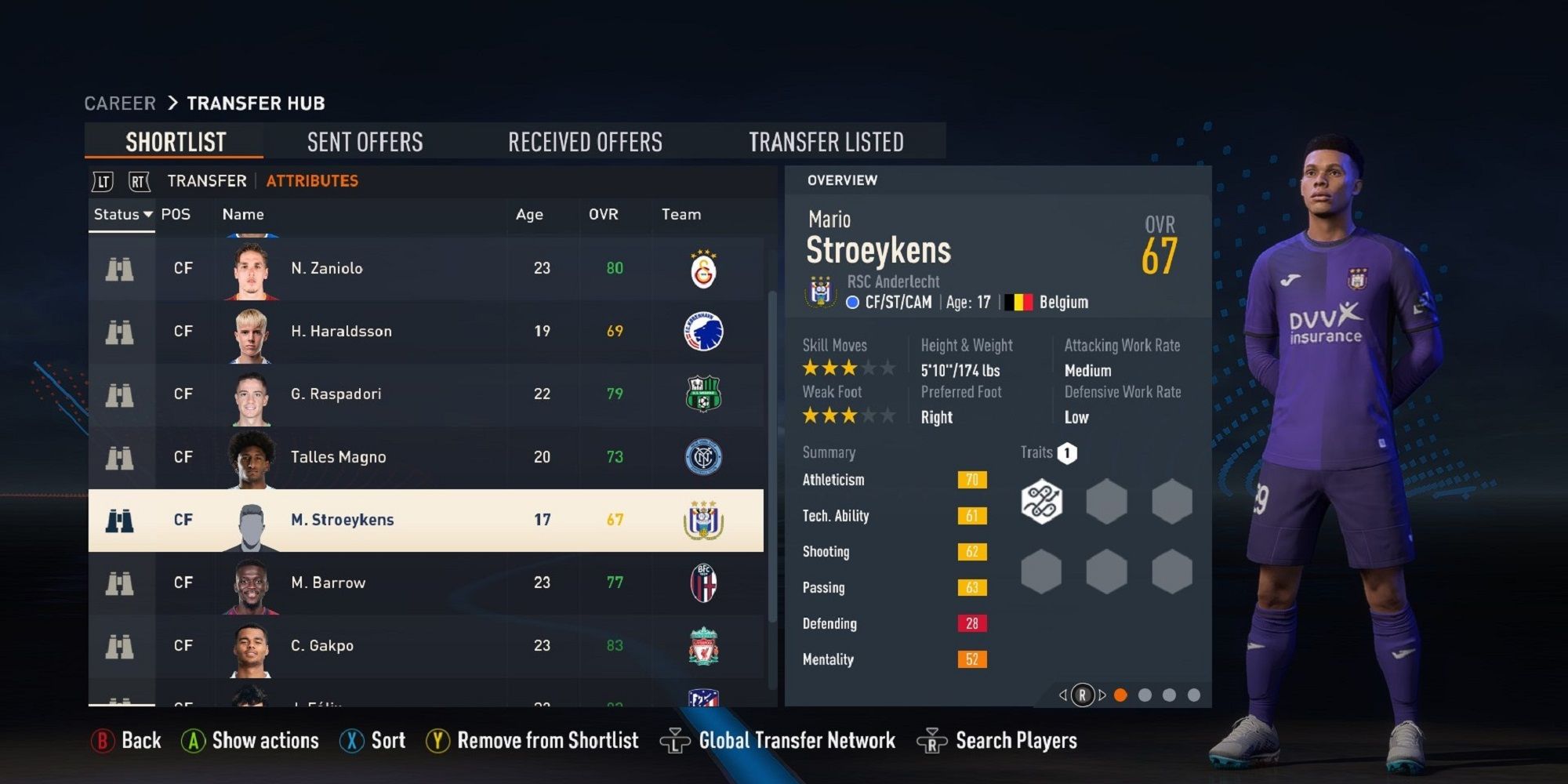 Mario Stroeykens will be the perfect signing for the center forward position if you don't have a lot of cash to splash. The Belgian footballer has a passable rating of 67, while his potential is on par with Talles Magno at 84, making him great in seasons.
Related: FIFA 23: The best attacking midfielders with the most potential to enter career mode
In addition to playing as a center forward or striker, Mario Stroeykens excels as an attacking midfielder. As he hones his progression through the development plans, he can make some killer passes and create plenty of chances for your team.
6
Musa Barrow, Bologna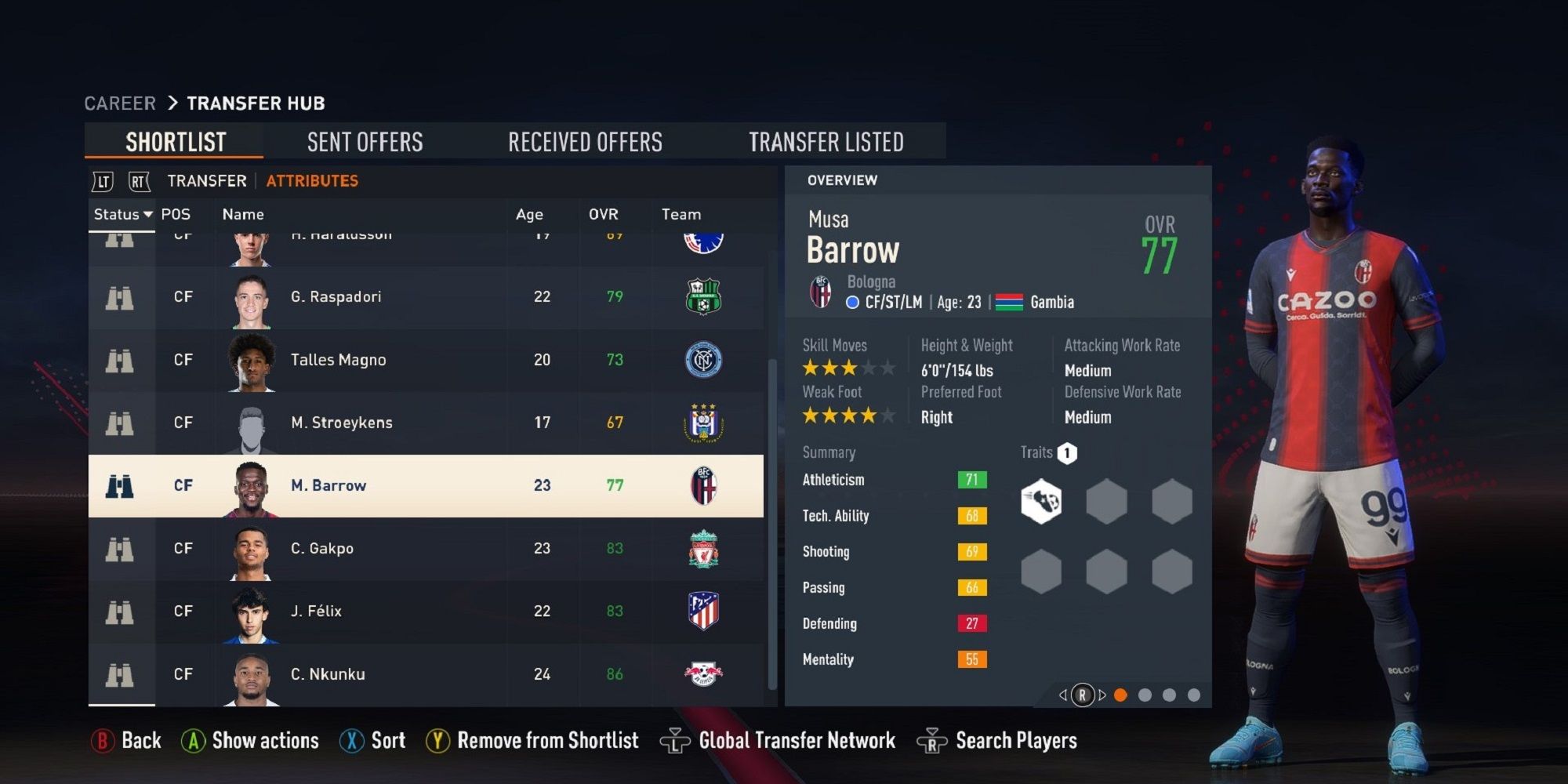 Musa Barrow was the perfect player to enter the career mode of previous FIFA games, and the striker can help you change the attack. It has a rating of 77 in FIFA 23 and you will need a decent amount of money to get your hands on it.
Regardless, with Musa Barrow having a potential of 83, any money spent to acquire his services would be worth it. While there will no doubt be some other better options out there, it can be used as a backpack if you're running high-end clubs.
5
Nicolò Zaniolo, Galatasaray SK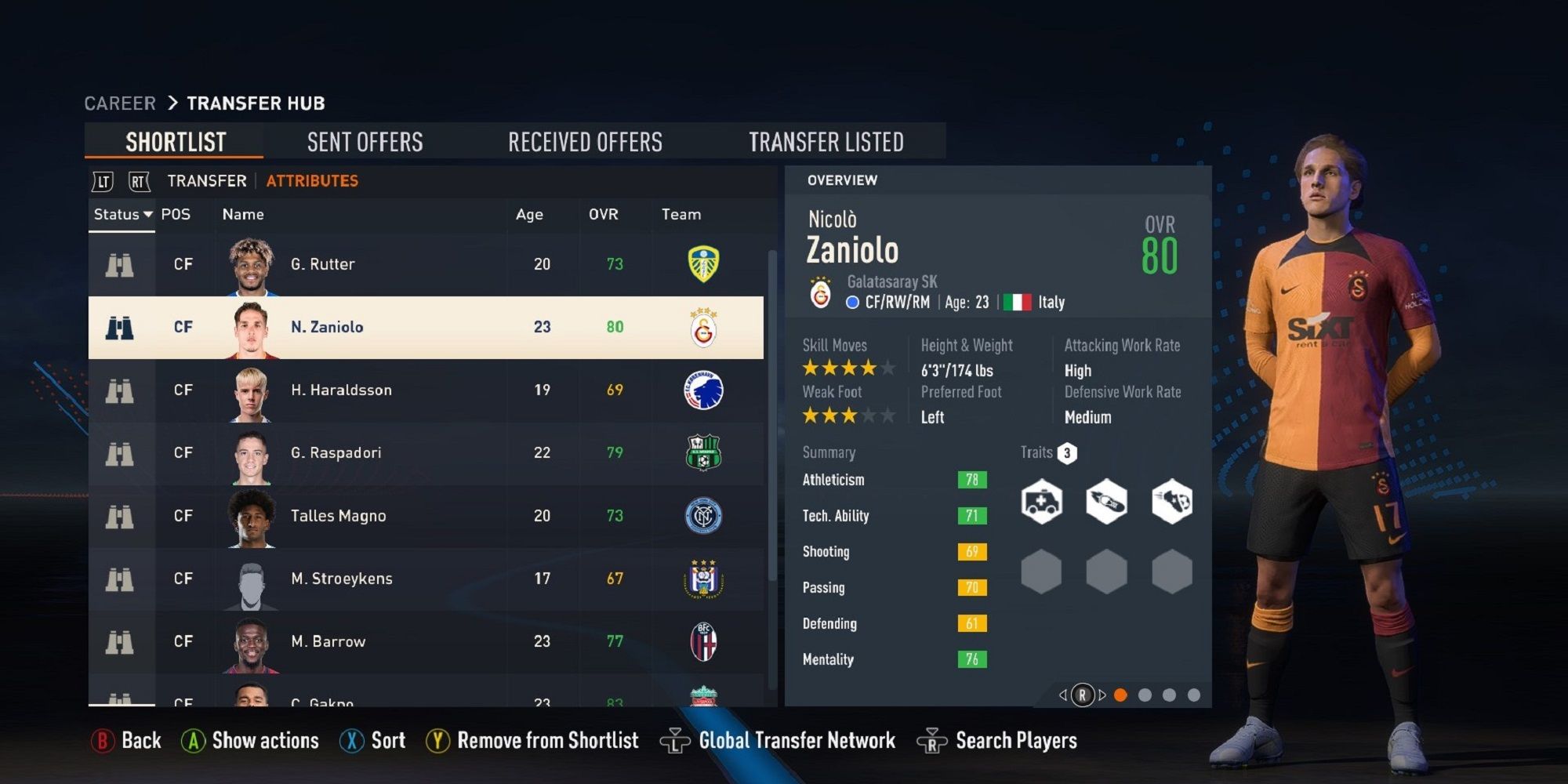 Nicolò Zaniolo could not live up to the high expectations due to injuries, but nevertheless he proved that he is a great player. You can get him in Galatasaray career mode and he will be ideal if you are looking for a center forward option or an attacking midfielder position.
The Italian is capable of creating a lot of space and his speed, physicality and dribbling will make him an asset on the pitch. Basically he has an 80 rating and 84 potential in FIFA 23.
4
Giacomo Raspadori, Napoli – on loan from Sassuolo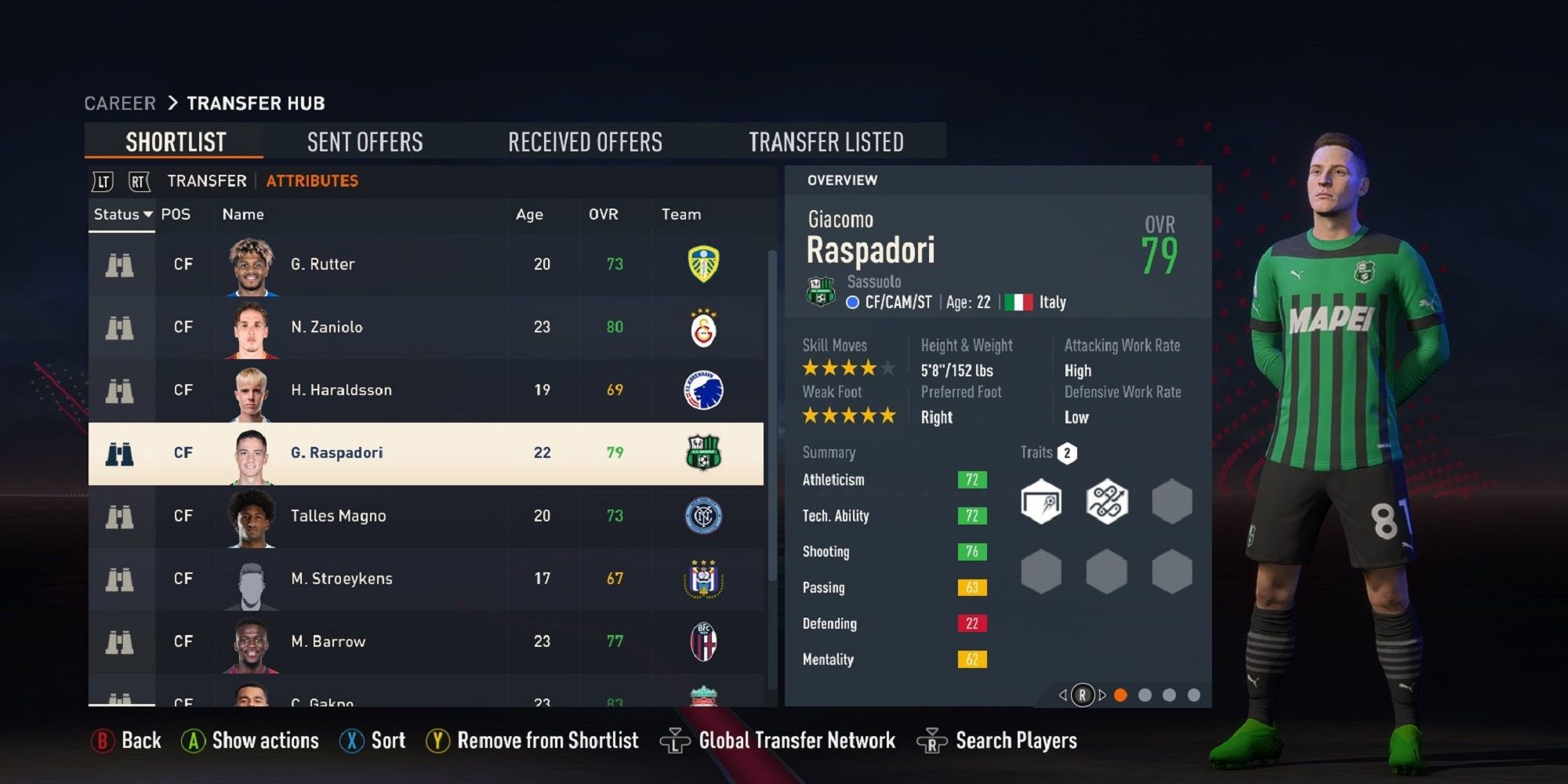 Giacomo Raspadori is another Italian on the list and his performances at Sassuolo earned him a loan move to Napoli. Although there is an obligation to buy in real life, there is no guarantee that he will move to Naples in FIFA 23, and you will have to wait until the second season to buy him.
As for the player's numbers, he has an overall rating of 79, which is decent enough for most teams. On the other hand, the game offered Giacomo Raspadori the potential of 86 and he eventually becomes one of the best players in this position.
3
Cody Gapo, Liverpool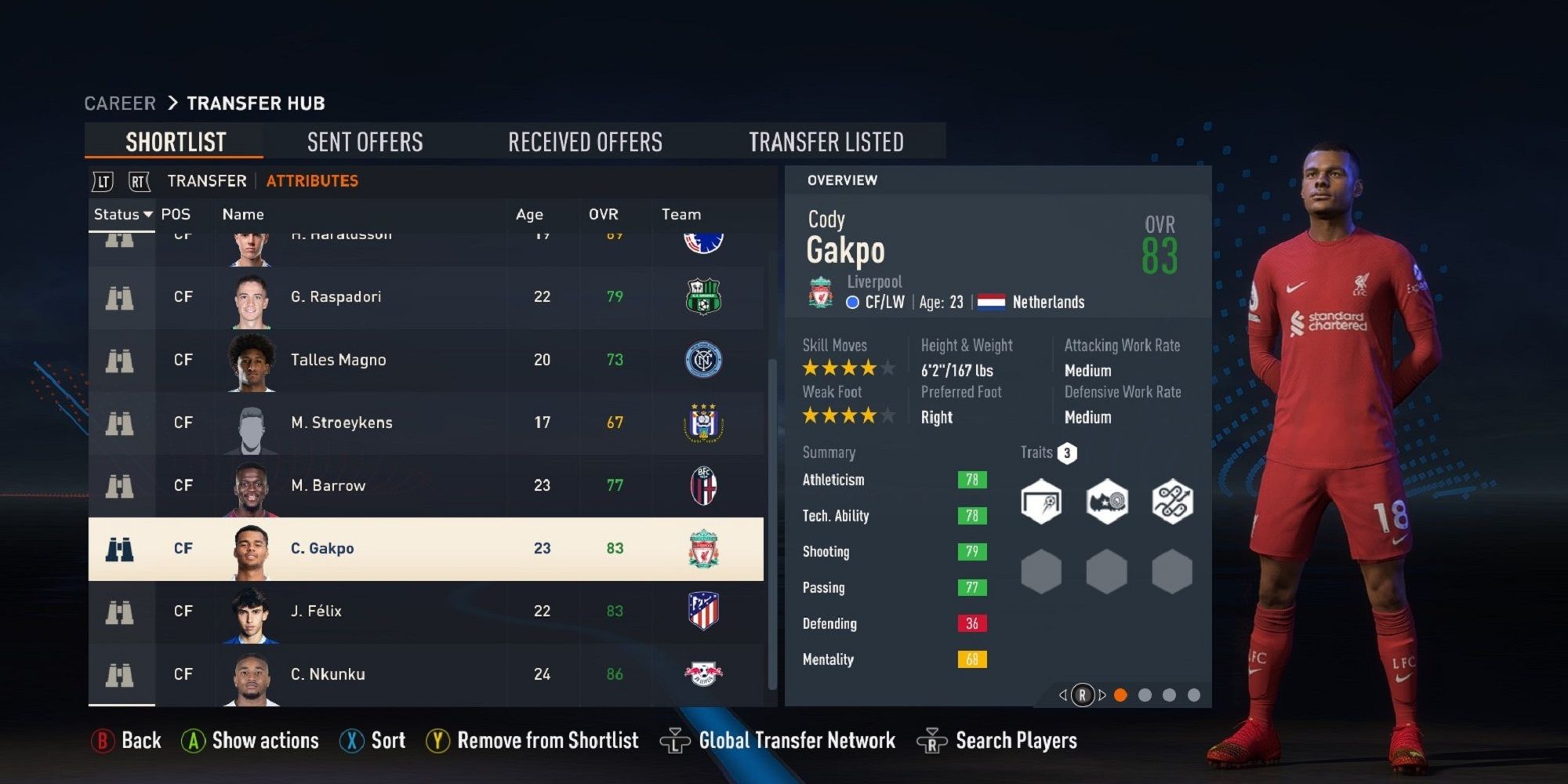 Cody Gakpo is part of Liverpool's star-studded attack and the Netherlands international has established himself as one of the starters since signing for the Merseyside club. In FIFA 23, he can excel as a center forward, but you can play him in a number of other attacking positions depending on the requirements.
Related: FIFA 23: The best right wings with the most potential to enter career mode
Acquiring Gakpo will be an expensive venture considering he has an 83 rating in his first season alone. Also, since his potential is at 88, Cody Gakpo's price will increase with his rating throughout the seasons.
2
João Félix, Chelsea – on loan from Atletico Madrid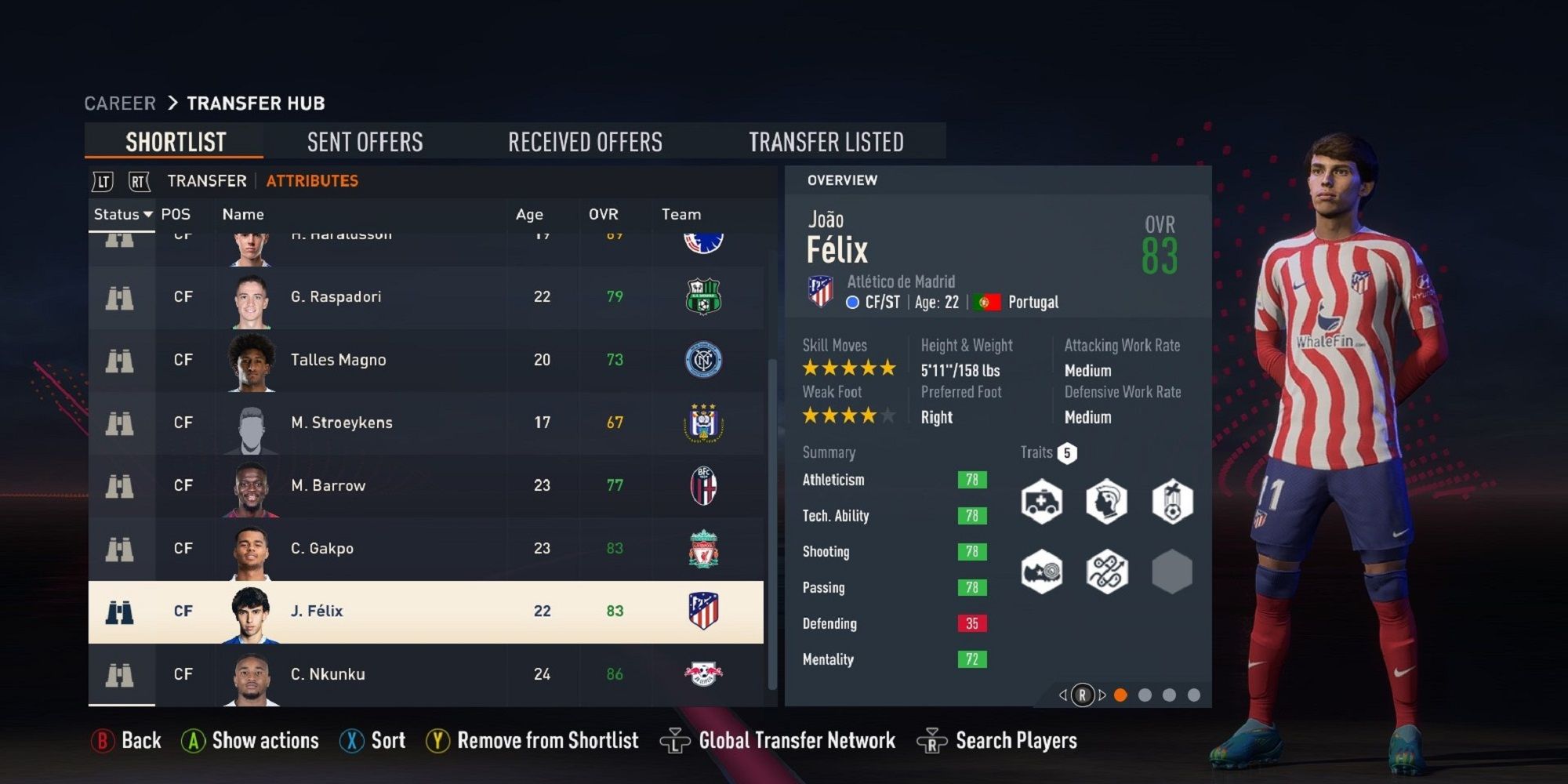 In arguably the most expensive loan move, João Félix was loaned to Chelsea from Atletico Madrid, which can be considered a clear demonstration of his potential. In 2019, the Portuguese talent also won the Golden Boy award, which is given to the best young player in a calendar year.
Félix will probably be the best center forward you can get in career mode thanks to his 83 rating and 89 potential. While João Félix may not be the fastest, he has a better shot, pass and dribble than anyone else on this list.
1
Christopher Nkunku, RB Leipzig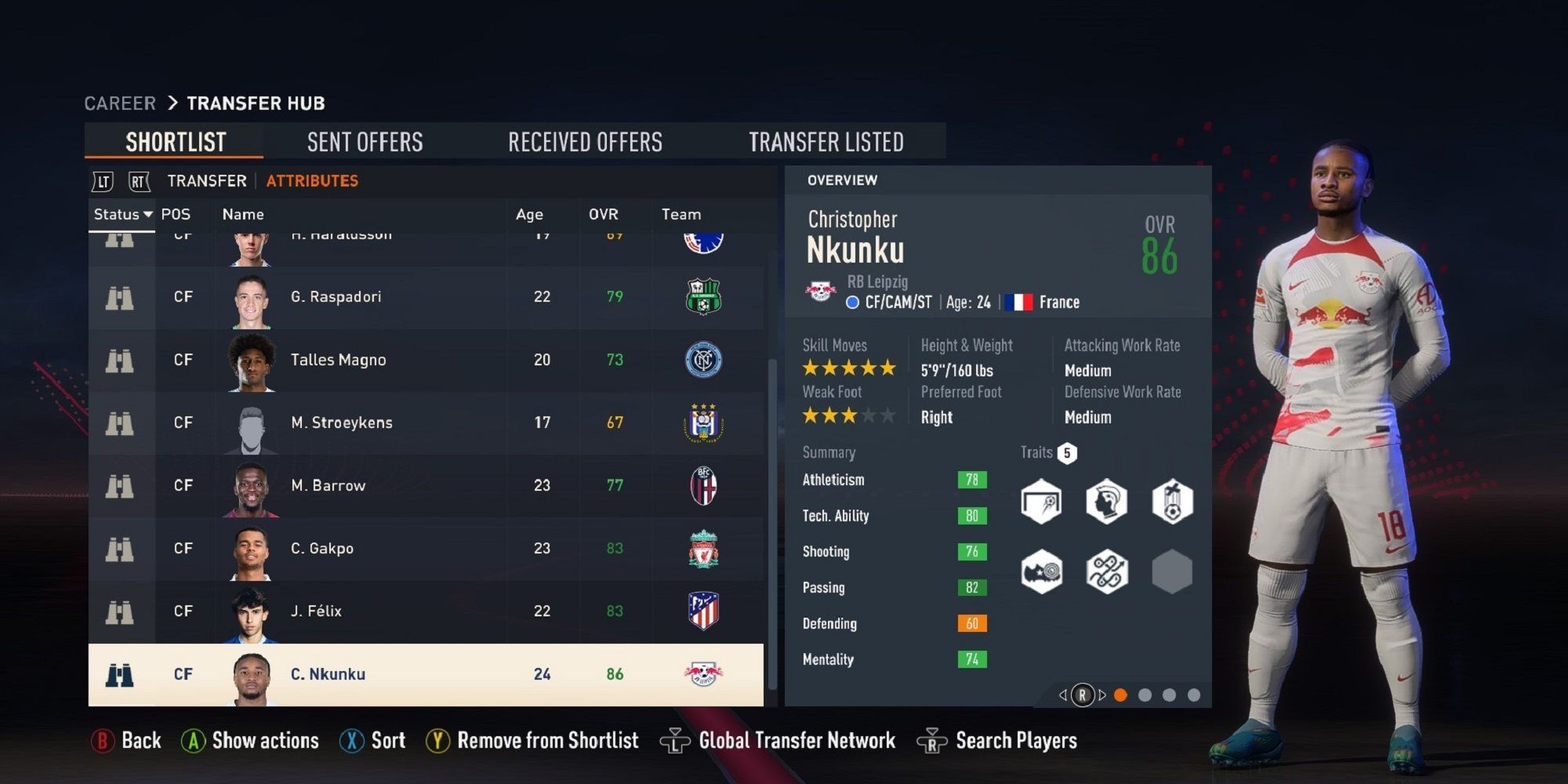 Christopher Nkunku is probably the best young player to approach at center forward. You can basically try to buy him from RB Leipzig in FIFA 23, although he has already signed with Chelsea and will join them in the 2023-2024 season.
Christopher Nkunku has an 86 rating and would be a starter for almost any team in the game. While the French player's potential is present at the 89 mark, he could surpass 90 with a dynamic playing potential.
Next: FIFA 23: The best hidden gems in England's career mode