Mortal Kombat fans believe that the man behind Scorpion's mask in Mortal Kombat 1 could be Kuai Liang (the other Sub-Zero in the original timeline) and not Hanzo Hazashi.
Earlier this week, NetherRealm updated the official Mortal Kombat 1 website and added a bunch of character bios for all the fighters we already know will be in the game. Aside from confirming that Raiden is this time the champion of Earthrealm and that Johnny Cage is no longer relevant once again, some of the most noteworthy information comes from the bios for Scorpion and Sub-Zero.
Related: There's never been a better time for Mileena to have a happy ending
In fact, as Twitter user BruskPoet pointed out, the information we get from the bios for Sub-Zero and Scorpion may be hinting at a major change in the latter's identity. In the original timeline, the Scorpion was Hanzo Hazashi, a Shirai Ryu warrior who was killed by Bi-Han (at least until the Quan-Chi retcon) and then became a revenant.
Since Mortal Kombat 1 was first revealed, one of the big twists is that Scorpion and Sub-Zero are now brothers instead of lifelong enemies. With this in mind, some fans have begun to theorize that Scorpion is Kuai Liang, the other Sub-Zero and Bi-Han's brother, instead of Hanzo Hazashi, the man behind the mask (or skull, I guess) since the very beginning of the series.
There is a surprising amount of evidence for this theory. For starters, the fact that Scorpion and Sub-Zero are brothers in this timeline and both part of the Lin Kuei already suggests that it's not Hanzo like Scorpion this time around. He's also clearly not an undead returner, something that clearly separates him from the Scorpion we knew.
Then there's the information from the character's bio, which makes it clear several times that they share a father, suggesting a blood connection rather than Scorpion's adoption. Although the character bios for Scorpion and Sub-Zero don't mention the real names of either character (probably to keep it a surprise), we know from the dialogue in the fighters' introductions that Sub-Zero is Bi-Han in this timeline.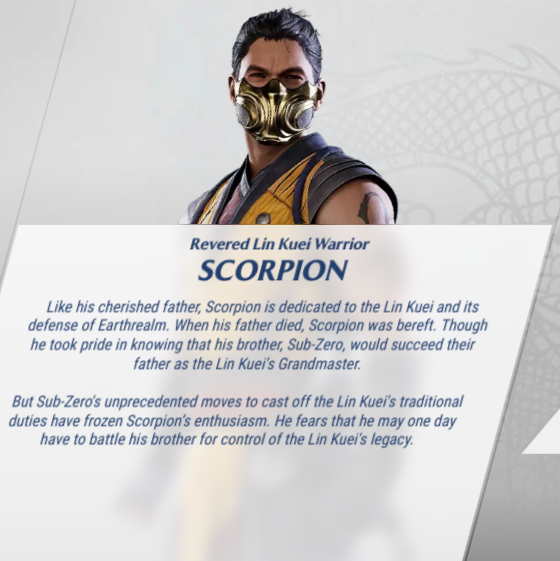 Those hoping that Scorpion is still Hanzo Hazashi might think that Kuai Liang simply doesn't exist in this universe, but it's already been confirmed that he does, as Kenshi will directly mention him in the character's introduction, saying that he mentioned , they should avoid the black dragon. This isn't enough to confirm that he's Scorpion, but it does confirm that he's alive, that he's communicated with Kenshi, and that he seems to match the good side, all things that can be attributed to Scorpion in this timeline.
There's a chance that this is all one big red herring that Scorpion will still be Hanzo Hazashi, but taking it all together, it definitely seems like Scorpion in Mortal Kombat 1 will actually be Kuai Liang before eventually taking on his true identity as Sub- Nothing when Bi-Han inevitably turns evil in this timeline.
Next up: Xbox Series S holding Xbox back