Welcome, cultists and adventurers, to our definitive Cult of the Lamb main boss rankings. Prepare to journey through the realms of Darkwood, Anura, Anchordeep, Silk Cradle and The Gateway. As you win three glorious crusades in your daring escapes through each of the beautiful realms of the Cult of the Lamb, behold! The grand final awaits you, when you will face the mighty bishop of this very region.
RELATED: All the Demons in Cult of the Lamb, Ranked
Get ready, because only by conquering them can you earn the right to explore deeper into the realm of the unknown. From menacing forest creatures to mighty spider lords, these bosses will test your mettle in unique and fascinating ways. So, let's dive into these mystical creatures and find out which bosses are the hardest to beat.
5
Darkwood Boss: Leshy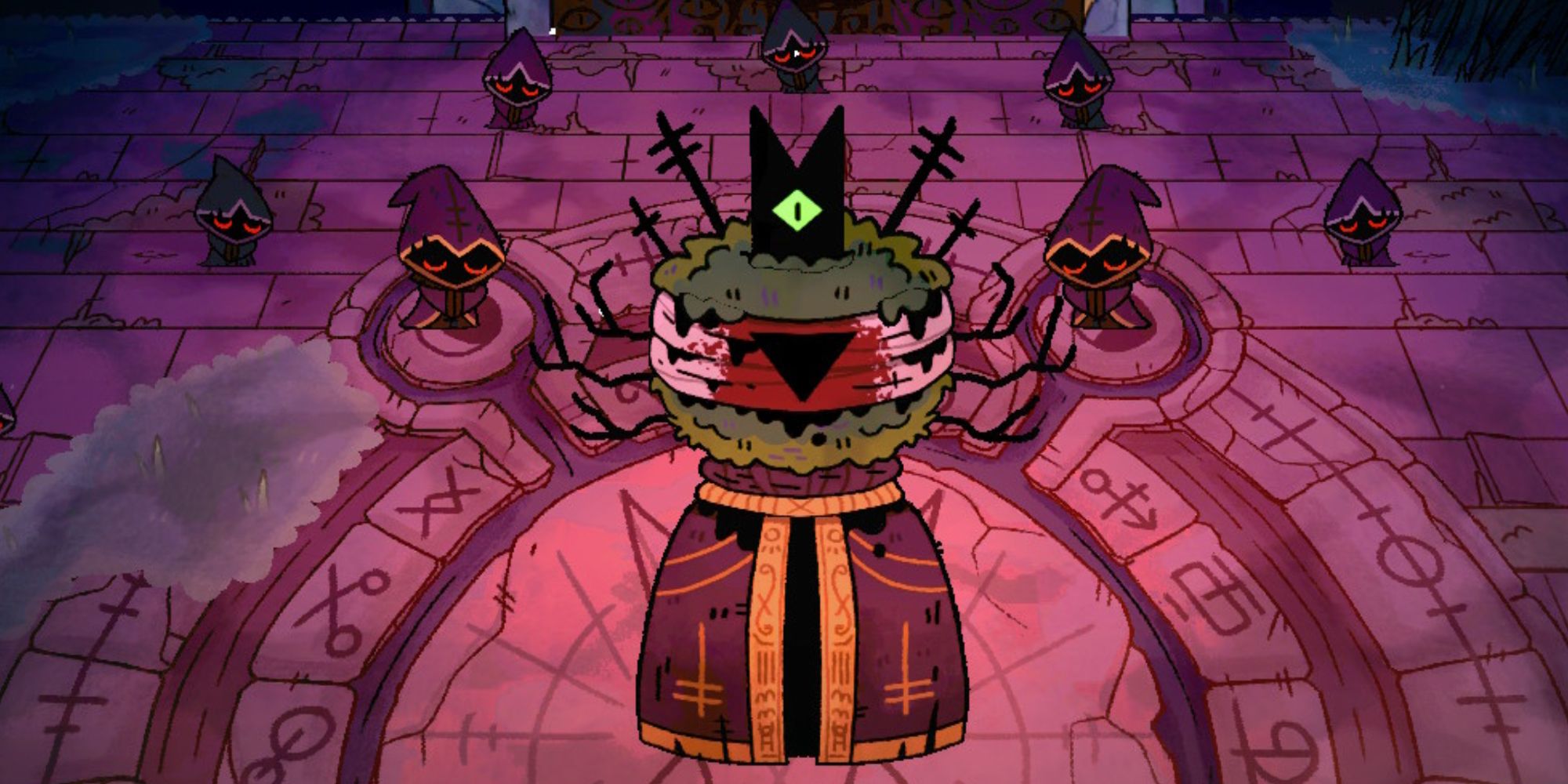 The ruler of Darkwood, Leshy, holds the title of youngest bishop and serves as the first true boss. Don't let his youth fool you, as Leshy boasts a surprisingly complex boss fight. It keeps you on your toes with its random digging pattern and varied range of moves. From green orbs to spikes and headshots, Leshy's attacks come from all angles.
The sneaky little troublemaker likes to play hide and seek underground. When he launches his attack, he'll dig himself a cozy tunnel and slide right under the arena, his spiky back showing unwelcome through the floorboards. To avoid becoming a human pillow, it's wise to channel your inner acrobat and perform a dodge so you're out of danger. When Leshy reappears as a mischievous jack-in-the-box, you'll have a brief opportunity to score some satisfying hits. But don't get too comfortable! Quickly retreat before he reveals his next diabolical move.
For all of Leshy's brashness, Leshy is more forgiving compared to his siblings, making him an ideal entry point for aspiring cult leaders.
4
Anura boss: Heket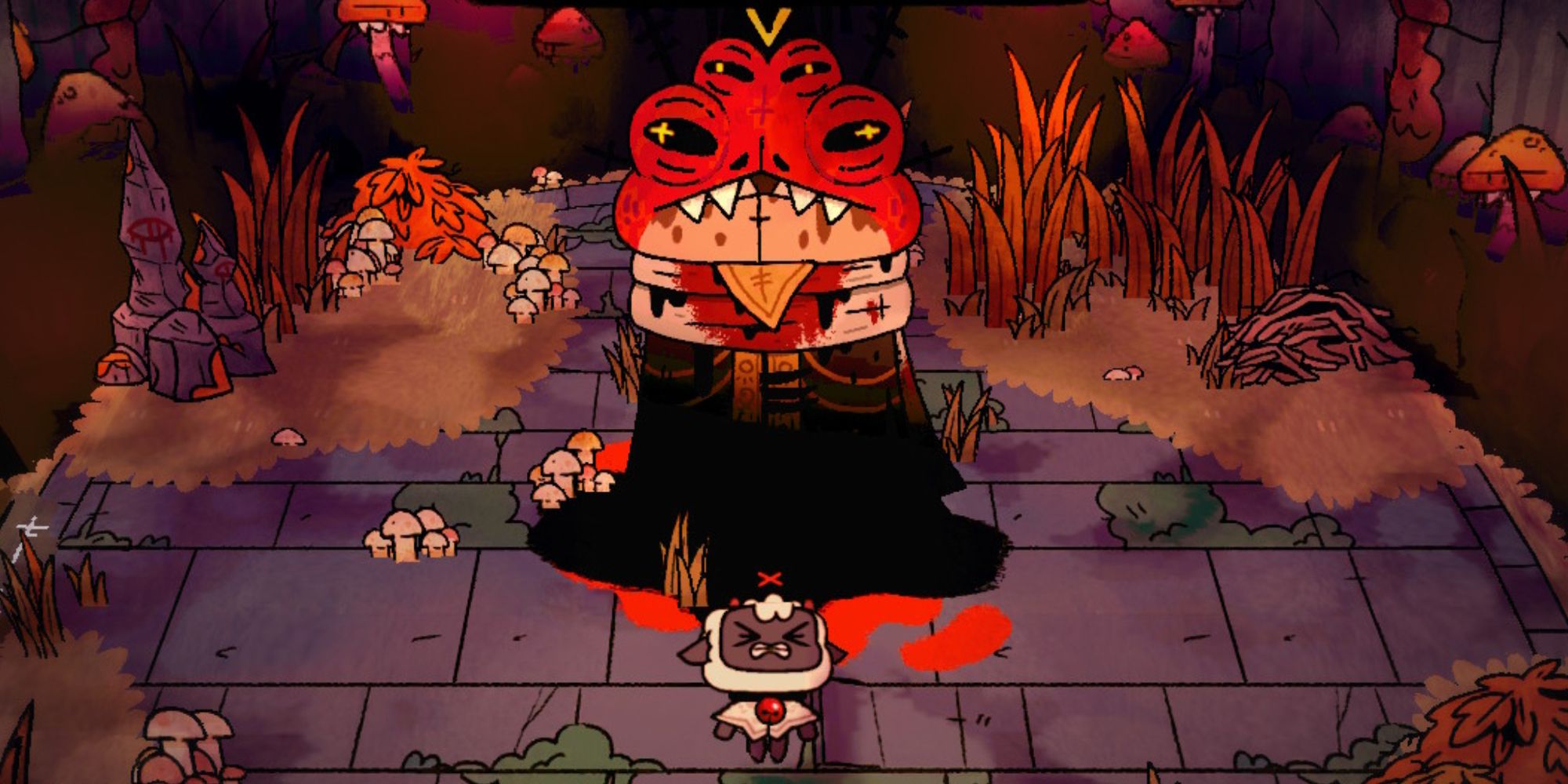 Heket, ruler of Anura, seeks a balance between aggression and strategy. Unlike his counterparts, Heket prefers ranged attacks and indirect maneuvers. Leshy's boss fight is a master class in unpredictability and adaptability.
RELATED: Cult Of The Lamb: The Best Follower Forms, Ranked
She likes to keep players on their toes with a bunch of deceptively similar attacks. Unlike the predictable Leshy, this sneaky boss doesn't give you a chance to play psychic and anticipate her moves. No, you'll have to rely on lightning fast reflexes and react in the heat of the moment. But fear not, intrepid adventurer, for Heket's bag of tricks is not overly complex. It's like a game of rock-paper-scissors with a frog twist – once you decipher the pattern, victory is within reach.
Additionally, expect an invasion of jumpers when facing this moderate aggressor. Jumps will constantly attack you and provide opportunities to gain zeal and charge curses. Remember, the dance with Heket isn't over until all the jumpers meet their demise. Be wise, culturalists!
3
Silk Cradle Boss: Shamura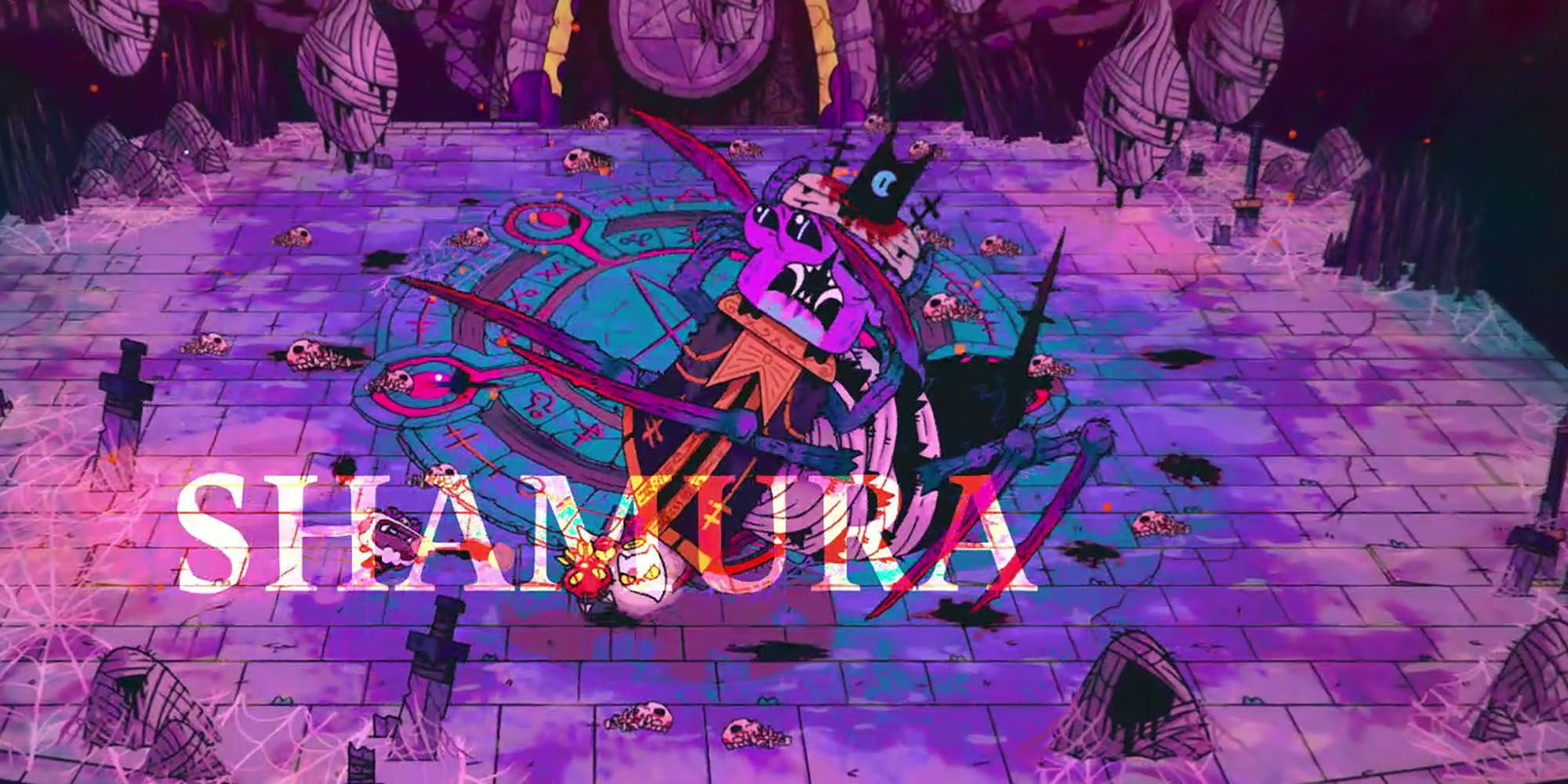 Shamura, the eldest of the four bishops, rules the Silk Cradle with intense offensive aggression. This spider lord relentlessly pursues the Lambs, using six different attacks including slashes, jumps and projectiles. They will keep you on the move. This eight-figure terror strikes fast, unleashing a flurry of lightning-fast slashing attacks when you dare get too close. When faced with Shamura's attack, remember to dodge, duck, weave, run and roll like your life depended on it. Because, well, it probably is.
A few coasters scattered around add an extra challenge. There are many spider nests placed around. But heed this sage advice: Tread lightly and resist the urge to upset these spider habitats. One wrong step could lead to an eight-legged disaster of truly arachnophobic proportions. So, dance your way through this dangerous ballet of battles and let your every move be as elegant as a spider's spin and as cunning as a cultist's plan.
2
Anchordeep Boss: Kallamar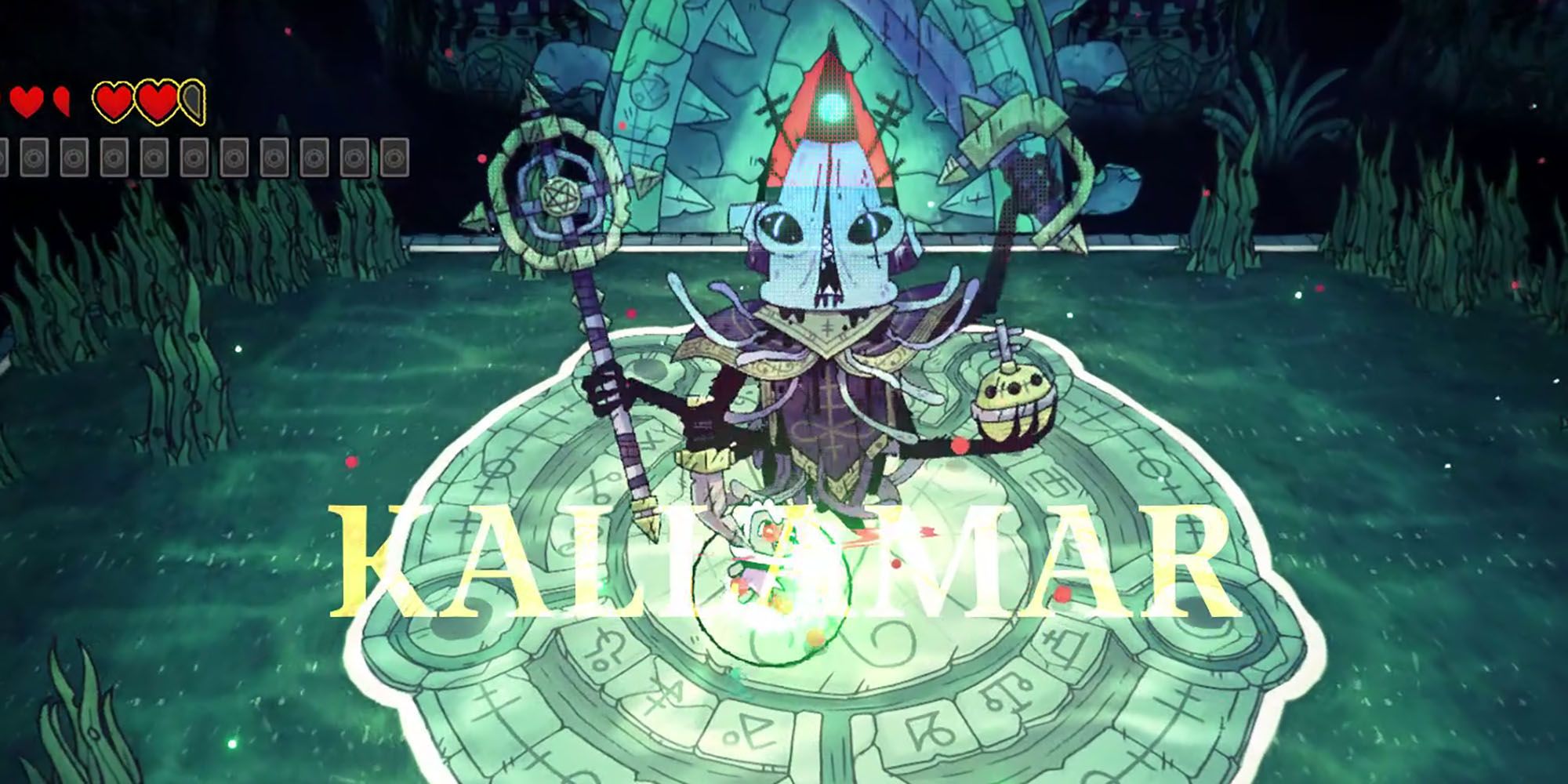 Get ready for one of the most challenging and complex boss encounters. Kallamar, ruler of Anchordeep, is known for his reluctance to confront the Lamb directly. This boss does it all, wielding four weapons and unleashing a staggering array of seven possible attacks. The fight consists of two phases: the initial phase and the desperation phase. Beware, unprepared adventurers, for Kallamar shows no mercy.
RELATED: The Hardest Achievements to Unlock in Cult of the Lamb
Kallamar in particular has a killer move up his sleeve and it's not a normal projectile attack. Get ready for a fast current that will find the hell out of you. If you're thinking about avoiding rolling, think again. It's like stepping on a banana peel in a minefield. Your best bet? Channel your inner speedster and jump from one end of the arena to the other before disaster strikes. Hopefully your running shoes are up to the challenge.
1
Passage Boss: The One Who Waits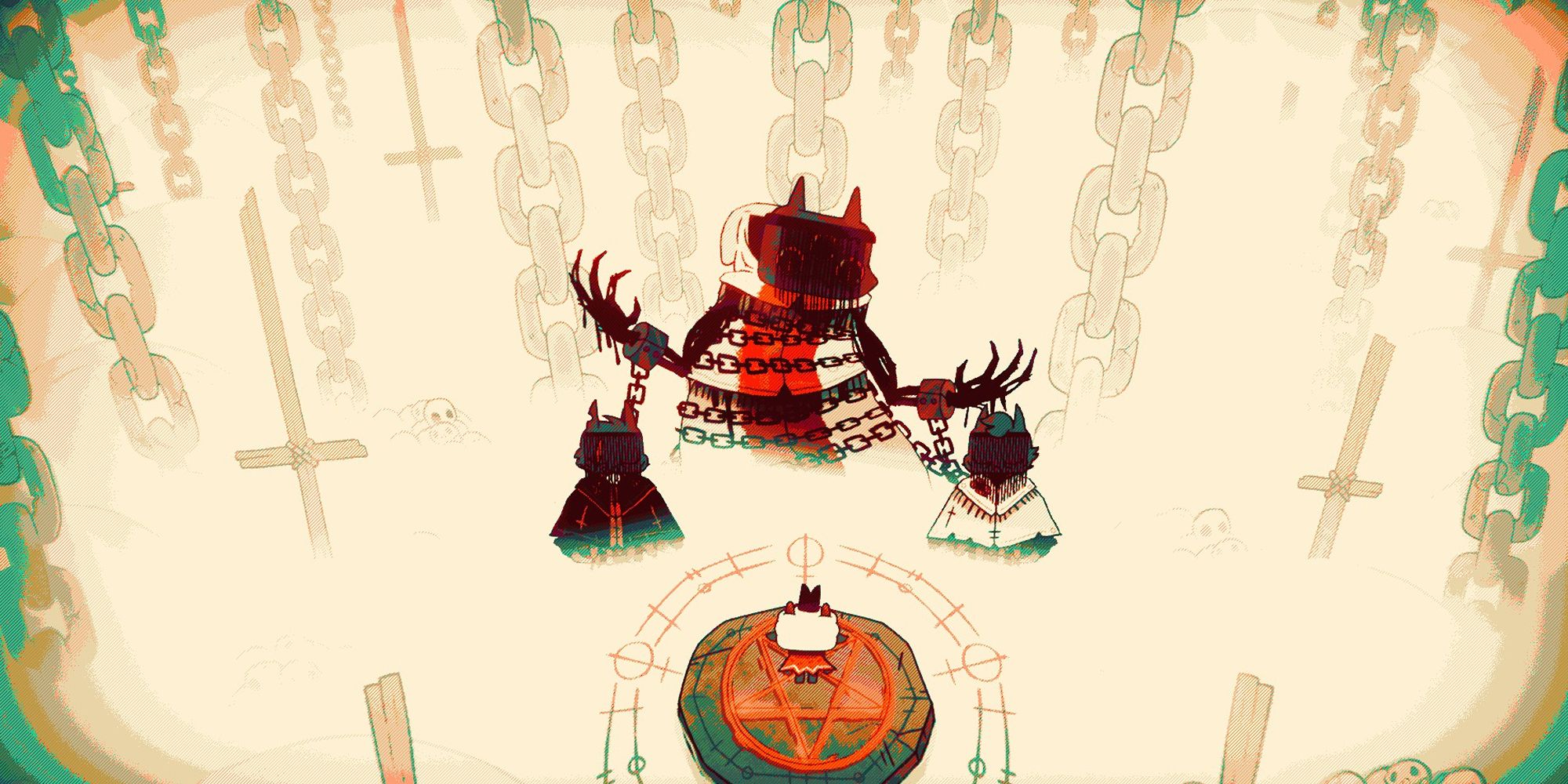 The entity known as The One Who Waits or Narinder presents a particular challenge. The former bishop of the old faith now demands repayment from the Lamb by forming and leading a cult. If the Lamb refuses, he will face an uphill battle. Unlike other bosses, there are no tarot cards to help you, and invincibility frames are in short supply. Narinder uses chains and fireballs and teleports before each attack.
The second stage reveals a transformation, with three eyes descending into the arena. Don't be fooled by his patience-testing subtlety. Prepare to face three summoned eyes from his majestic head as you show those peeping troublemakers who's really in charge. Damage the eyes to weaken Narinder and defeat him. Just remember, Narinder is no fool, so be careful and expect a shrewd defense in return.
Narinder is truly a tough opponent, so get ready to dance with fate, brave Aries as you show Narinder who really holds the reins of power.
NEXT: Every rune in Cult of the Lamb, sorted