Although La Liga is no longer as entertaining as it once was with Lionel Messi and Cristiano Ronaldo, it remains one of the best leagues in Europe. This remains true in FIFA 23.
Related: FIFA 23: The best attacking midfielders with the most potential to enter career mode
The league still has many quality footballers and teams actively competing for the league title and other domestic trophies such as the Copa del Rey and Supercopa de España. With so many great players to buy, we present a list of the best players playing in La Liga based on their overall ratings in the game.
The ratings below are from the June squad update for FIFA 23.
10
Vinicius Junior, Real Madrid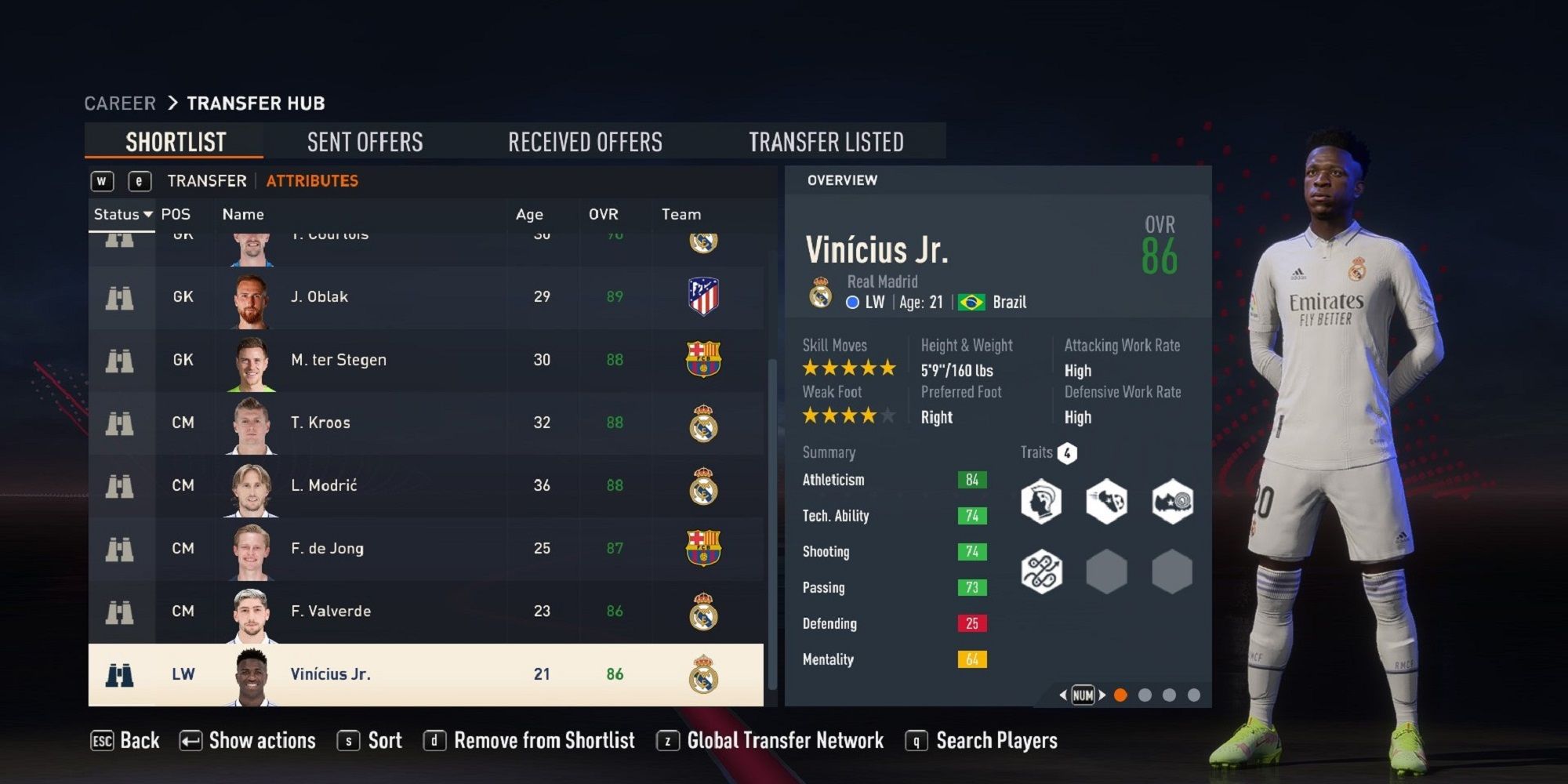 Vinícius Júnior is considered to be the next big thing in world football and has already made progress with his fantastic performances in various competitions over the past few years. He has been instrumental for Real Madrid and helped the team win major trophies including the UEFA Champions League in the 2021-2022 season.
The Brazilian winger has an overall rating of 86 in FIFA 23 and can take your attack to the next level with his raw pace and dribbling. In terms of potential, Vinícius Júnior can reach 92 and all the money spent to sign him would be worth it.
9
Federico Valverde, Real Madrid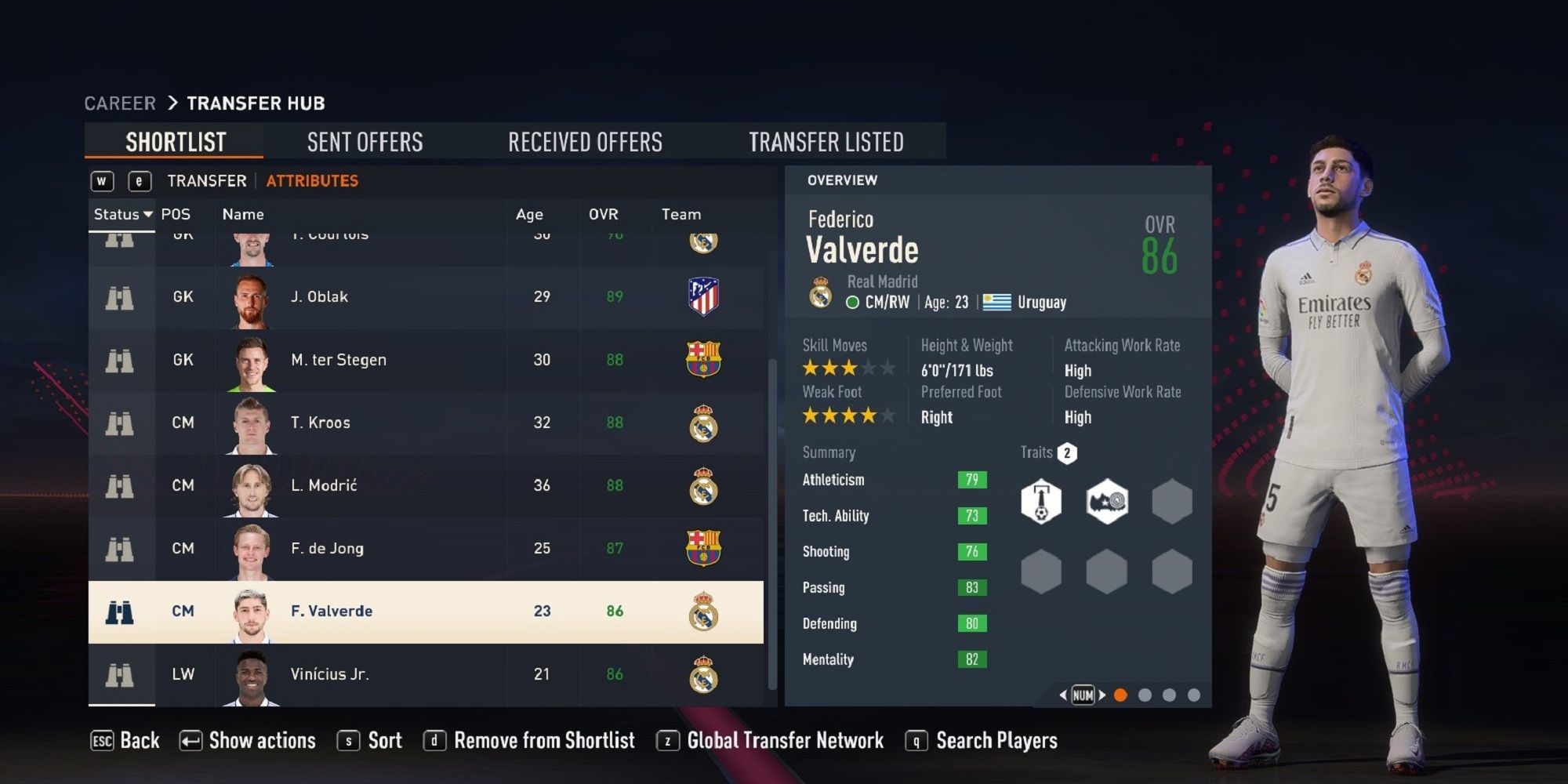 Along with Vinícius Júnior, Federico Valverde was another key link in Real Madrid's very numerous squad and had an excellent 2022-2023 season. The midfielder plays excellently wherever Carlo Ancelloti uses him, be it the CM role or the RW position.
You can try to buy a player with a rating of 86 in career mode to improve the midfield of the team and make it even better. He'll easily break the 90 mark thanks to his 91 potential, and he can be counted on to control the midfield and score some goals as well.
8
Frenkie De Jong, FC Barcelona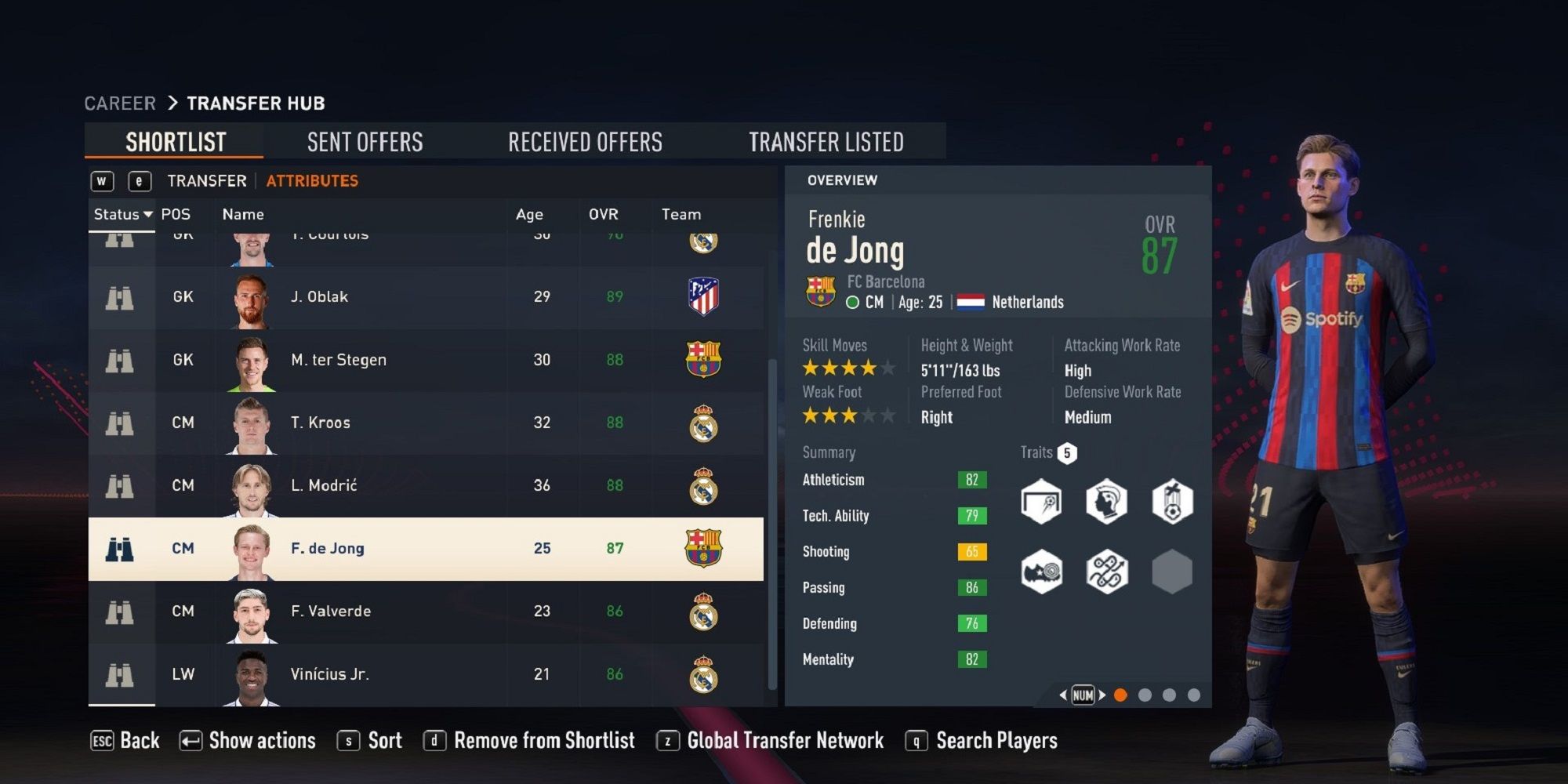 Frenkie de Jong was part of the iconic Ajax team that almost did the impossible in the 2018-2019 Champions League. His fantastic performances landed him at his dream club and now he has become a regular starter for the Blaugranas and is playing week in and week out among the best clubs in history.
Signing Frenkie de Jong in a central midfielder role would be a no-brainer, and the player has an 87 game rating, on top of a potential 90. Apart from CM, he can even be used as a CAM or CDM; but it would be better to keep him in a central role.
7
Luka Modric, Real Madrid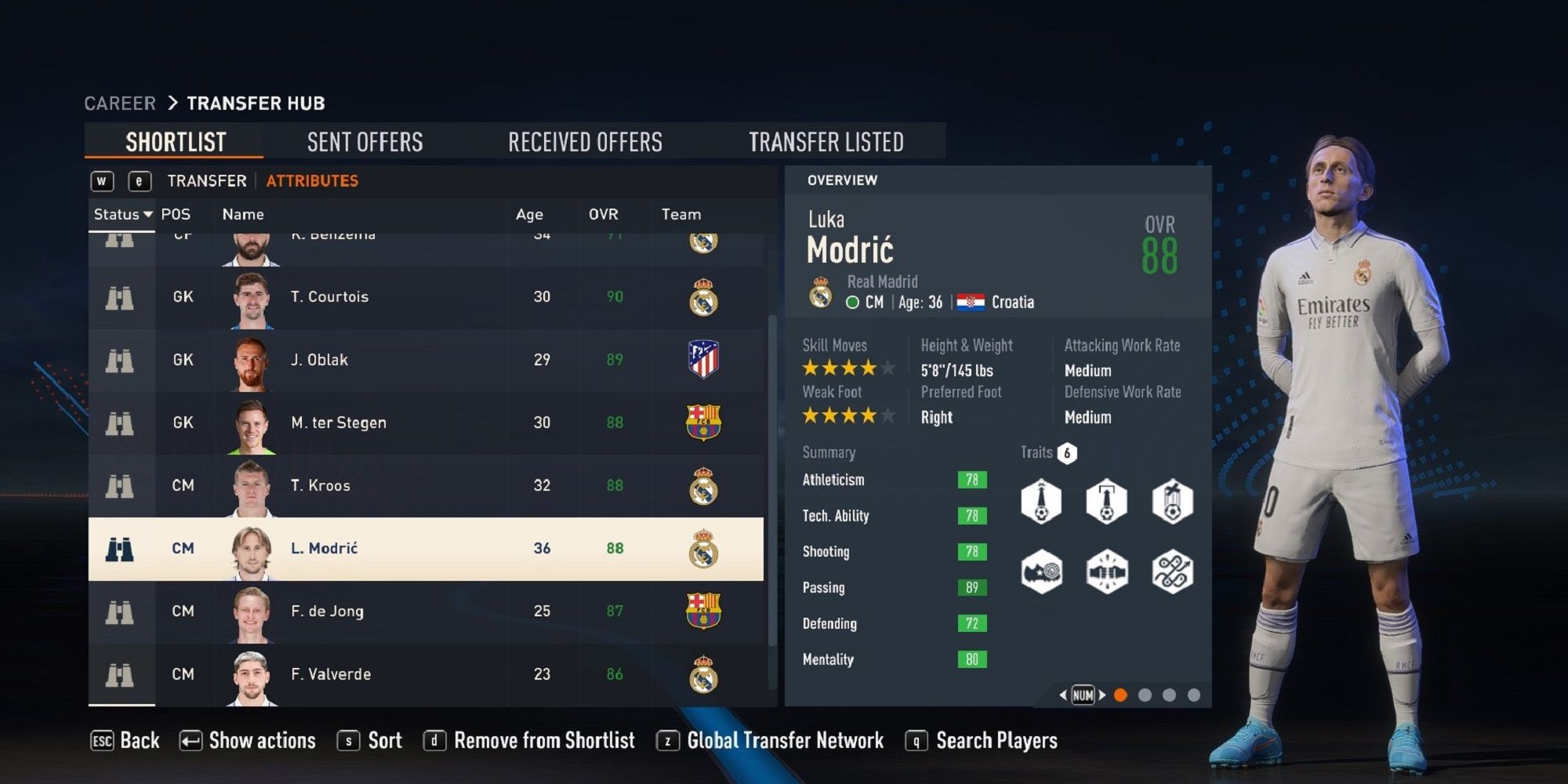 Luka Modrić's longevity has amazed everyone and despite his age he continues to deliver fantastic performances for club and country. In FIFA 23's career mode, the Croatian midfielder can be a great acquisition if you're looking for a short-term option for 1-2 seasons.
Related: FIFA 23: The best right wings with the most potential to enter career mode
The game has given the veteran a well-deserved 88 rating and you will enjoy using him as he has incredible passing and dribbling skills. In addition, you can try to negotiate a favorable contract with the player, since his contract is about to expire.
6
Toni Kroos, Real Madrid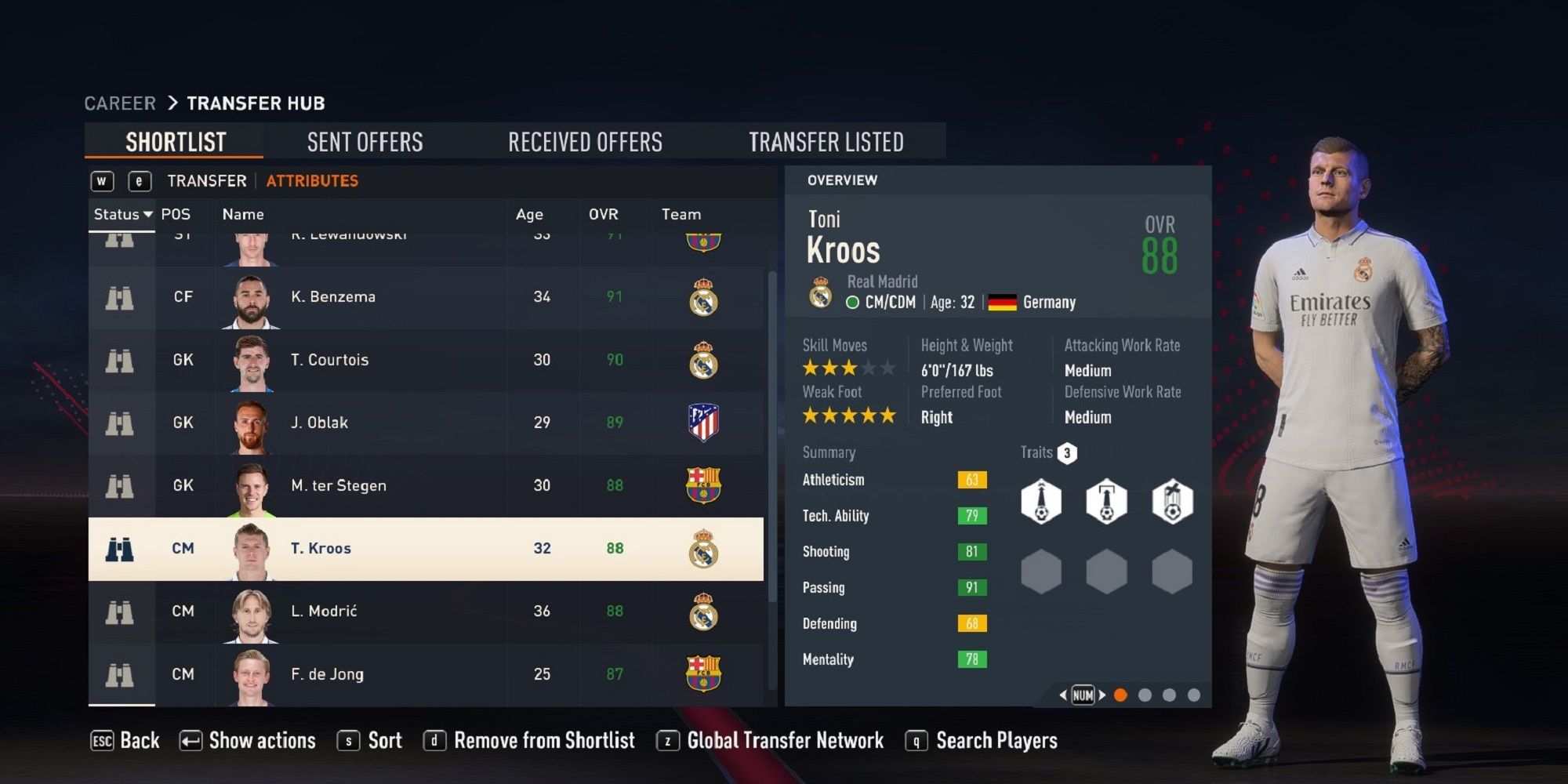 Toni Kroos, a midfielder who partners Luka Modric, is another top-rated player from La Liga that you can consider signing for your club in career mode. The German has been among Real Madrid's best signings of the past decade, with the trio of Modrić, Kroos and Casemiro essential to the club's three-time Champions League run.
The player's overall rating and in-game potential is 88, which is high enough to compete at the highest level. You have to keep in mind that Toni Kroos is relatively slow and could easily be overtaken by other players.
5
Marc-Andre Ter Stegen, FC Barcelona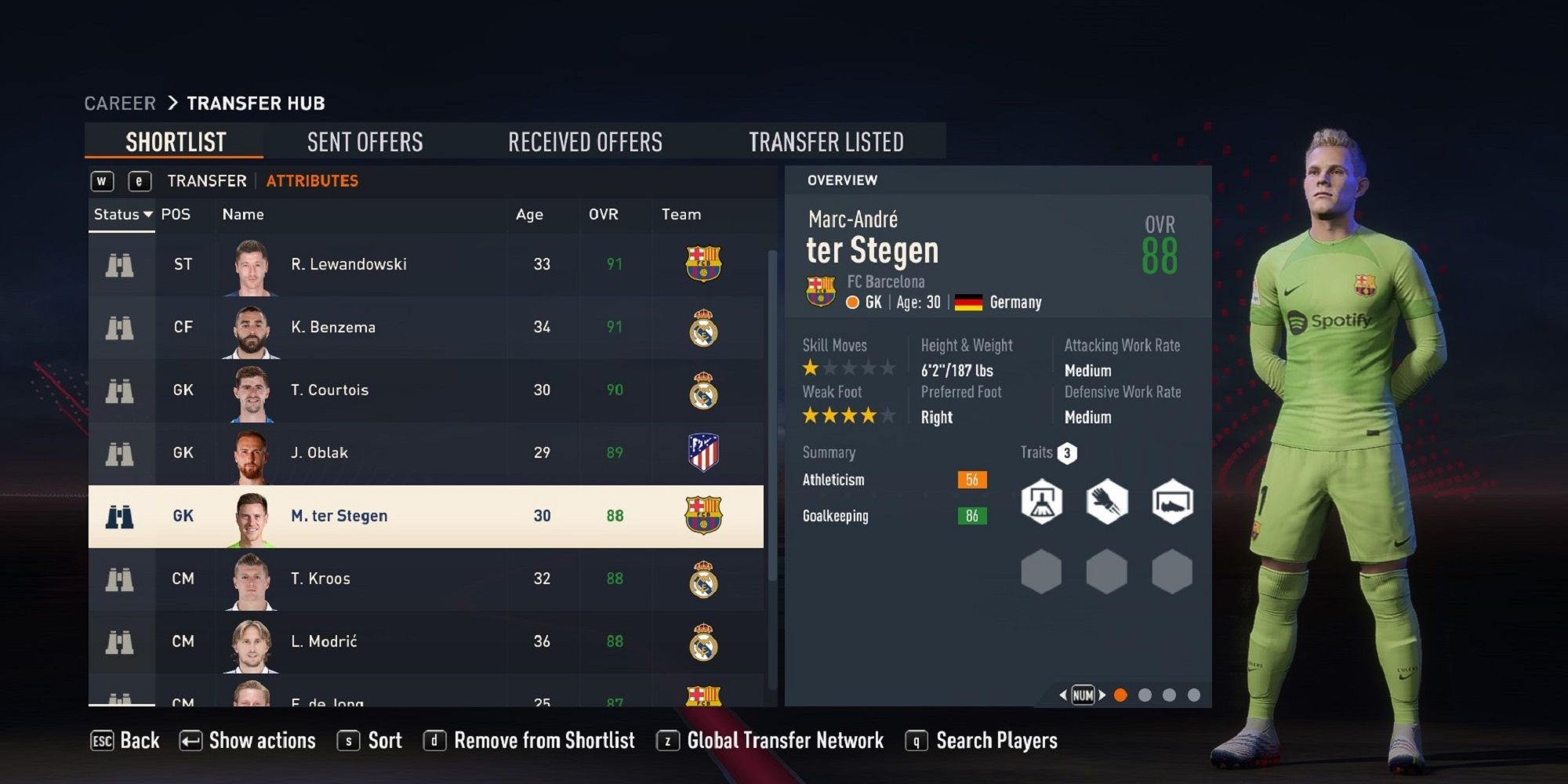 Marc-Andre ter Stegen had a redeeming arc in the 2022-2023 season and achieved a record equaling 26 clean sheets in the league. The German striker was crucial for FC Barcelona as they secured the La Liga trophy and the Supercopa de España.
You can consider buying Marc-Andre ter Stegen in FIFA 23's career mode if you want a good goalkeeper who can last 3-4 seasons without a significant drop in total. An 88 rated player will undoubtedly help you save a lot of goals and help your defense significantly.
4
Jan Oblak, Atletico Madrid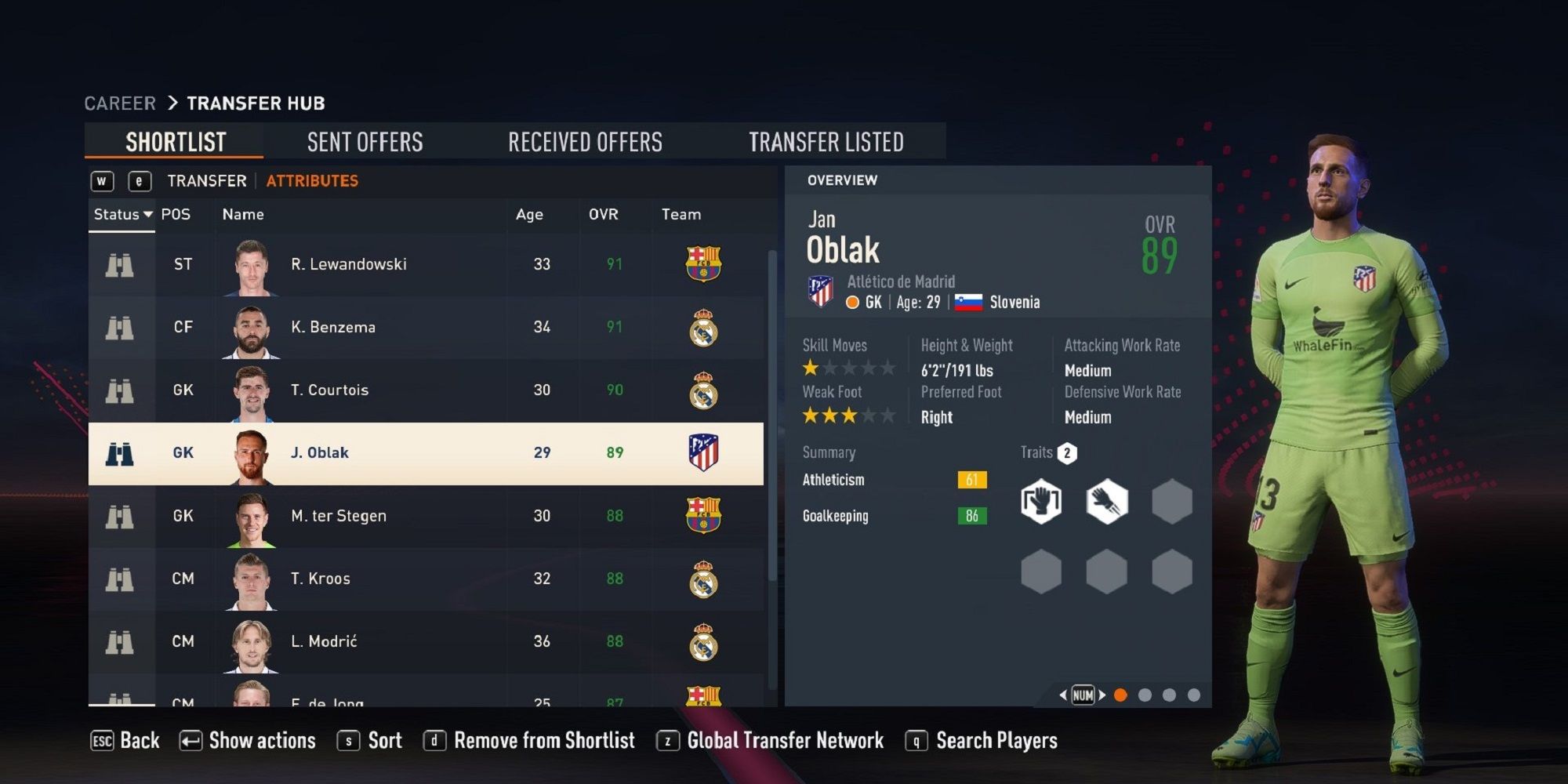 Jan Oblak is another goalkeeper on this list and has been a wall for Atlético de Madrid since he joined the club around a decade ago. He ranks as one of the best goalkeepers in FIFA 23, with EA giving him an 89 rating and 90 in-game potential.
Nevertheless, buying a Slovenian can be an expensive business, and he is highly valued at the Spanish club. Regardless of his price, if he was between the sticks he could provide great support to the backline as he has the ability to make outstanding saves.
3
Thibaut Courtois, Real Madrid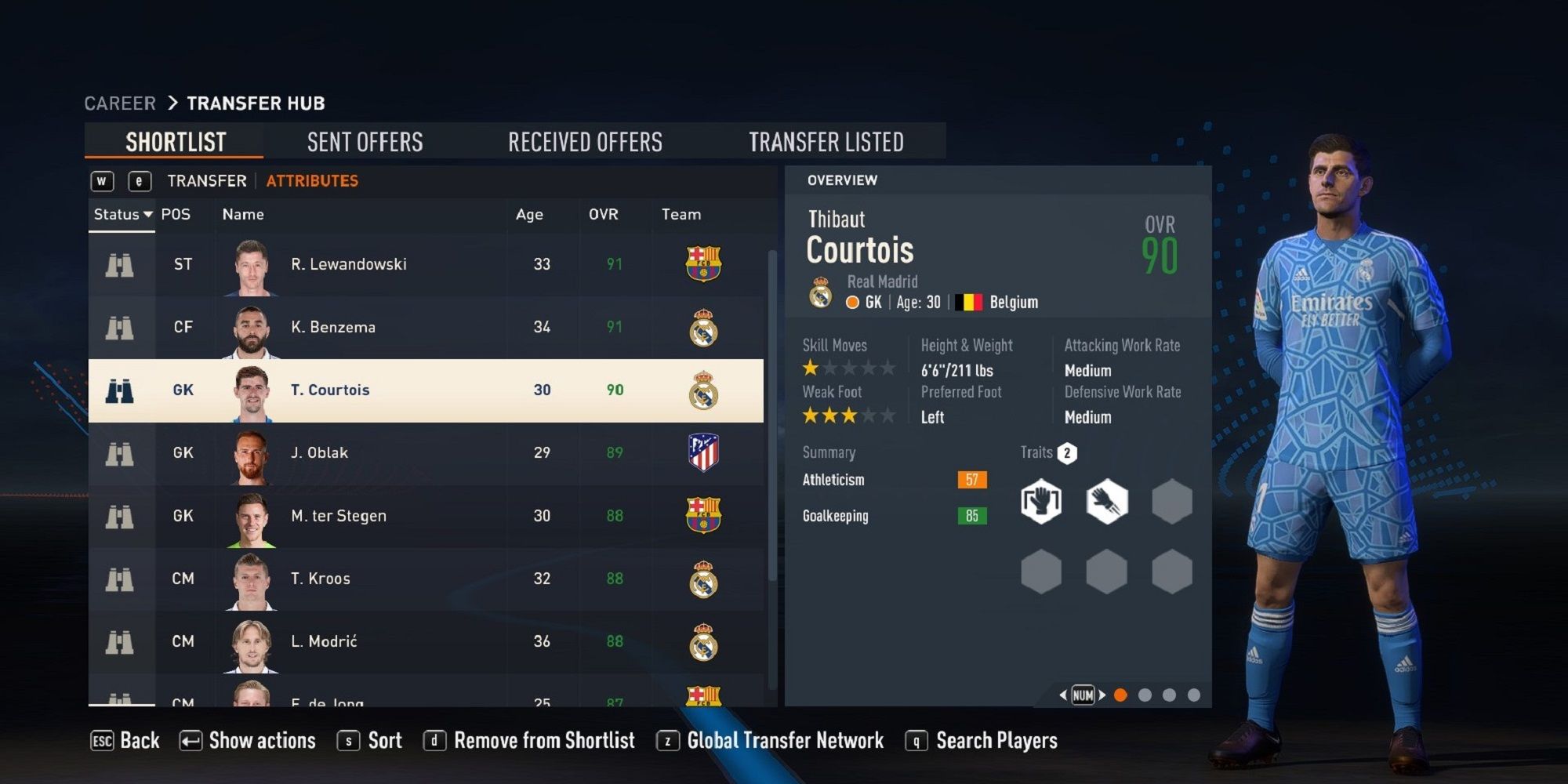 Thibaut Courtois stands out as the highest rated goalkeeper in FIFA 23, which is no surprise given how good he has been for Real Madrid of late. The Belgian player is basically rated 90 and buying him to quickly rebuild top teams would be a good choice.
Related: FIFA 23: The best hidden gems in England's career mode
Having him as your team's number one could be important. Unless he considers early retirement or faces injury issues, he would maintain his overall mark for a significant number of seasons. But in addition to the high price tag, signing Thibaut Courtois would require you to pay him a hefty salary.
2
Karim Benzema, Real Madrid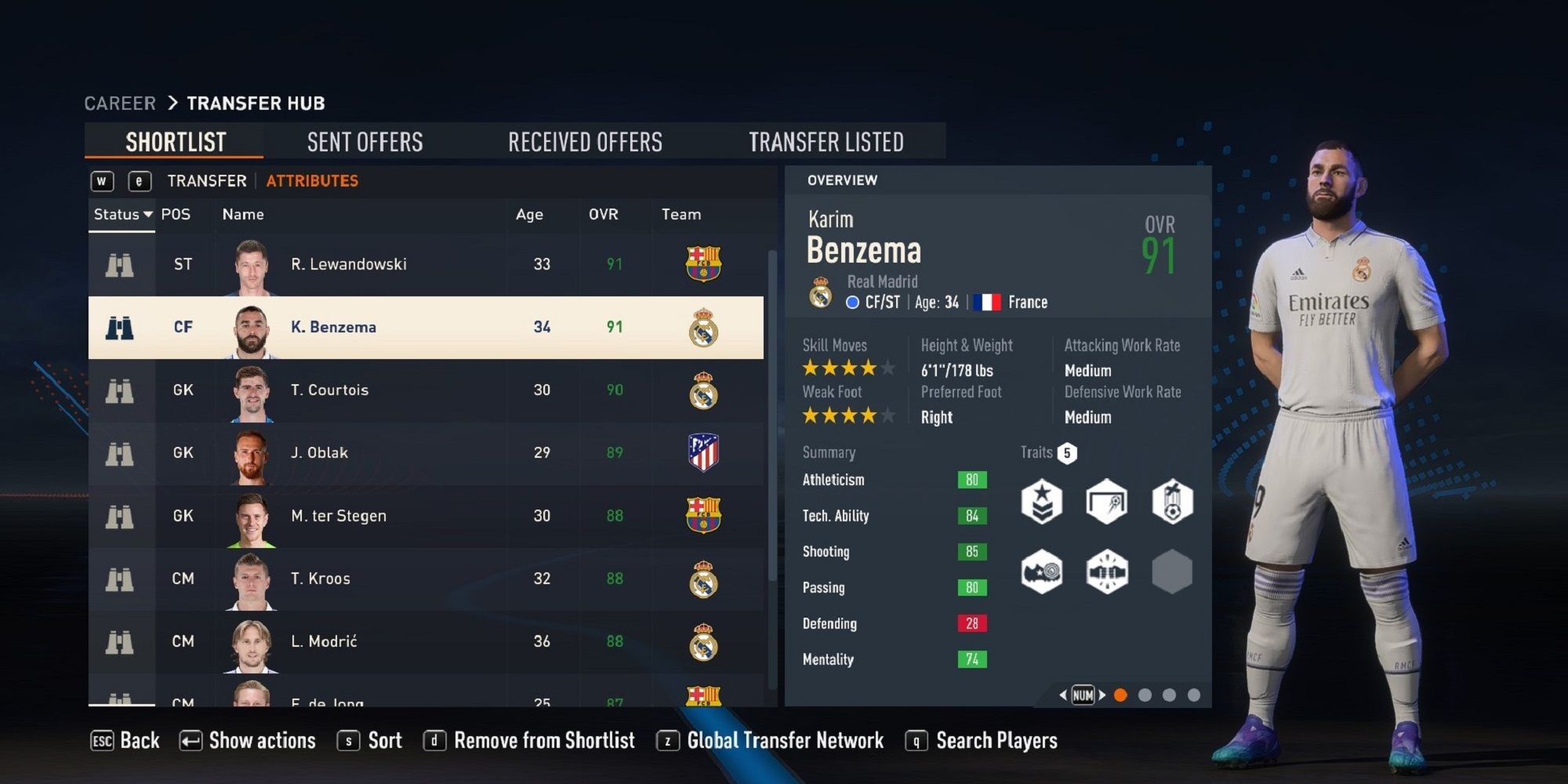 After the departure of Cristiano Ronaldo, Karim Benzema became the star of Real Madrid and played a big role in winning various trophies for the team. Although he has signed a contract to move to Saudi Arabia in real life, you can acquire the La Liga player in career mode.
The French centre-forward is essentially the highest-rated player in the game, with a rating of 91. He may not be as quick as other players in this position, but he is deadly when given a chance in front of goal.
1
Robert Lewandowski, FC Barcelona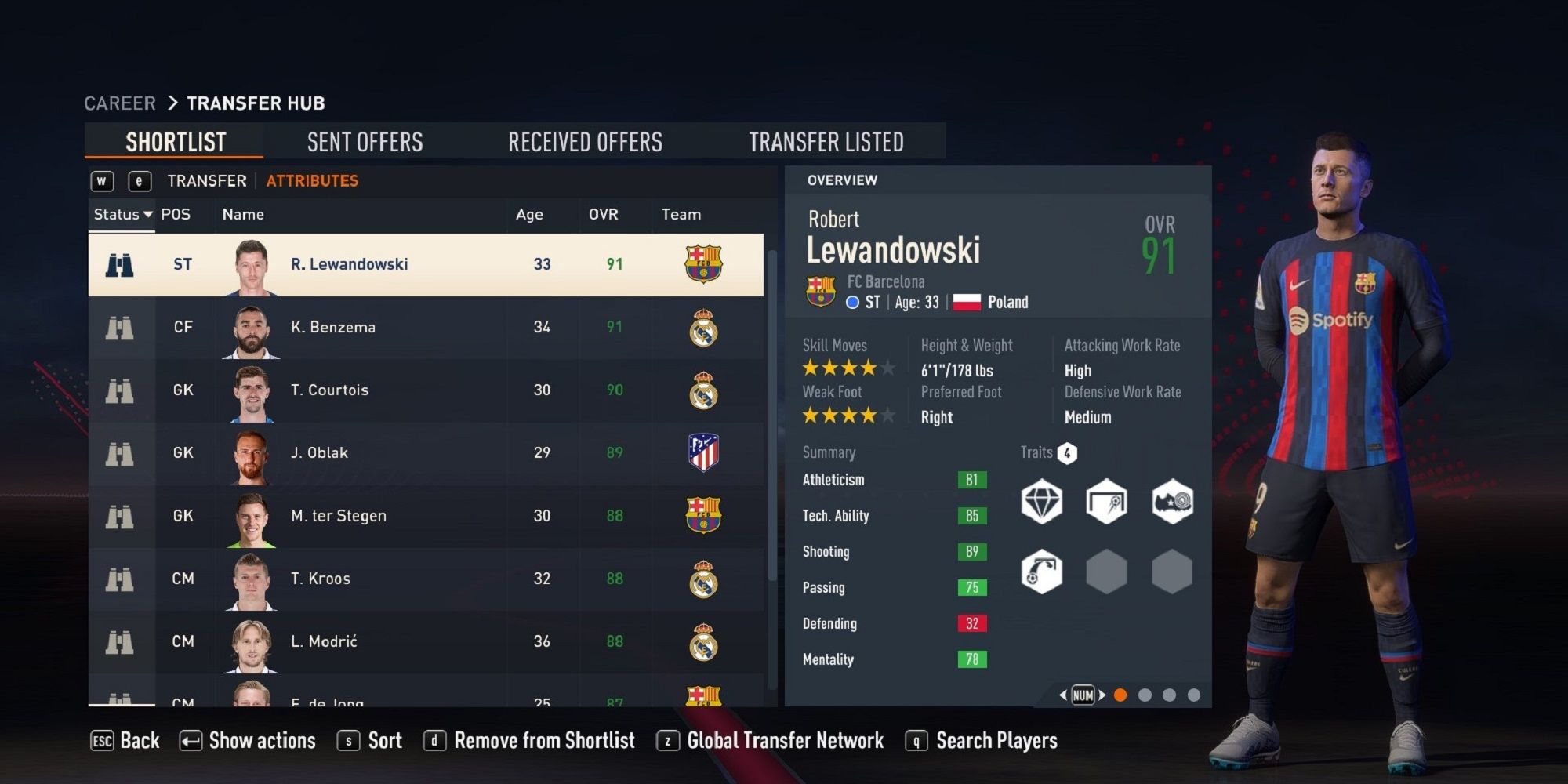 Robert Lewandowski was the signing of the season for FC Barcelona and he scored many goals to help the team win the La Liga title after a three-year absence. He even ended up winning the Pichichi Trophy in his first season in Spain, scoring 23 goals in the season.
With an overall score of 91 in FIFA 23, Robert Lewandowski is tied for the top spot with Karim Benzema and some other players like Lionel Messi. His incredible goalscoring stats and fitness will make him a lethal presence at the top of the pitch if you sign him for your club in career mode.
Next: FIFA 23: The best young left-backs to sign up for career mode